Cute Tiny Baby Feet Theme Baby Shower Ideas:
When a little boy / girl gets old enough to walk, mom is going to have a lot of fun cleaning up little baby footprints from her floors. Tiny feet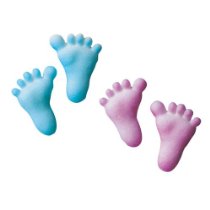 baby shower theme can be a lot of fun and absolutely adorable and it will get mommy-to-be in the mood for what the future will be like when her little baby is old enough to leave footprints of his or her own. Tiny feet theme baby shower is suitable not only for baby boy or girl, but also suitable for neutral gender baby shower or gender reveal. 
Tiny Feet Baby Shower Invites 
You can use footprint punch to paste those tiny feet in your handmade invitation. With a ink pad, and some footprint stamps, you will have a lot of fun creating the invitations for the baby shower. Zazzle and Etsy are great places to find invitations if you are not up for crafting.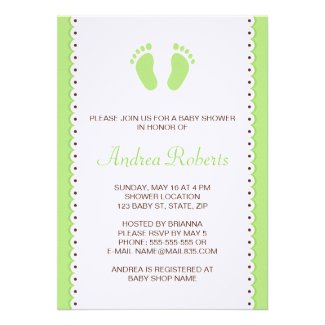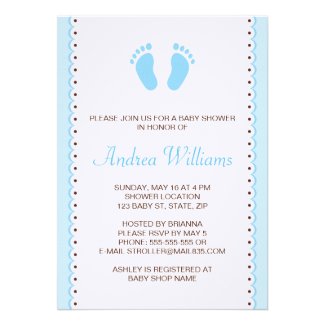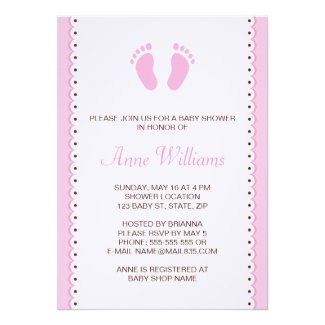 Tiny Feet Baby Shower Decors
While stamps can be used to make footprints, people can make their own without needing stamps by simply making a fist, and then dipping the side of their hand in ink. When friends and family press the side of their fist to paper, it looks like a foot, and all that is needed are the five dots for toes.  White paper can be used as table cloths, and then everyone can use their own hands, and blue ink, to create boy footprints all over the tables. Also, blue balloons can be used at the ends of every table, and you could also use some footprint Mylar balloons. You can decorate your cupcakes with baby feet sugar toppers, they will look very adorable! There are mini baby footprint stamps you could use to stamp on a plain sugar cookies.
Tiny Feet Baby Shower Tableware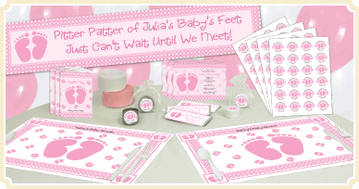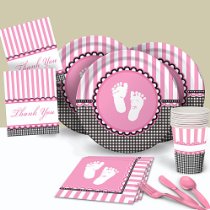 Tiny Feet Baby Shower Game Ideas
The Name Game for the Baby Shower
For baby shower game, you can play the Alphabet Name Game. For the Name Game, you will need cards that is going to contain every letter of the alphabet, and the idea is for every party guest to fill it out and complete the entire alphabet. The party guest that fills the whole card out with real names wins a prize.
FREE Printable Baby Shower Games
Pink Baby Feet

Blue Baby Feet

Tiny Feet Baby Shower Favors
Follow My Mess's board Baby Shower Feet Footprints Theme Inspirations on Pinterest.