When it comes to organizing a baby shower for a baby boy or girl and you just cannot decide on a suitable theme, polka dot theme might be for you. The simplicity of the polka dot patterns makes the decoration easy to setup. It is also perfect for when you don't know the gender of the baby, instead of blue polka dots or pink polka dots, you can incorporate all colors of the rainbow! Or if you prefer a more calm setup, choose yellow or green pastel dots.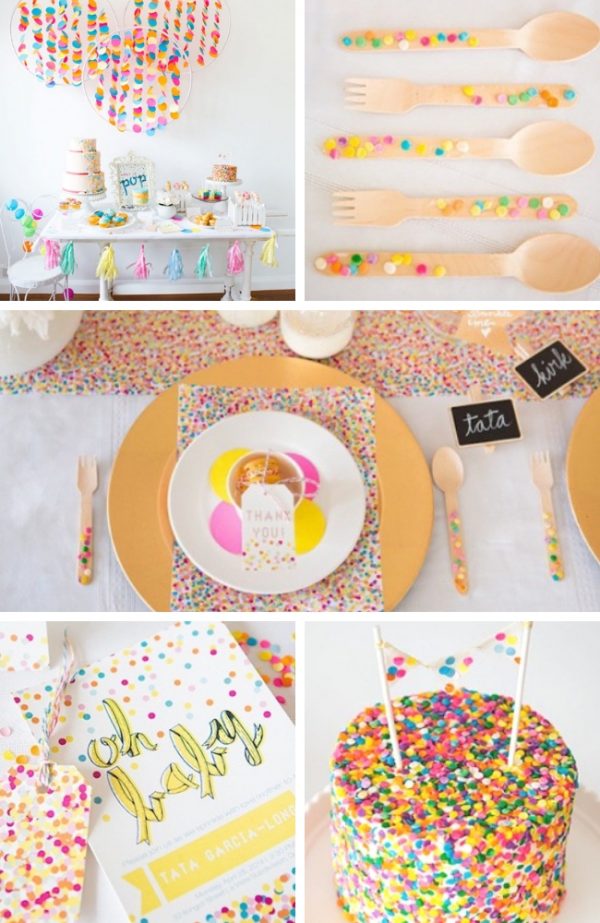 Decorate for Polka Dot theme party by including polka dot print balloons and by scattering dot confetti on food table. You should be able to find it at most art & craft shops. Otherwise, you could use hole puncher. My favorite balloon for this theme is the clear white polka dot balloons, they look absolutely fantastic! You could even try blowing one balloon in the other for an interesting decoration everyone will be talking about!
Balloon inside balloon by MrErikZilla
Use a circle cutter to make your food circle shaped. You could cut out cheese, bacon, bread, carrots, cucumber using the cutter. This will make a perfect finger food for your guests. Serve your fruits rounded using ice cream scoop. Try on soft fruits such as mango, watermelon, and other melons (cantaloupe, Galia melons) .
With your cupcakes, you can decorate it with M&Ms, or an edible candy beads that come in various colors so you can use colors that match your theme. You could probably find polka dot print cupcake wrappers at your local store~ Serve some macarons on a plate, and possibly a large apothecary jar or two of yummy gumballs.
You can decorate the food table further with a centerpiece such as diaper cake, edible cake, cupcakes or candy boxes on a fancy cake stand, candy bouquet with frooties, sticklettes or lollipops. The candies can be given as favors. For the edible cake, you could get a pre-iced white cake and place macarons or dots fondant on it, otherwise try making a polka dot cake from video instructions on Youtube!
There are plenty of games you can play and have a great fun, my favourite being 'the
dirty diaper game
' as I love chocolates. Basically with this game you get couple of diapers and chocolate bars, different flavoured, branded bars. Unwrap and squash each chocolate bars in a diaper to make it look like baby poo. Let the guests guess which chocolate bar belongs to which diaper by letting them smell or touch it. The one who guesses more wins the game!
FREE Polka Dot Digital Papers
FREE Baby Mad Libs Game
Follow My Mess's board Baby Shower Polka Dot Theme on Pinterest.