Beautiful Butterfly Baby Shower Theme Ideas – Perfect for springtime baby showers!
When a friend is pregnant, and is expecting a baby girl, it can be hard to know what theme to make for the baby shower other than just pink or purple. However, if the mom-to-be has decided to decorate the nursery with something like butterflies, than the hostess can use that same decorating style for the baby shower as well. A butterfly themed baby shower for girls can be a lot of fun especially with things like using stamps to create the invitations, using butterfly banners to decorate the room, and having nice healthy salads for the baby shower food. Butterflies are special and beautiful, and using them for the baby shower theme will mean an unforgettable party that the mother-to-be will really appreciate. It is also the best choice for springtime or summertime showers.
The search for butterfly invitations will not be a hard one because butterflies are very popular. Butterfly invitations can come in all colors, and all the hostess has to do is try to find a color scheme that will match the decorations that will be used in the party hall. Another idea that the hostess can use for finding the perfect butterfly invitations is to go to a hobby store and look for stamps or a butterfly puncher. All the hostess will have to do here is buy nice colored paper, use the stamps, and create a nice handmade invitations to the butterfly themed baby shower.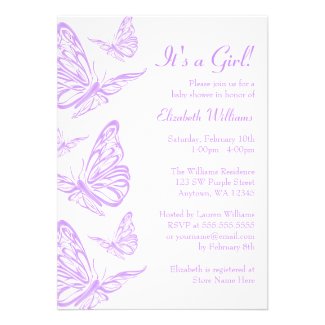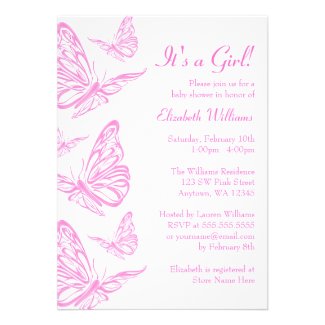 Decorations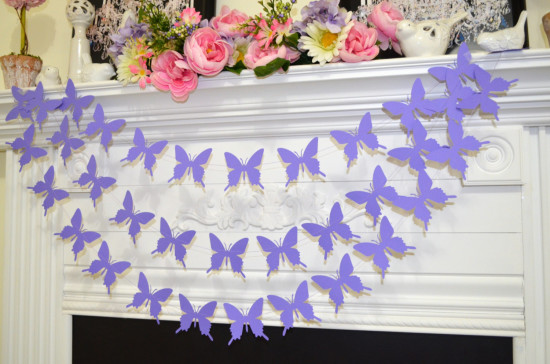 For a lovely butterfly theme, you can have a sweet pink or pretty purple look which is ideal for a little girl's baby shower. In decorating you could buy some lovely nylon or silk butterflies that you can hang on the ceiling or wall. Also, you can make butterflies with icing and place it on your cupcakes. Add some beautiful flowers on the table, spread butterfly confetti using the same butterfly puncher as the invitations.You can use these butterflies to make a little bunting as cupcake and the cake topper. They can also be folded slightly at the wings so as to look more real and attractive as they won't be flat on the surface.
Another simple yet nice way to decorate the party hall or the room is to use balloons. It used to be that only party stores carried Mylar balloons, but now they are everywhere including grocery stores and dollar stores. The best place to get the butterfly balloons would be a dollar store because they would only be one dollar a piece, the hostess can get enough to fill up the party room and it will not cost her a fortune. Also, to match the butterfly balloons, the most predominant color in the balloons can be used, and table cloths, cups, and napkins can be bought in a matching color.
How to Make beautiful butterfly ombre push pops by MyCupcakeAddiction via youtube
Buy Push Pop Containers & Stand @ amazon
Tableware Idea

Food Ideas
If mother-to-be is conscious with what she eats, it may be a good idea to try serving healthy food at the butterfly themed baby shower for girls. Every friend of the expectant mother can bring a salad, and there can be half a dozen different salads for everyone to eat, and the only sweet treat can then be the butterfly cake and some cupcakes. For finger food, you can use butterfly shaped cookie cutters to serve butterfly sandwiches by cutting salami, cheese and bread. Having a bow-tie pasta salad dishes is also a good idea to serve at a butterfly themed baby shower.
Games & Activities
For an activity, you can have a 'headband station' by preparing your own kit or by purchasing already available DIY Headband Kit. This activity will let all your guests to get creative leaving mommy-to-be with plenty of beautiful custom headbands for her sweet baby girl!
A fun game to play for the butterfly themed baby shower for girls is called 'Decorate the Butterfly'. The hostess can create hand-sized butterfly with cardstock paper, and then set out all the things to decorate the butterflies like paint, stickers, and glitter. The purpose of the game is to decorate the butterfly, but the trick is to do it with the hands behind the back. In order to play, every guest has to turn around and just use her hands to decorate the butterfly. The guest that can create the nicest butterfly, and the winner will be chosen by the mom-to-be, gets a nice prize.
FREE Butterfly Baby Shower Game
Butterfly Baby Shower Favors
Follow My Mess's board Baby Shower Butterfly Theme on Pinterest.