When a friend is pregnant, and is expecting a baby girl, it can be hard to know what theme to make for the baby shower other than just pink or purple. However, if the mom-to-be has decided to decorate the nursery with something like butterflies, than the hostess can use that same decorating style for the baby shower as well.
A butterfly themed baby shower for girls can be a lot of fun especially with things like using stamps to create the invitations, using butterfly banners to decorate the room, and having nice healthy salads and appetizers for the baby shower food.  Butterflies are special and beautiful, and using them for the baby shower theme will mean an unforgettable party that the mother-to-be will really appreciate. It is also the best choice for springtime or summertime showers.
The search for butterfly invitations will not be a hard one because butterflies are very popular. Butterfly invitations can come in all colors, and all the hostess has to do is try to find a color scheme that will match the decorations that will be used in the party hall. Another idea that the hostess can use for finding the perfect butterfly invitations is to go to a hobby store and look for stamps or a butterfly puncher. All the hostess will have to do here is buy nice colored paper, use the stamps, and create a nice handmade invitations to the butterfly themed baby shower.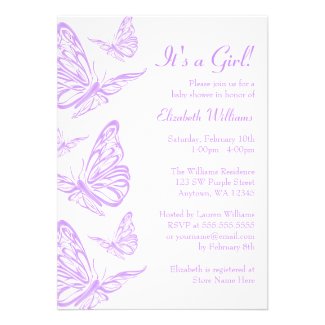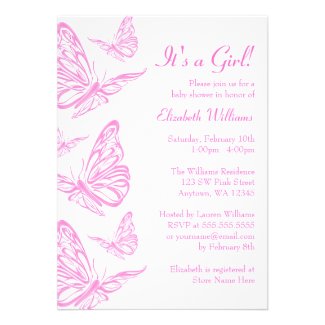 Butterfly Baby Shower Decorations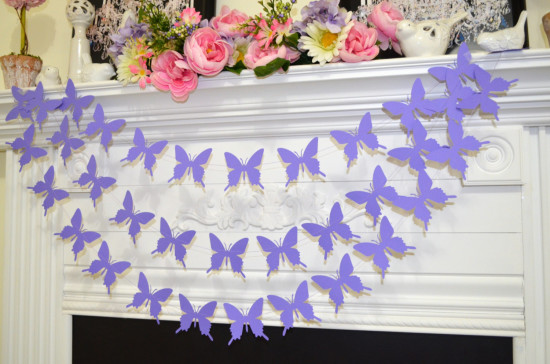 For a lovely butterfly theme, you can have a sweet pink or pretty purple look. You could buy some lovely nylon or silk butterflies that you can hang on the ceiling or wall. Also, you can make butterflies with icing and place it on your cupcakes. Add some beautiful flowers on the table, spread butterfly confetti using the same butterfly puncher as the invitations.You can use these butterflies to make a little bunting as cupcake and the cake topper. They can also be folded slightly at the wings so as to look more real and attractive as they won't be flat on the surface.
Another simple yet nice way to decorate the party hall or the room is to use balloons. It used to be that only party stores carried Mylar balloons, but now they are everywhere including grocery stores and dollar stores. The best place to get the butterfly balloons would be a dollar store because they would only be one dollar a piece, the hostess can get enough to fill up the party room and it will not cost her a fortune. Also, to match the butterfly balloons, the most predominant color in the balloons can be used, and table cloths, cups, and napkins can be bought in a matching color.
How to Make beautiful butterfly ombre push pops by MyCupcakeAddiction via youtube
Buy Push Pop Containers & Stand @ amazon
Butterfly Banner
Transform any wall in your house into a beautiful backdrop of butterflies with this banner. The image below shows the butterflies in a pale purple and teal  color, however, you can order the banner in any color you choose. The garland is made from sturdy card stock and is sewn together with thread. The best part is that the garland has the potential to be reused later. Just imagine how adorable this garland would look as a mobile above your baby's crib.
Butterfly Cupcake Toppers
While your plain frosted cupcakes might not be the most appealing items to look at, they can easily be transformed into beautiful creations with these butterfly cupcake the toppers. These toppers are sold in sets of twelve and have just the right amount of sparkle to leave your guests in awe. While the cupcake toppers that are pictured are pale pink, you can customize the colors to match your baby shower. If you're planning to serve both cake and cupcakes, you can even order a matching cake topper.
How adorable would your cupcakes look adorned with these 3D looking butterfly toppers? The butterflies are intricately hand cut and are made with two layers to create a 3D appearance. If you are not a fan of cupcakes, these toppers could be used for other appetizers or even to mark the drinks of your guests. The butterflies measure approximately three inches tall and come ready to use in a cellophane bag.
Butterfly Diaper Cake
This beautiful diaper cake would be the talk of your party! Not only would this make a gorgeous centerpiece for a butterfly themed baby shower, it would also make a great gift for the mom to be. The diaper cake includes fifty-nine high quality, usable diapers. The cake is decorated with pink and purple ribbon, purple flowers, and butterflies!
Butterfly Baby Shower Food
If mother-to-be is conscious with what she eats, it may be a good idea to try serving healthy food at the butterfly themed baby shower for girls. Every friend of the expectant mother can bring a plate of food, and there can be half a dozen different salads and other healthy appetizers such as Egg Salad Stick, or a simple meatball salad  for everyone to eat, and the only sweet treat can then be the butterfly cake and some cupcakes. For finger food, you can use butterfly shaped cookie cutters to serve butterfly sandwiches by cutting salami, cheese and bread. Having a bow-tie pasta salad dishes is also a good idea to serve at a butterfly themed baby shower.
Butterfly Baby Shower Games
For an activity, you can have a 'headband station' by preparing your own kit or by purchasing already available DIY Headband Kit. This activity will let all your guests to get creative leaving mommy-to-be with plenty of beautiful custom headbands for her sweet baby girl!
A fun game to play for the butterfly themed baby shower for girls is called 'Decorate the Butterfly'. The hostess can create hand-sized butterfly with cardstock paper, and then set out all the things to decorate the butterflies like paint, stickers, and glitter. The purpose of the game is to decorate the butterfly, but the trick is to do it with the hands behind the back. In order to play, every guest has to turn around and just use her hands to decorate the butterfly.  The guest that can create the nicest butterfly, and the winner will be chosen by the mom-to-be, gets a nice prize.
FREE Butterfly Baby Shower Game
Butterfly Themed Soap Party Favors
Party favors are a must have for every baby shower! Send your guests home with the something that they will love! These butterfly soaps are sold in groups of ten. Each soap comes with a small gift bag with a ribbon, so you don't even need to worry about packaging the favors. The soaps are unscented, however, if you would prefer a scent, you can request almost any scent! You can even customize the tags specifically for your baby shower!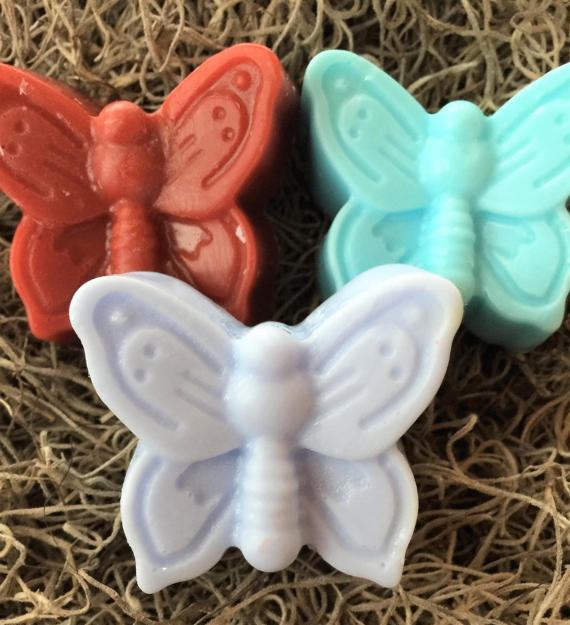 .
Follow My Mess's board Baby Shower Butterfly Theme on Pinterest.