"What Will it Bee?" Throwing a Gender Reveal Baby Shower with Cute Little Bee Themed Baby Shower! Perfect for neutral baby shower theme too!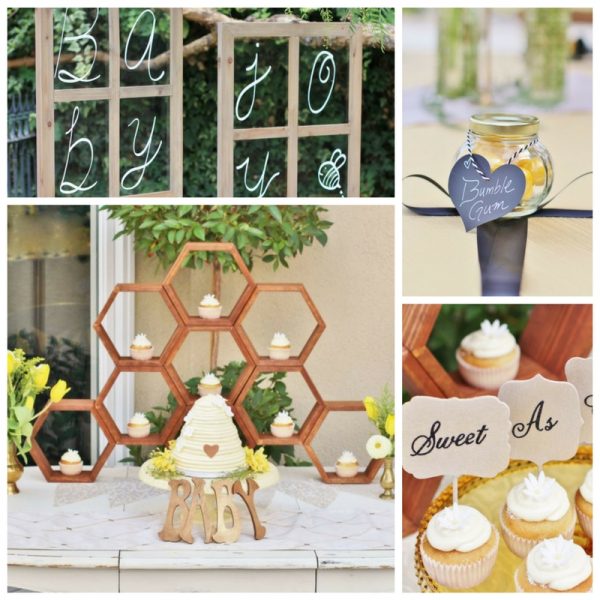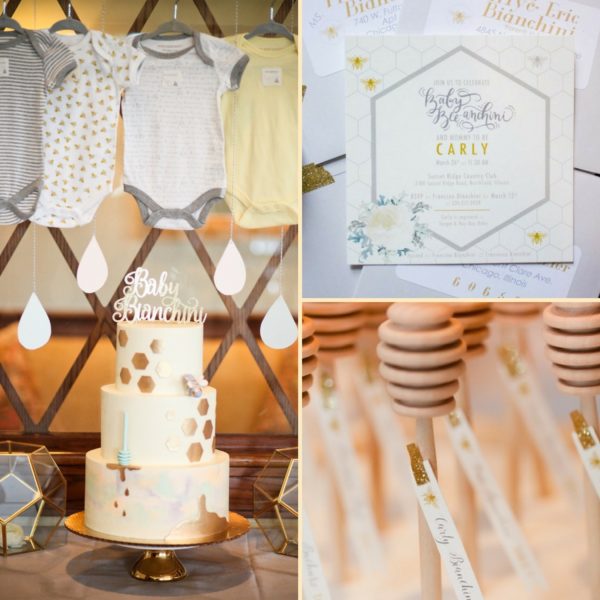 The happy parents-to-be might want to reveal the gender of their baby in a very special way that is going to involve all of the very important people in their lives. A What Will it Bee? gender reveal baby shower can be a lot of fun because it will keep everyone guessing up until the time the couple reveals the happy surprise.
What Will it Bee Invitations



What Will it Bee Decorations
Because this is a What Will it Bee? party, the decorating can be all about bees. However, because it is a gender reveal party, the hostess can actually get creative and combine bees with the colors of pink and blue.
There are plenty of bee themed decorations like centerpieces, table cloths, banners, but incorporating some pink and blue whether it be a vase of flowers like pink and blue carnations may not hurt.
Beehive Backdrop
You can try to make a beehive shaped backdrop using icypole sticks or purchase the kit so you have everything you need!
There are fairly doable DIY projects for making beehives and honeycomb backdrop for the food or dessert table. Backdrop video by While You Were Cleaning & beehive making by OurGregoryHome
Beehive Centerpiece
Beehive centerpiece might be a cute idea! Whether in a form of a vase or a display it definitely has a wow factor! Otherwise, as a centerpiece, you could organize a honey beehive cake with yellow on the outside but a color of the gender of the baby inside! A big surprise!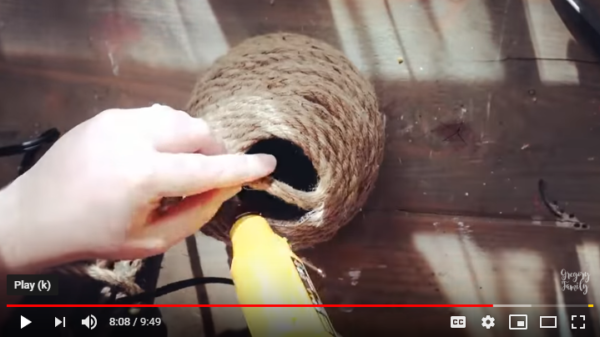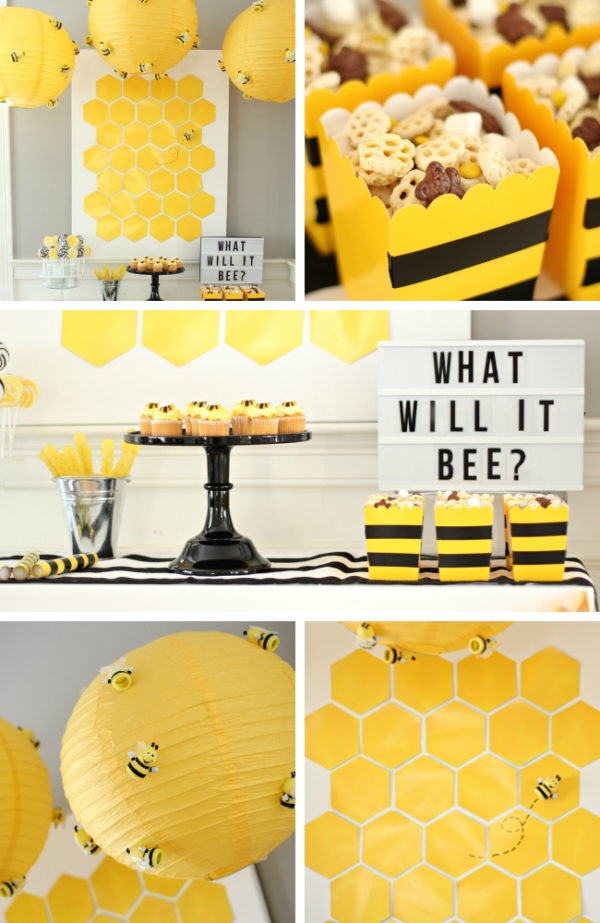 Bee Baby Shower Tableware


What Will it Bee Food Ideas
One fun way to feed everyone is to focus on the letter B because it is a bee baby shower.  Friends and family members can bring finger food that begin with the letter B, and it will be interesting to see how creative everyone can be.
Bee Baby Shower Games
A popular baby shower game that starts with the letter B is Baby Food Guessing Game. With this guessing game, jars of baby food without labels are used, and guests can only look at the contents of each jar and then write down their best guess.  The guest that gets the most right answers wins, and the prize can be a small jar of honey or other bee related prize.

What Will it Bee Piñata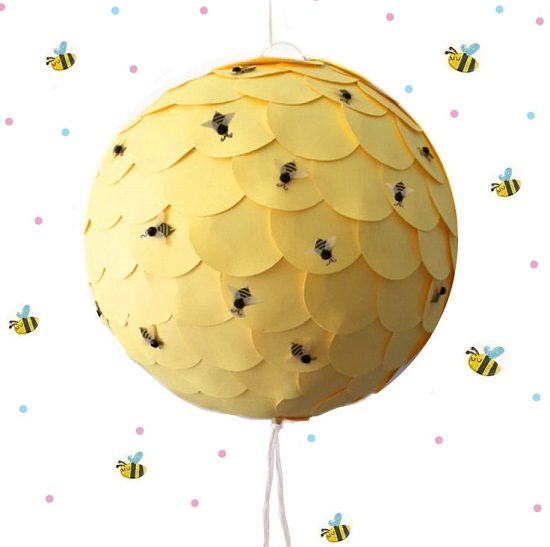 Another great activity you can add to the game is a pull string pinata! This can be used as a way to reveal the gender of the baby! Photo booth in bee themed props are also a fun activity! You can create your own photo booth props with the printables you can purchase online.
Printable Games
Bee Baby Shower Favors
You can go for Bee or beehive shaped soaps or a yellow frosted cupcakes in a  black or yellow box. If you can find small jars of honey, this is another fantastic idea!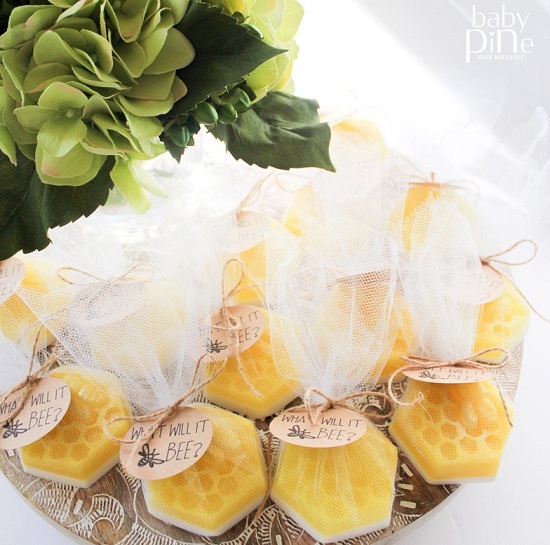 FREE What will it BEE Baby Shower Printables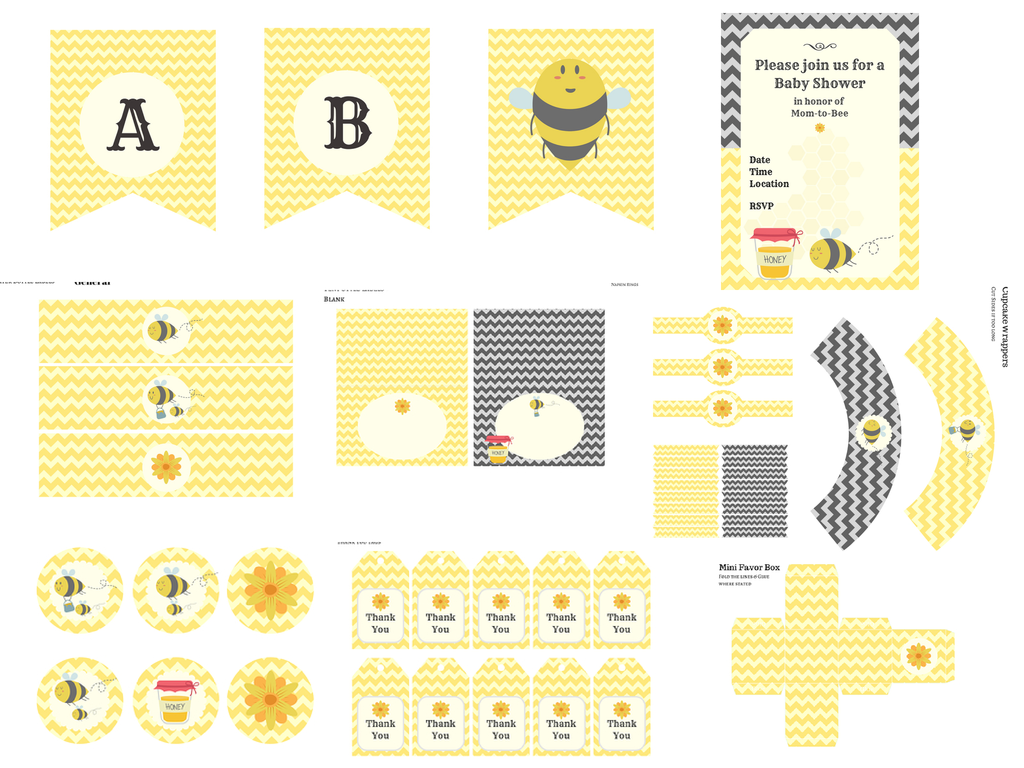 Follow My Mess's board Baby Shower Bee Theme Inspirations on Pinterest.