Featuring my favorite ETSY products on this page: Please note, I do not sell these products, please see below for a direct link of the Etsy seller name & link to the product!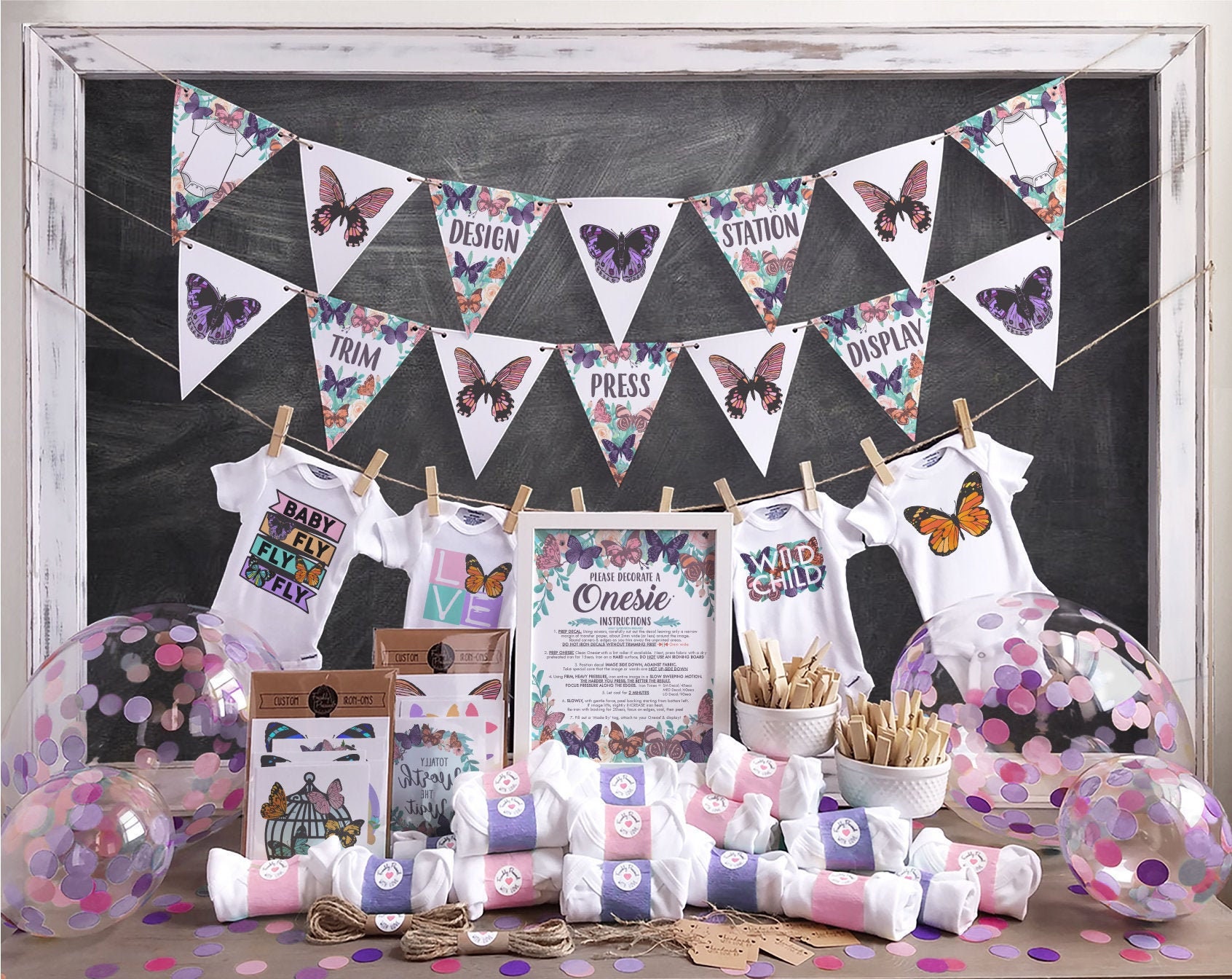 Pink and Purple Butterfly Onesie® Decorating Kit/ 24 or 30 Iron On Transfers, Onesies®, Banners, Tags & More! Baby Shower Upgrades Available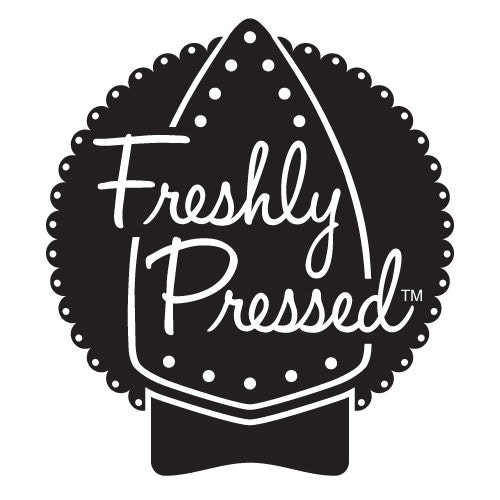 By: ShopFreshlyPressed
***PLEASE NOTE***
US domestic shipping times are delayed by up to 2 WEEKS due to the Pandemic, lack of USPS employees & limited transportation availability. Please plan accordingly and Thank You for Your patience and understanding!!
Pink and Purple, Butterfly Onesie® Decorating Kit, Perfect for Larger Baby Showers! Entertain your guests with the perfect Onesie® Decorating Station!
KIT INCLUDES Onesies®, Iron-On transfers in Butterfly theme, Double Stacked Banners, Decorative Instruction Sign, Cardstock Easel, Clothespins, Clothesline, and 'Handmade with Love By' Hangtags.
No need to stress over printing, assembling, or hunting down supplies. Carefully crafted, these kits have everything you need to make planning and decorating your shower that much easier, and your baby the most stylish kid on the block!
…………………………………
UPGRADES AVAILABLE!
COMPLETE YOUR KIT! SELECT ANY OF ADD-ONS FROM THE DROP DOWN MENU!
• 'PERSONALIZED' = Personalized Instruction Sign. Will be 'Make a Onesie® for Baby/First Name or Baby/Last Name.' Write Name in 'NOTES TO SELLER' at Checkout. (Please DOUBLE CHECK name for any spelling or grammatical errors, sign will be made as indicated. 12 Character limit)
• 'KIT & SPRINKLES' = Add On is 1 pack of matching Table Sprinkles
• 'KIT & 3 BALLOONS' = Add On is 3 x 11" matching Confetti Balloons
• 'DELUXE KIT' = Add On is 1 pack of matching Table Sprinkles AND 3 x 11" matching Confetti Balloons.
…………………………………
Already have your Onesies®, Bodysuits, or baby T-shirts? We have Decal Packs available!
www.etsy.com/listing/702126023
………………………………….
DETAILS:
LARGE KIT (24 PIECES) or EXTRA LARGE KIT (30 PIECES) INCLUDE:
• 2 Butterfly banners in shades of pink, purple, orange and green, ships assembled!
- Printed on card stock
- Flags measure 8.25"H
- Rustic twine measures approximately 6'
• Matching instructions sign mounted on cardstock, 8" x 10" (perfect for your favorite 8"x10" frame!)
• Cardstock display easel
• Natural rustic clothesline to display your creations
• Pushpins to hang clothesline and banners.
• Set-Up and Care/Maintenance Instructions
• 'Made With Love, By:' Kraft Hangtags, with natural twine, ships assembled!
- LG = 24 hangtags
- XL = 30 hangtags
• Bamboo clothespins
- LG = 48 pins
- XL = 60 pins
• Super stylish and clever, Iron-On Transfers
- LG = 24 transfers
- XL = 30 transfers
• 100% Premium Organic Cotton Gerber® Onesies® brand/bodysuits, wrapped in Pink and Purple crepe paper ready to be displayed in your favorite basket, tray, or wooden crate!
- LG KIT = 4 per size, 24 total
- XL KIT = 5 per size, 30 total
• Sizing Info:
- 0-3 months, 8-12lbs. 21-24 in
- 3-6 months, 12-16lbs. 24-26 in
- 6-9 months, 16-20lbs. 26-28 in
- 12 months, 20-24lbs. 28-30 in
- 18 months, 24-28lbs, 30-32 in
- 24 months, 28-32lbs, 32-34 in
………………………………….
COMPLIMENTARY GIFT WRAP:
*These kits make an awesome baby shower gift, and will be delivered gift wrapped and ready for giving! (If a gift receipt is needed, please message me in 'NOTES TO SELLER' at checkout)
………………………………….
DESIGN & CRAFTSMANSHIP:
*ALL kits are designed and crafted in Brooklyn, NY in smoke-free/pet free loft space.
…………………………………
WHAT YOU'LL NEED:
• A household iron (DRY, DRAINED OF WATER)
• A cotton pillowcase
• A HARD heat resistant surface, such as a wood table or clean dry cutting board for ironing *DO NOT USE AN IRONING BOARD*
• Paper cutting scissors
• A lint Roller (optional, but highly recommended)
*Carefully follow the 'SET-UP and CARE/MAINTENANCE INSTRUCTIONS' included with your package.*
**ADULT SUPERVISION IS REQUIRED TO AVOID POTENTIAL IRON BURNS**
***ADULT SUPERVISION IS REQUIRED TO AVOID POTENTIAL IRON BURNS***
See Instructions Board for further details. Iron-on Instructions can also be found:
http://www.avery.com/vgnfiles/OP/en_us/Help%20Center/staticfiles/Light%20Fabric%20transfer%20instructions-11242008.pdf
…………………………………
CARE INSTRUCTIONS:
• WAIT MINIMUM 24 HOURS BEFORE WASHING GARMENT
• Wash garment before wearing
• Turn Garment inside out
• Wash garment separately from other clothes (first time only)
• Machine wash cold/delicate. Use mild color safe detergent, avoid fabric softener, DO NOT USE BLEACH
• Remove promptly from washer, COLORS MAY BLEED IF LEFT WET FOR TOO LONG.
• Tumble Dry, LOW HEAT inside out. Remove promptly. OR:
• Turn right side out, Gently smooth the image with your hand, DRY FLAT. (recommended)
• DO NOT iron directly on the transferred image after it's been applied to the garment
*Just like any unique item, handmade with love, expect slight variations after washing. This might include a bit of fading or creasing especially if directions weren't followed to a 'T'*
…………………………………
PLEASE NOTE:
*The chalkboard, frame, and bowls are NOT included. Used for staging/stylistic purposes only*
………………………………….
CUSTOMIZING:
See a kit you love but not the color scheme? For a small up charge, we can customize
colors to match your shower! Simply follow the link below, and add to cart. Then message me in "Notes To Seller" up to SIX colors of your choice from the Freshly Pressed color chart. I will email you 2 proofs to choose from, and once approved I will proceed into assembling your kit. Please note that colors may vary due to monitor settings, and that customized kits are non-refundable.
www.etsy.com/listing/494713734
…………………………………
PROCESSING:
Please allow 3-5 Business Days for your order to be created.
………………………………….
SHIPPING:
Your Kit will be shipped from Brooklyn, NY via USPS PRIORITY MAIL. Delivery takes approximately 3 to 5 BUSINESS DAYS once the Post Office receives the package.
International orders take approximately 2 to 4 weeks depending on customs. We are not responsible for any customs fees or import taxes that may apply on International orders.
Shipping addresses must be entered correctly at checkout. Please double check all shipping addresses prior to purchasing, as shipping labels are generated automatically and cannot be adjusted once the order is placed. We are not liable for lost packages due to an incorrect address. If a package is returned to us, we are not responsible for reshipping fees.
Please note we are not responsible for lost, stolen, or damaged packages during shipping. We recommend buying shipping insurance at a small additional cost to protect your purchase. Any shipping complaints must be filed with USPS, please have a valid email on file so we can email your tracking # once your order has shipped!
**WE CURRENTLY DO NOT OFFER RUSH SERVICES OR OVERNIGHT SHIPPING.**
…………………………………
MISC:
*Please note the trademark ONESIES® brand is solely owned by Gerber Childrenswear LLC. Any reference to, or use of trademark in descriptions is in accordance with Gerber Childrenswear policies.
…………………………………
**PLEASE NOTE: Purchases from ShopFreshlyPressed™ are for personal use only and not for resale. The artwork may not be copied or sold for commercial or not for profit use; and purchasing does not transfer any copyrights to the purchaser. Selling, copying, and distributing purchases from ShopFreshlyPressed™ are STRICTLY PROHIBITED.**