Baby shower favors are little gifts (purchased or handmade) or food gifts given to guests as a small thank you for taking part in the celebration in welcoming the newborn. Most common ways are by giving it during the baby shower games to the winner/s and at the end of the baby shower event to all the guests whether they won or lost the game. This is a growing trend in the world of baby shower parties. Although there are lots of gift favor ideas that you can find in the market today, it is still best if you take some time and create something that your guests will keep and reminisce the time when they join you in welcoming your newborn. Below are some baby shower favor ideas that you might like.
Topics Covered:
DIY Favors that are Useful
Beauty Products
Candles
Sweets and Candies
Flowers & Plants
How and when to give out favors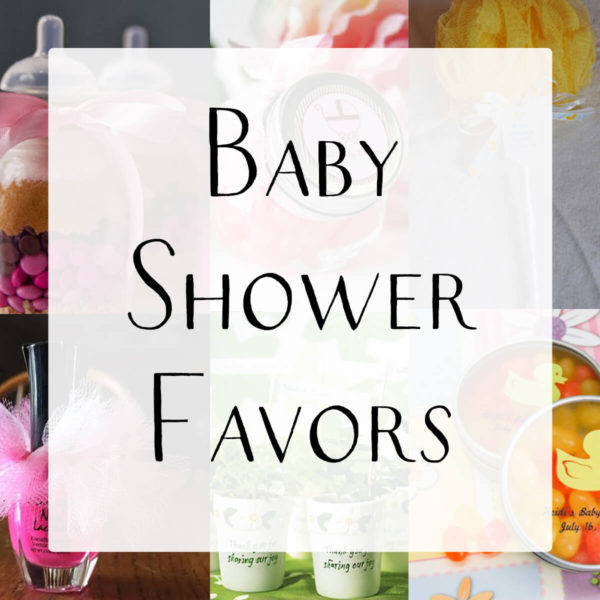 DIY Favors that are Useful
Beauty products
Since baby shower is typically a gathering of women, so beauty products are a perfect idea for favoring your girlfriends to some special treatment.
1) Nail polish
Good nail polish is like a weakness for just about any woman, so decide on a pink or blue nail polish if going for the baby's gender theme or take the rainbow as your inspiration and pick a color that fits your theme, like green for a safari theme, turquoise for aqua theme and so on. Personalize your little bottles with a cute ribbon and a pacifier shaped name tag. Ladies will be mesmerized by your colorful inspiration!
2) Sugar Scrub Jar
You will need small glass mason jars with a lid, brown sugar, extra virgin olive oil and honey. Mix 3 cups brown sugar with a cup of olive oil and 6 tablespoons of honey. Mix well and pour into jars. This is a great recipe for smooth skin! Simple Sugar Scrub receipt can also be found at Wellnessmama.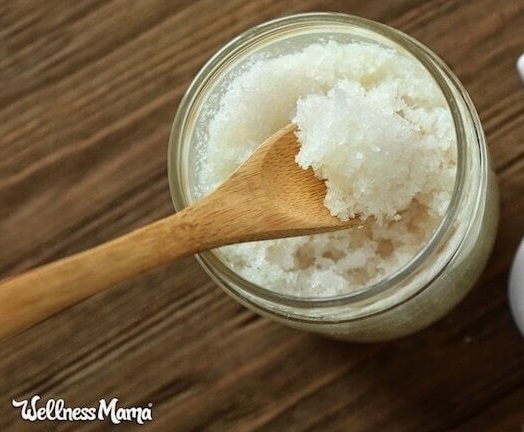 3) Home made body cream
How about coconut home made cream as a pure tribute in honor of a baby boy or a rose scented body cream for a baby girl's shower? Recipes are one click away so use internet as your inspiration and treat yourself to a day of cooking beauty potions. Place them in pretty white jar with dome lid, then tie a beautiful ribbon around it for a spectacular look!
4) Bath Items – Rattle Bath Puffs
Since most of your guests are women and the majority of them are moms or moms to be, giving them bath items as baby shower favors is a good idea. You can purchase some items that moms can use or you can also purchase some baby items. Baby soap, moisturizer, shampoo, washcloth, towels are some great ideas.
Rattle bath puffs – attach bath puffs to a nicely laced stick to make them look like a baby rattle. Tie a ribbon  with a handmade label in a shape of baby bottle, onesies, carriage or anything baby related. They are really funny gifts and you can wrap them next to a body shower cream so your girlfriends can use them for a completely relaxing bath experience.
5) Handmade Baby Shaped Soaps
Using Sleeping baby 3D soap mold silicone, you can create these cuties. Look for DIY handmade soap recipes you like and follow the steps. Package them nicely with a ribbon in a clear boxes.
Candles
A lot of people love candles so why not purchase some candles with relaxing scent. This is a good gift favor especially for those who are a fan of collecting candles. Choose the candles with good scent and possible a color that matches your theme and tie a ribbon around the candles. Make you own small labels with a short message such as "Kate's Baby Shower" and hole punch a corner and put it through the ribbon for a personalized effect. This is definitely a relaxing gift form moms.
Sweets and Candies
Nothing is better than a sweet treat, so prove your candy-wrapping skills and prepare individual jars or boxes of sweet treats as baby shower favors. Guests will be enchanted by your choice plus there are plenty of ideas you can use.
1) Cookies
If you have talent in baking cookies and have the ability to make different shapes out of it, then why not consider this as your baby shower favors. You can create shapes of rattles, teddy bears, bottles, a pram and onesies, decorate them and place them in small and attractive cello or organza bags and tie it with cute little ribbon. Otherwise, you can purchase cookie cutters to save you the trouble of shaping. This personalized and simple creation would make a lovely gift with less cost.
If baking is not your forte, you could purchase cookie cutters, then tie a cute ribbon along with your favourite recipe.
2) Jelly beans
A wonderfully sweet idea! Start by placing cute jelly beans in small, colorful organza, cellophane, cute personalized tins, plastic or sandwich bags and craft miniature white diaper coverings by using white square napkins or fabric. Fold the fabric in triangle and place the jelly bean bag in the centre. It should be placed so that there is a flap at the bottom and both sides of the bag. Bring them all in and secure it with a safety pin, creating the look of some sweet babies in their diapers.
3) Cupcakes
Like cookies, cupcakes are a charming idea of pleasing baby shower's attendants. Wow your guests by proving your decoration skills and craft some breathtaking cupcakes.
4) "About to Pop"
You would need to get make or purchase some decorative popcorn boxes and blue or pink netting. Write the phrase "About to Pop" in them if you have made your own boxes. Be creative and write or paint the words on the box. Put the netting in the box and fill it with popcorn. Add a creative thank you note and tie the netting closed with a pretty ribbon.
5. Paper Cup Baby Booties
You will need paper cups, satin ribbon, jingle bells and a hole punch. Cut the paper cup around in half, then cut two slits to make the tongue. Punch two holes in both sides of the paper shoe area of your bootie. Lace satin ribbon through the holes and tie it. Glue the jingle bell on the knot area of the satin ribbon; fill bootie with candy. How to make paper cup booties video
6) Pacifier Favors
For these favors, you need to purchase life savers and a bag of jelly beans. You will also need to use a hot glue gun to glue the parts together. These are very simple to make. Lay the first life saver flat and glue the second life saver standing up on the first one. This part will look like the small handle of the pacifier. Once that is dry, turn the pacifier over and glue a jelly bean in the hole of the life saver that was lying flat. That's all there is to it.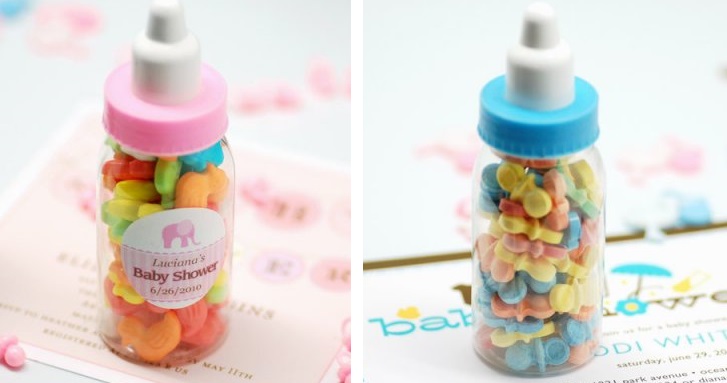 7) Candy Jars
If you are having a candy buffet at the baby shower, you can prepare candy jars to let your guests fill their jars with all their childhood favorites. 
8) Gift of  Dry Cookie Mix
You can share your favorite cookie recipe by creating lovely Dry Cookie Mix favors. They look amazing and are absolutely fun! You can add special touch with personalized labels on the mason jars.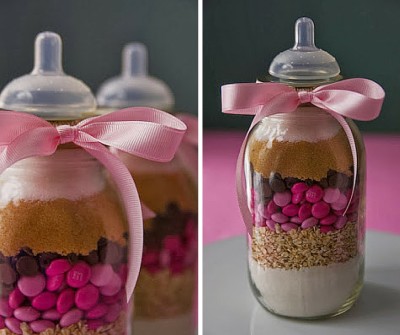 It doesn't matter if you're having a girl or a boy baby shower, you can freshen up the atmosphere with some lovely flowers. Either you can use natural or artificial crafted decorations, women will always be fascinated by flowers.
1) Natural flowers
If choosing fresh flowers, you can hypnotize your entire audience with their natural fragrances. Put your signature on flowerpots by decorating them. Place it's a boy/girl tag and wrap them up to look gorgeous!
2) Flower Place Settings
For this favor, you will need to purchase plastic tea cups, artificial flowers, colored cellophane, candies and pretty ribbon and tissue paper. Line the inside of the teacup with tissue paper, then place the flower in the middle of the teacup and place the candy around it to hold up the flower. Put the cellophane over the cup and tie it at the top with pretty ribbon.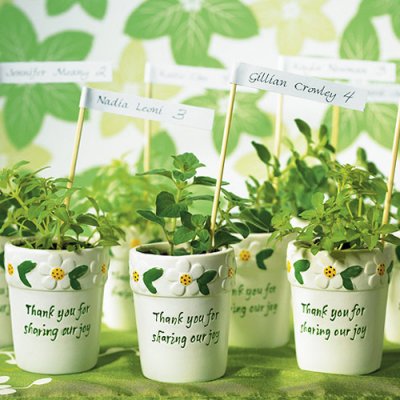 3) Plant Favors
You will need small flower pots (terracotta pots if you want to paint your own), potting soil and seedlings. Put the seedlings in the soil and add instructions about how to care for the plant. Give each guest a plant as reminder of the shower.
4) Crafted flower decorations
Hand-made paper flowers are very appealing and the guests will be impressed with your crafting skill! Match the paper color with your theme or match the flower with personality if baby shower is more intimate and personal. Sewing is another way of crafting artificial flowers and some glamorous flower brooches would be a cute idea. Want more? Go for some blue marshmallow daisies or iced sugar roses. Edible flower bouquets are delicious! Look into origami flowers too.
5) Coffee Mugs and Plants
If you have the talent in gardening and art then you can consider this baby shower favor. You can purchase coffee mugs and place the plant in the mug. This will look nice and if in case the plant died you can still use the mug. You can also try giving flowers placed in a wine glass. Use your imaginations and focus on what most moms love.
Picture Frame
Purchase inexpensive photo frames (Can usually find at a dollar store), buttons or beads, and a glue gun. Decorate the photo frame with buttons or beads and give it to each guest. You can send them a picture of themselves at the party to put in their frame.
Overall it's not important what you choose, it's important to be original and inspirational. Spread the joy by crafting baby shower favors that are authentic and private as the event itself. Be pure and inoffensive, the amount of money spent is not relevant, the final feedback is all that matters.
How and when to give out favors
1. At the beginning of the baby shower
A good moment to surprise you guests with a baby shower favor it's right at the beginning of the party as a welcome gift. You can wait for every guest with a welcome drink in a personalized glass which of course they can keep as a memory. You can either place a baby tag with the name if it's already known or you can write simply "it's a boy/girl" or date of shower if parents still don't know baby's gender. You can even make it more personal by having a cute plastic pacifier swimming in the glass. What a fun way of starting the party.
Another warm welcome that would surprise your guests is to create personalized baby shower cones and hand them out as the guests enter. Write their names on each one of them and you'll certainly be laughing at the table
2. In the middle of the baby shower
The best moment of giving baby shower favors is right in the middle of the party. Think about fun activities & games through which guests can earn their baby shower favors. You can craft different prizes for winners but keep it to the same subject area so you don't risk any further discussions. You can craft for winners a beauty pack of home made soaps, body cream or shower creams, whereas for a consolation prize you can pick some scented candles. Not only you'll have fun playing the games but you will also have the chance to see some people really enjoying their time. When sitting at the table for eating, place some fortune cookies in the salad bowl for example. Guests will be even more surprised if you personalize the notes but then you will have to place the fortune cookie on each plate and carefully guide guests to their seat. Think about each guest and what defines his/her personality and compose a funny sentence for a special treatment.
3. When the Cake comes
Entertain a double surprise and give your baby shower favors after the Baby Shower Cake is served. You will surprise parents to be with a marvelous cake and guests will also feel included when receiving a personalized gift. You can match your favors with the theme of cake so if it's an animal shape, craft some stuffed animals as favor gifts or make some cookies wrapped in cellophane bags with a pretty ribbon.
4. At the end of the baby shower
A little tease doesn't hurt anyone so keep your guests on fire and handle their favors only before leaving the party. What you choose to give them is your decision. You can prepare some delicious cupcakes, crafted napkin or cloth diapers filled with candies or any other containers that you can personalize. Whatever baby shower favor you choose will fill your guests with joy and gratitude. You can choose anything you want with only one condition, craft them yourself it's more personal and inspiring!