We all like to strike with the most original baby shower cake that is also tasty and affordable but it is not always so easy, so here are some suggestions to keep in mind when you're out of inspiration.
Edible Cakes
This type of cake is the most popular selection. The possibilities are limitless it's rather an exercise of imagination for the ingredients and the shape.
Here are some ideas:
Croquembouche
Coming from French croque en bouche, this type of delicacy is not a traditional cake. It is often used in France and Italy for weddings, baptisms or first communions. Sweet taste of crème puffs will softly crunch tastes leaving your guests speechless. Personalize your croquembouche by replacing the caramel with white chocolate for example, moreover, add some themed decorations to fit the background of your party. How to make Croquembouche video by cherlycake4u via youtube.
Doughnut Tower
Although it's similar to croquembouche, the doughnut Tower is however more easy to build up. You can purchase Krispy Kreme doughnuts, they are light, fluffy and absolutely delicious.  Make sure you layer it in a specific pattern so you can build up to 5-6 layers. Also, you can use some sauce to keep the layers together. Sauce can vary from chocolate fudge, whipped cream to iced sugar, fruit flavors, white chocolate or cocoa.
For an easier stack up option, you can purchase a cupcake tiered stand and place multiple donghnuts in each tier to give a full look.
Macaron or 

Meringue

Tower
To start off, wrap a styrofoam cone with aluminium foil and stick it onto a base. If you are using a plate, use icing to glue the styrofoam onto it. If you are using a disposable base, you can stick it on with superglue.
With plenty of toothpicks and macarons (or meringue), you can start building your macaron tower cake.
Funky Colorful Cakes
A backup tasty solution. Decorate your basic cake sheets with M&Ms, Haribos, dragée, berries, macarons or any kind of colorful treats you can find. This will put your imagination to work and if you are feeling full of inspirations, possibly you'll discover some hidden skills.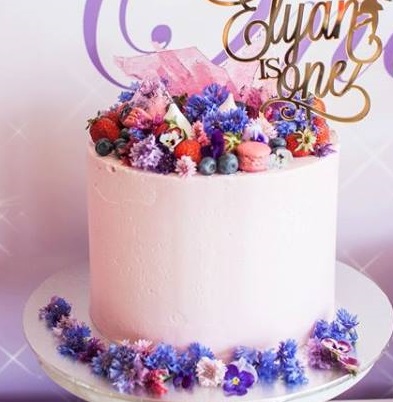 Bunting
Add some touch to any plain, simple cake for an impressive result with some adorable handmade or purchased cardstock or fondant cake bunting!
Order a cake
If you want to be sure everyone is stunned order a professional baked cake. These art pieces can sometimes look amazing and inedible when they actually are, oh and how tasty. You always can talk with the baker ask her about suggestions and secret ingredients that will make your cake unique. Speaking about shapes, there is not something a professional baker can't do so decide the baby shower theme and find the best appearance for the cake.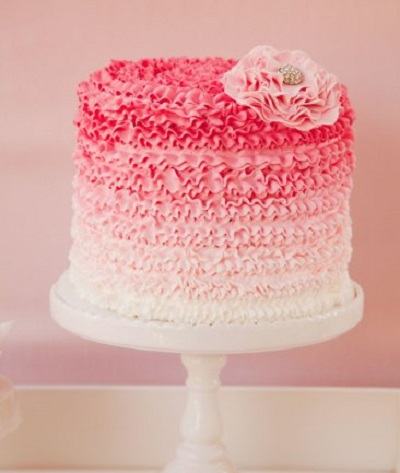 Diaper Cake
A new modern type of cake is the diaper cake which is not edible. They are many other non edible cake options and are generally they are made up of diapers, washcloth, socks, towels that will help future parents in their accommodation with the new member of the family.
Non Edible Diaper Cake
Literally a cake made of diapers. You can roll them in catchy way, tie them with colorful ribbons and place them together to look like a cake. After all with a new born diapers are always welcomed. We've made a tutorial vide on How to make a diaper cake with details of what you need.

Towel Cake
What a nice way of transforming some simple towels into a tasty looking cake. Gather towels of different sizes for the 3 tier cake. Face wash, hand, bath towels. Roll the towels and tie them with a sparkling ribbon. Surely parents will be enchanted with your interpretation of a diaper cake. How to make towel cake video by Thom's craft and treats.
Socks Cupcake
What's cuter than little colorful baby socks. Roll, fold and gather them together to look like a cupcake. Pick a nice cupcake wrapper and place a round candy, cherry, large bead or a pearl on top of the cupcake. You can make as many as you want and place it on a cupcake stand to look elegant. Each cupcake uses 3 socks. So 2 cupcakes will give you 2 pairs of socks. How to make sock cupcake video by Jenspire
Baby showers cake ideas are limitless, let your imagination flow away and give you the most personal and inspirational idea for the cake.
Baby Shower Cake Topper
Agreeing on the baby shower theme and the shape of a cake can be very important. But, details are the special ingredients which state the difference. So, when sketching the idea of the cake pay closer attention to toppers and decorations to personalize your sweet moment.
A cake topper can be used in many ways either matching the colors of the cake or complementing it, especially if it's a single color cake. Take a bit of care when decorating the cake, don't go overboard trying to throw everything on the cake, as it can be very tempting as there are so many cute toppers! Just keep in mind of the theme if you have chosen one. You can purchase cake toppers at cake shops, possibly simple ones at local stores or online at Etsy, otherwise you can make them yourself using fondant. It will be so much fun! Don't limit yourself and let your imagination flow away.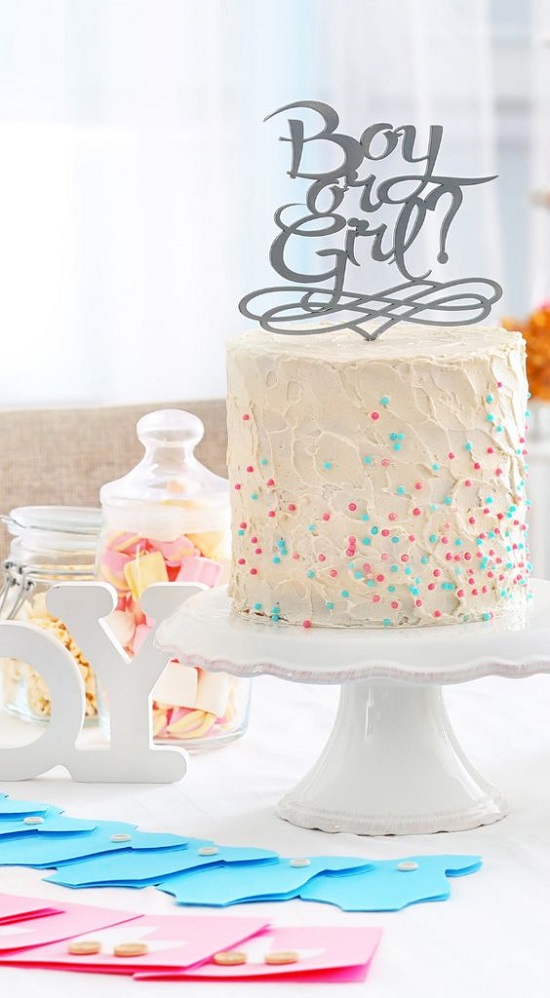 Stork Baby Bag Toppers
This is the most popular idea when it comes to cake toppers. Whether is a boy or a girl, the stork is still a popular choice. For a theatrical approach just let the bag hang by its peak, so it looks like the stork just landed with the bag.  Add an umbrella in case it rains so the baby is protected.
Bow Toppers
Whether it's a boy or a girl, a large pink or blue bow on top of the cake will look absolutely lovely, like it's a present for parents-to-be! See the youtube video above by Howcast on how a simple bow can be made.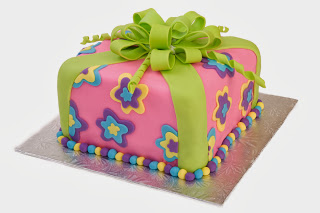 Mommy-to-be Themed Toppers
Think about the mother-to-be and what she likes. Go for pink or blue hand bag or shoes fondant if she loves shopping, a pencil or a splash of rainbow colored paints if she loves painting or drawing.
Cake Decorating Ideas
Decorating is the fun part of a baby shower cake. Don't insist only on the top of the cake, take care of the margins and layers too. Here are some techniques you should consider:
Sugar confetti
This is a backup idea if something goes wrong with the decorating process. A splash of sugar rain can save any mistake and make it look elegant. Too much is too much so be careful with the amount of sparkling candies and try to avoid kitsch reproductions.
3D decorations
To impress parents to be set up a real story scenery, using toys and edible sweet ingredients like royal icing and sugar flowers.
Organic flowers
Summer baby showers are great occasions to get out of ordinary and place a bouquet of organic flower on the top and around the cake.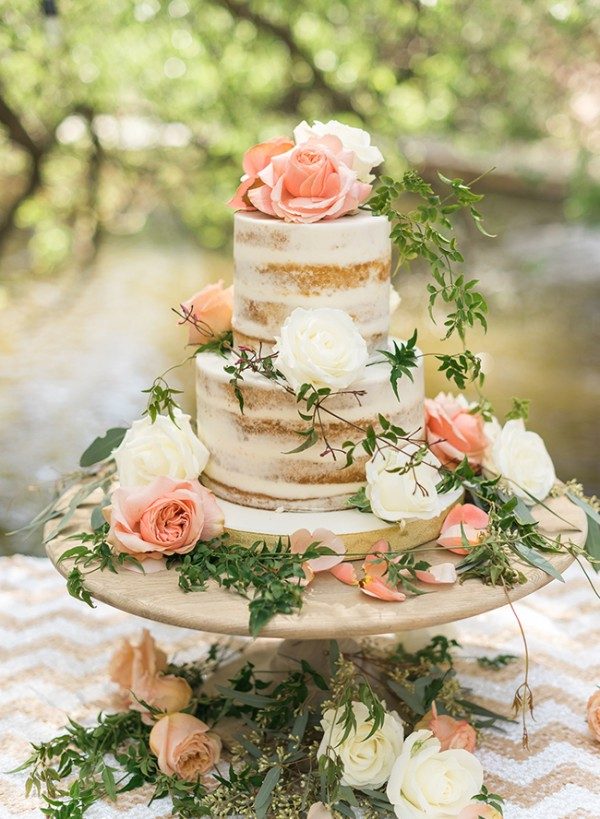 Messages
Surprise parents to be or guests and print out some personalized cute messages about babies. Encourage them and place strategically on wooden sticks or lollipops.
No matter what decorations or cake toppings you choose it's important to think about creative techniques to surprise the parents to be and the guests. It's not necessary to pick a professional baker; you know best what's suitable for a private untypical baby shower. The best part of it is that the majority of toppers and decorations are edible!
Baby Shower Cake Ideas for a Boy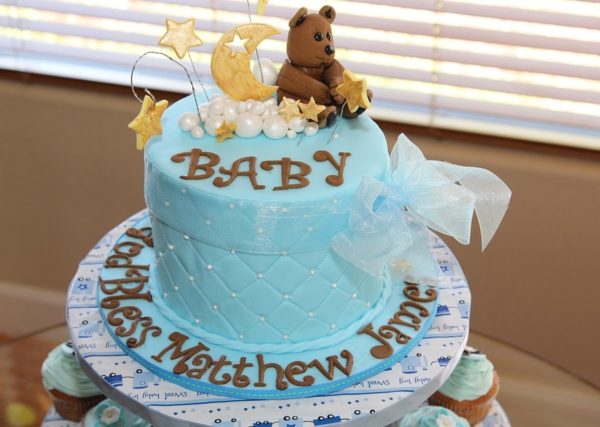 There are some very cute cake options you could try. One is a little blue bassinet with a baby tucked in, the whole thing is edible and it looks absolutely precious! You can have a cake made so that a little diapered butt and baby feet are popping out of it. Some of the cakes can be traditional ones, like a 2 tiered square cake that looks like charming presents, with striped blue wrapping paper and a bow on top. You can also do polka dots if you prefer that to the stripes.
If you already know what they are going to name the baby, than there is a perfect cake that will just screams adorable! It is a simple (so less expensive if you are on a tight budget for the party) sheet cake with blue icing or fondant. In the middle you can have a teddy bear or any other animal made of fondant with a blue bow around his neck. On each side of the bear place some catchy words such as, "The big day is drawing near…" on the left and, "Baby (Baby name) is almost here!" This idea is very sweet and loving and yet so simple. Sometimes the best ideas don't have to be the most extravagant.
You can go with any animal or baby item; a teddy bear, an elephant, baby rattle anything you want. You could even transpose the latest sonogram photo right there if you wanted.
This is a great way to have some real fun with something at the party, that one thing to really make it spectacular and different. The pictures of the cake will be something everyone will want to show their friends, and you really can do anything with the cake to make it special for both the mom-to-be and guests. So whether you choose to go simple or go all out, the cake is sure to be the centerpiece of the party!
Baby Shower Cake Ideas for a Girl
The one thing that can make the shower scream we love you, we're proud, and we put a lot of thought into your shower, is the cake! There are a lot of ways to go with baby shower cake for a baby girl probably more options than you even need. The first consideration should always be your budget. Different kinds of cakes will cost more than others. So when picking out an option, have a maximum number in terms of budget in mind, at all times. There are some cute things you can do. You can have the entire cake shaped like a baby girl wrapped in a pink blanket or a cake shaped like a bassinet, but remember any sculpted cakes will cost more than traditional shapes do.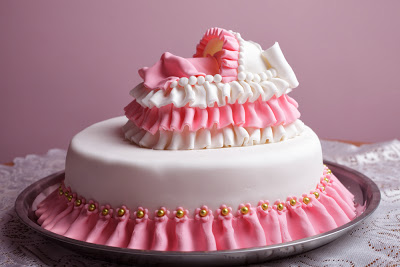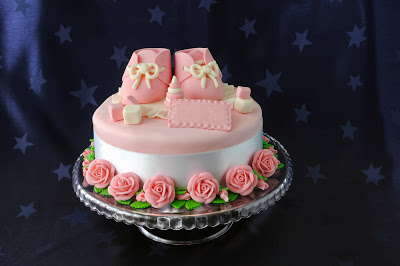 You could go with the classic sheet cake, but with one exceptional detail added. You can have a rectangular, square or round cake with a good sized sleeping baby made of fondant on top or an adorable worded cake topper.
Depending on the bakery, this may cost a lot less than the baby shaped cake or a little less, at some maybe more. You may want to pick a place you know does great work first, with a budget in mind sit down with the baker. Tell her your most extravagant, over the top ideas and see if it's beyond your budget, just work from there to exclude few things here and there or for an alternatives. Another way to do it is to start by telling her your budget so she can tell you the most amazing thing that will get you for that particular price.
If you only have a sheet cake budget don't worry, because there are great options there too.  The best ever plain, flat, not shaped like anything or with anything on top of it cake I have ever seen was a flat single layer sheet cake with simple pink frosting decorations and the best part was that there was a special poem or inscription for the baby and a drawing in icing of a teddy bear with a pink bow around her neck. The poem read "The big day is drawing near…" then it continues on the other side, "The new baby is almost here!" So if you do know the baby's name it would be "baby Jessica is almost here".
Cake Inscription Ideas
"The big day is drawing near…The new baby is almost here!"
"Ten toes up, Ten toes down, That's what you get, for fooling around!"
"Oh Boy, a little man is on his way!"
"Adventure Awaits!"
"So cuddly and so sweet! A new baby boy is almost here for you to meet!"