Baby Shower Decoration Topics covered:
Baby Shower Decorations for A Girl!
Baby Shower Decorations for A Boy!
DIY Baby Shower Decorations
Inexpensive Baby Shower Centerpieces and Decors
Baby Shower Food Table
Putting together an unforgettable baby shower can seem daunting—but it doesn't have to be! From gender reveals to decorations on a budget to the greatest of food that makes your mouth water, you can create the most memorable baby shower with practically the snap of your fingers. Check out some fantastic tips below to cater to the kind of epic baby shower you're looking to throw. Then, rest easy and truly enjoy yourself as you have the best time putting on the best event!
Baby Shower Decorations for A Girl!
Break out all the pinks, purples, and bright pastels you can find for the most perfect baby girl shower decorations. Options are pretty limitless when it comes to all you can use to put together the best party, so starting with the right palate of colors tends to make the whole decorations process easier. From there, fluffy tulle table skirts, oversized chair bows, and bunches of spring flowers or pink roses around the venue adds must-have accents. Twinkling fairy lights and anything fairytale princess-themed also lends a great look to a baby girl's shower. Think magical carriage candle holders and a glass slipper or tiara centerpiece for tables.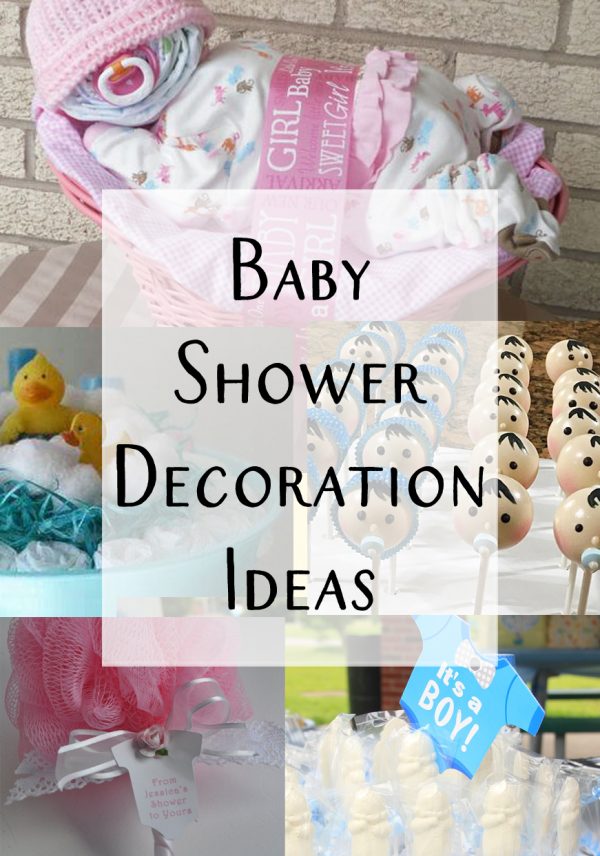 Baby Shower Decorations for A Boy!
Much like with a baby girl's shower, starting with the colors you want to utilize for a baby boy's shower is the way to go. Bolder blues, greens, and blacks work well, while metallic accents such as big balloons, garland, and streamers give that perfect pop to décor. You can choose themes like baby James Bond with baby bowties and monocles, or you can even opt for superhero decorations, comic book legends, or dinosaurs. Garlands of superhero onesies (brought by each guest) make fabulous decorations while also being a keepsake for the mother-to-be.
DIY Baby Shower Decorations
Celebrations like this can add up quickly when it comes to expense. Luckily, there are tons of DIY ways to decorate for a great baby shower! From giant paper flowers that hang from the ceiling to backdrops with rhinestones, glitter, and puff paint, you can find tons of great crafting items to create some truly one-of-a-kind décor. Pull out some of your own toys as a baby and use those around your party venue as decorations. This also works well with old posters of movies or books from your childhood. In fact, you can tell guests to bring a little something special of their own that can lend itself to the décor, such as onesies, old baby photos, or their first baby bib. And of course, the ultimate DIY baby shower addition is a can't-do-without diaper cake!
Another option for DIY baby shower decorations that not only saves your wallet, but also cuts down on time spent, are baby shower decoration packages. You'll find these online, or at most party and craft stores. These types of kits have everything you need for baby shower decorations all wrapped up in a convenient set, alleviating the stress on trying to remember just what all essential needs to go into the party.
Inexpensive Baby Shower Centerpieces and Decors
Just like with DIY decorations, baby shower centerpieces and themed décor items can also be affordable! You can create your own adorable baby block centerpiece for guest tables. This is one of my favorite DIY centerpiece.
Video on how to make a baby block by The Glamorous Penny Pincher
Not a crafty person? No problem! The dollar store is your perfect place to find the best decorations—and lots of them! Buying items online in bulk can also save you a ton of money—think balloons, party favors, servingware, containers, streamers, lights—you name it. Worried about floral centerpieces breaking the bank? Don't be! If you have a yard full of spring flowers, take advantage! The flowers can be a very simple arrangement. If you don't have yard of flowers, head to one of your local farmer's markets where you can find beautiful flowers for cheap! And with the right fertilizer, you can keep these centerpieces lasting and fresh for the entire length of the party and longer.
Want artificial floral centerpieces? Most craft stores have a forever running sale on certain faux florals, allowing you to save money and create something beautiful. Yard and garage sales are also fabulous places to find some real unique gems that can be great party decorations. From vintage books and trinkets, to really cool vases that house your centerpieces, these sales are a super inexpensive way to impress your guests. And sometimes, these odds and ends you find at garage sales can spark your imagination for even better ideas for your baby shower event.
Baby Shower Food Table
There is nothing quite as fun as putting together a creative food menu for a baby shower! From salty fares to sweet treats, you can have a ball coming up with themed food for guests to really enjoy. Cakepops in the form of baby rattles with candy bows or big frosted cupcakes also in the form of sugar-laden rattles, make for beautiful and delicious offerings for the sweet tooth.
For main food, hot pizza pockets made into the vision of little baby diapers next to a huge array of fresh salad produce complete with a cabbage patch kid baby in the middle, fill a hungry tummy while inciting giggles. Speaking of fresh produce, cut a watermelon into the shape of a pram and load it up with tons of fresh fruits. For your beverage station, you can have just as much fun, too. Create a signature sweet punch in a bright blue hue complete with whipping cream "suds" and rubber duckies floating on top. Or, you can also whip up a "Preggatini", a.k.a. a mock version of the ever so tasty mimosa or peach bellini!
Other Related Topics:
Baby Shower Centerpieces
Baby Shower Cake Toppers
Boy Baby Shower Cakes
Girl Baby Shower Cakes
Baby Shower Diaper Cakes
Inexpensive Baby Shower Ideas
Picking a Baby Shower Theme
9 Steps to a Successful Baby Shower
Fun Baby Shower Themes & Games
8 Must Know Baby Shower Etiquettes