Welcome to Baby Shower Ideas 4U, a blog about helping YOU throw a MEMORABLE baby shower for your best friend, family member or a relative. The ideas you find here come from either myself or other people who loves baby shower parties. So, if you are looking for baby shower inspirations, cutest baby shower decorations, cakes, invitations, favors, games, baby shower free printables then you have come to the right place :)
By the way, I'm Cindy, I hope you will find what you are searching for. If you do decide to buy any products, these are affiliate links so you will be supporting MND association as 10% of the commission will be going towards my supporting charity, MND (Motor Neuron Disease) associations.
8 Quick Steps to a Successful Baby Shower Party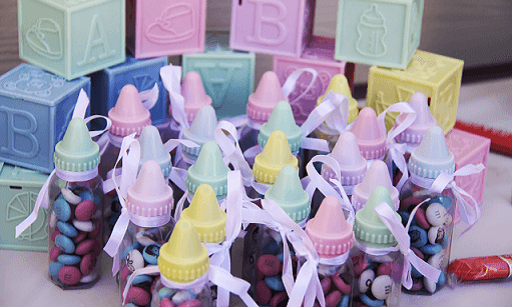 1. A Guest List – Friends, family, relatives, co-workers, partners, children, neighbour
2. Select a Theme – Examples are pink flamingo, princess, ladybug themes for a baby girl. Blue elephant, prince, nautical, little gentleman themes for a baby boy. Other options are gender reveal and gender neutral theme which you can use when gender of the baby is uknown.
3. Decorations for the Theme – Tableware, banner, streamer, garland, pom-pom, balloons, cake, diaper cake, cupcake toppers, candy bar, wall decorations, backdrop poster, centrepieces, confetti, welcome board, party printables and many more
4. Food & Drinks – Finger food, catered food or full course meal. Desserts – ice cream, cake. Snacks – Chips, crackers, dips, cut out fruits. Drinks –  alcohol & non alcohol, fruit punch.
5. Location – Restaurant, reception, host's home, park, BBQ
6. Invitations – Send out 4 weeks prior to baby shower. Baby shower is usually held 6 weeks before the due date
7. Fun Games – Dirty diaper, pin the sperm, baby bingo game, what's in the diaper bag, don't say baby, how big is mommy's belly, guess the celebrity baby etc.
8. Favors – A small DIY or purchased gift for game winners & for rest of the guests.
Diaper cake is an arrangement of diapers stacked in such a way as to look like a traditional multi-layered cake. You can decorate the cake with baby shower gifts such as pacifiers, lotions, bibs, rattles, toys, towels, socks etc. You can present it on the food table as a centrepiece and give as a gift for the mommy-to-be. Find out how you can make  a simple diaper cake here.