One very important thing when dealing with baby shower is having the right baby shower ideas. This rings especially true for the gifts. They are considered one of the most important aspects of a baby shower. That and the games. But let's face it, the gifts are the only reason that baby showers exist in the first place.
We understand now that it is customary for guests to bring some type of gift to the baby shower. Unfortunately, there are lots of baby shower gift ideas making it very difficult to choose. Quite often we see gifts for the baby, but it can be something for the mom-to-be as well as dad-to-be.
Firstly, you need to decide on what type of gift you would like to give. Something practical, fun, a keepsake or a handmade gift.
Baby Shower Gift Options
Gifts for the Mom-to-Be
Here are some great gift ideas for the mom-to-be
Gift Vouchers
Giving mom-to-be gift vouchers from supermarkets or renowned baby shops is a good idea. Gift vouchers are some of the most practical gifts that you can give. It is also the best gift for moms who already have children. You can also choose to give gift vouchers that can be claimed at the photographer's studio.
A Professional House Clean
Mom-to-be will truly appreciate this practical gift since most mom-to-be clean their house before the baby arrives – this could be the shower gift they will receive. It is also best for moms that already have children. Even the first time mom will appreciate the added help around the house particularly during the later stages of their anticipation. Actually, during the end stages of pregnancy, pregnant women find it hard to even bend while cleaning the house, so additional help is greatly appreciated.
Gift ideas for the baby
Personalized gift items
There are many online stores that offers personalized message or the baby's name if known printed on baby blankets, hoodie towels, clothings etc.
Clothing and Diapers
The best baby shower gift items that you give are diapers, wipes and clothings. Some may consider giving shampoo, books, blankets and albums. But diapers are one of the most practical items you can purchase for a few reasons. Babies normally use ten diapers or even more a day so you know they will use it without a doubt. Giving diapers will also help them lower their expenses. You can choose organic diapers since these are much safer for the baby's delicate skin. Diapers might not be the most exciting gift that you can give, but it definitely does work! Instead of giving it in a regular box, purchase some ribbons and bands and try making a diaper cake! Now, you have a best looking gift surely to impress everyone! Clothing remains to be the most popular choice. Baby clothes are not cheap at all, and purchasing the right clothing can save time and money. The materials used are very important and you need to make sure that it is very soft and safe for the baby's skin. Since babies have sensitive skin and clothing made of rough materials could produce rashes as well as other as skin problems. Choose clothes made of natural materials.
Tips on Buying Baby Clothes as Baby Shower Gifts:
Buying clothes for babies in size 0-6 months could be a bit big at first, but the baby will definitely use it longer. Babies grow fast, they have normally outgrown their coming home outfit within a week or two so I would avoid purchasing something that is newborn size.
Plan even further ahead and buy some baby wear in 6-9 month sizes. Take into account what season it will be in 6-9 months time. This will provide mommy and the baby some new baby wear to look forward to.
Gift Baskets
A gift basket is another gift item that you can consider. These baskets usually come with different items such as pacifiers, shampoos, rattles and others. If you are really don't have any idea what to give as baby shower gifts, then the gift basket idea is an excellent choice.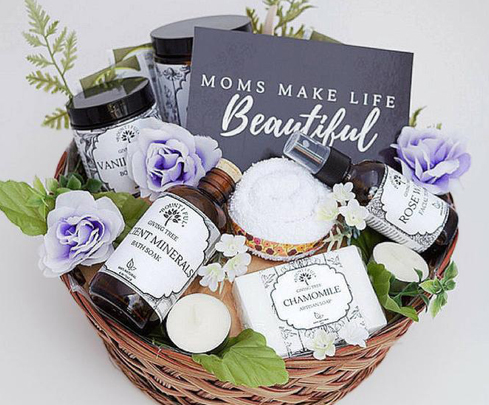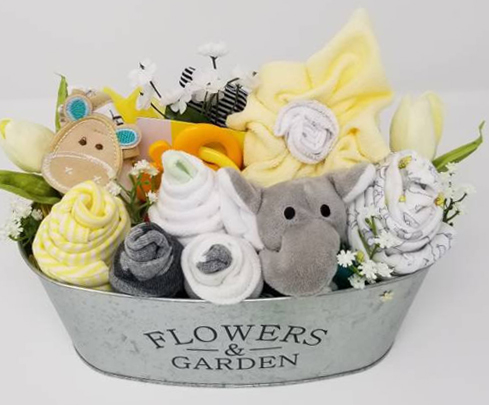 It does not matter what you end up buying, just make sure that the item comes from a trusted company. There are some baby product companies that are better than others and you do not want to spend a lot on something that is not worth it. It is best if you read some reviews about what past buyers are saying. This is the best way to make sure you are getting a perfect baby shower gift.
Types of Gift Basket
Laundry baskets
You can use the laundry basket to hold other gift items that you want to give. You can include baby laundry powder or liquid (sensitive to skin type), baby clothings, socks, towels, wash cloth, bib etc. This gift item is very useful since babies tend to change their clothes every now and then.
Dishwasher baskets
This includes items like pacifiers, lids to sippy cups, small spoons and others.
Cloth diaper baskets
This includes any item required to change the baby. The cloth diapers, baby wipes, baby powder, disposable travel baby change mat etc are some ideas.
Bath item baskets
You can include items such as bath oil, moisturizer, shampoo, duck toy, bath towel etc.
Cheap Baby Shower Gifts
Baby items can be expensive and when you're low on funds, it is can be very frustrating to look through a baby registry and see only big-ticket items left.  So, what do you do when you need to shop for gifts on a budget?  Here are some great inexpensive baby shower ideas that will not disappoint!
Get Creative:
The most memorable gifts that anyone can give are the ones that are home-made.  All the time and thought that goes into a unique, hand-crafted item is worth more than money can buy.  Not to mention, it is a guarantee that no one will duplicate your present!  If you knit or sew, show off your talent by making a personalized blanket or hat for the little one.  You don't have to have a specialized skill-set to be creative though. Crafting something as simple as a scrap-book, for the parents to fill in with photos, just takes a little imagination and will provide the family with a book of fond memories for years to come!
The Essentials:
There is no shortage of impractical gifts at baby showers.  Sure, a frilly dress will get tons of "oohs" and "awws" from guests but really that dress is only going to be used for maybe a month or two before the baby grows out of it.  Every mother knows that you can never have too much of the basics.  Purchasing everyday items like: pacifiers, diapers, wipes, onesies and shampoo and soap, will help mom and dad out big time in the long run.  Putting together a gift basket full of some essentials would be much appreciated and won't bust your budget!
Plan for the Future:
Preparing for a child's future is just as important as preparing for the day he/she comes home for the hospital.  Buying a saving bond or CD (certificate deposit) for a small amount of money now will eventually turn into a substantial amount when it's time for the little one to head off to college.  Even setting up a small savings account in the child's name can be helpful, by encouraging the family to put money away for the future.
The Gift of Time:
If you have absolutely no money to spend on your baby shower gift, don't worry there is still hope!  Create a coupon book for the parents that will offer them much needed time off.  Fill the book with deals like "date night for mommy and daddy", "sleepover at (your name)'s house", "lunch delivery" and "day-time outing with (your name)".  The new parents will never feel like they are putting you out by asking you to baby-sit when they have this book.  Spending time with the baby and giving mom and dad a break wil l be more valuable than any material object could ever be!
Unique Baby Shower Gifts
Finding the best gifts you can can be quite a challenge. Or, at least, different from what everyone else has given.
For example, the Baby Bean Bag is a super fun baby shower gift idea. It not only keeps the little one comfy, but it is also super cute too! It is just a bean bag chair but a mini size! You set your little bundle of joy down in this baby bean bag chair, and let the comfort never cease to amaze your little dear. Ok, while this is more for the cool factor of the new mommy, if the little guy could remember this moment when he was older, he would be saying, "Man I loved my Baby Bean Bag chair".
Then, there is the Baby Shusher. This genius contraption uses rhythmic shushing sounds to calm your baby. It's like politely telling him or her to stop crying, with a tool!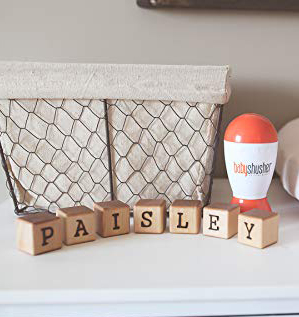 Couple the Baby Shusher with the Bobalong, a vest for baby that has a pocket made for keeping a pacifier or a bottle. Never lose another one! Grab a self-heating travel bottle or a thermo for warming up bottle and food while you're at it, and provide warm bottles with no need for electricity or boiled water! Now that's what you call convenient!
Then, you also have the necessities. Every baby shower should bring the mother to be at least a month's supply of diapers. That, and some baby wipes, baby Motrin and other first aid essentials.
Teething rings are also a very good idea, as is Baby Orajel, or some other gum numbing product. Teething can cause fevers to pitch, so keeping Baby Motrin or Baby Ibuprofen on hand is a good idea. That means they make great gifts!
When it all comes down to fun baby shower ideas, it really is the gifts that not only make it fun, but also make it worthwhile. Spending some time to find the perfect gifts that combine both originality and usefulness, takes a little bit of time. Patience as well.
Appropriate Baby Shower Gifts
When we go to choose a gift for the baby shower, we usually head for the baby aisle and buy cute little layettes, booties, rattles, etc. These are all appropriate gifts for a baby shower, but we do not want to forget the mom-to-be or the dad-to-be. After all, they are both a big part of the event. Too often, we forget dad when it comes to baby showers and gift giving.
For Daddy-to-be
Let's consider dad for a moment. When we are thinking about gifts for a baby shower. Is it appropriate to bring a gift for dad? Believe it or not, there are a lot of suitable gifts to choose from for Dad. Dad has probably been busy putting the baby crib together and painting the baby's room, or maybe he still has those chores on his list of important jobs to do. Think about giving Dad a coupon for one day of help with his special chores. Another gift idea for Dad could be a men's day out or buy tickets to his favorite sporting event. Maybe he likes to fish or golf. A new fishing pole and tackle, or golf balls and a day at the course could be great gifts.
For Mommy-to-be
Now, let's look at appropriate baby shower gifts for mom. A great idea would be a gift card for a nail salon for a manicure and pedicure, or spa for a great massage and facial. Another idea would be a gift basket. Do a little snooping and find out the favorite scents of the mom-to-be, then purchase shower gel, lotion and body spray in those favorite scents. At some specialty shops, you can also purchase candle in the same scent. Now, it's time for a little more snooping. Find out if she likes to read and find out about her favorite author, then buy the latest book by that particular author. Maybe she prefers magazines or word search puzzles. Now arrange all of your gift items in the basket, put some cellophane over the gift basket and tie closed at the top with a pretty ribbon. There you have it; a perfect gift for mom-to-be. She certainly needs time to relax and take care of herself and this makes it a perfect gift.
If you know the mommy-to-be will be using cloth diapers, she may appreciate a gift certificate for a diaper cleaning service.
Handmade Gifts
If you are into sewing, knitting or crocheting, you might enjoy personalizing your gift by making it yourself. If you give a handmade gift, you might consider giving a bag of diapers and some wipes along with it, since the mom-to-be can never have enough of.
1. If you enjoy crocheting, you might choose to crochet some matching outfits for the newborn. You could, for example, make a unique one-sie with hat, booties and baby afghan to match. This would add a special personal touch to your gift and the guest of honor will cherish it.
2. Maybe you really like to quilt. If this is the case, you could make a special quilt designed for the mom who plans to nurse her baby. This quilt should be made out of lightweight and breathable material, since it will be used to cover baby and mom for feedings in public places. This is a gift that will be used over and over, and mom will think of you whenever she uses this special gift.
3. Another great gift for the mom-to-be is a body pillow that you can purchase at a department store or online. The body pillow is designed to support and cradle the body while sleeping. Many expectant mothers love these for the comfort they give, especially in the latter days of the pregnancy.
4. Now, let's return to gifts for the new baby. A stroller is something that all new moms will need, but a nice stroller is usually out of their price range. Several guests can go in together to purchase a nice baby stroller and stuff it with diapers, wipes, baby lotions and shampoos.
Have fun preparing for the baby shower and enjoy watching mom-to-be unwrap the gifts you carefully chose just for her and the new baby!
Baby Shower Gift Baskets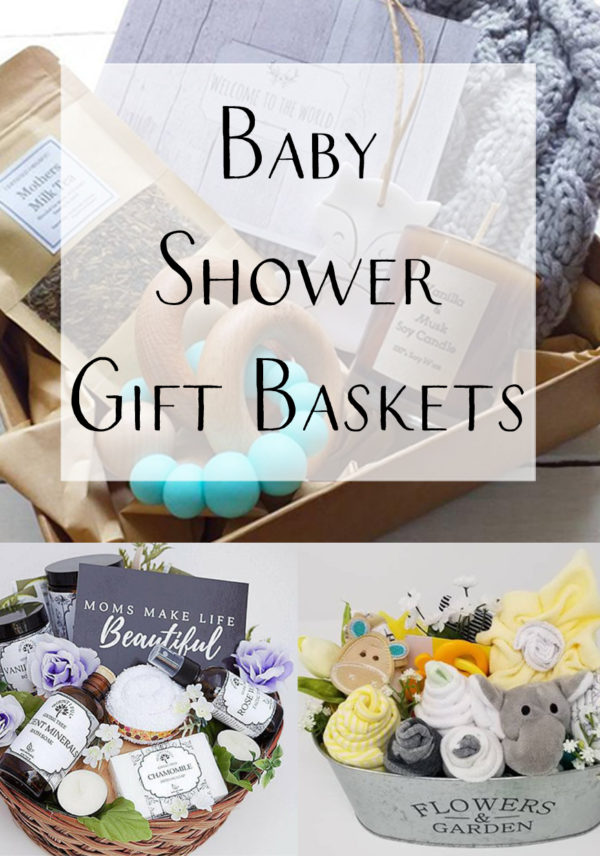 When it comes to babies, there are a certain number of things that you just can't have enough of. Babies need a lot of diapers, bibs, towels, blankets, and clothes – they grow so quickly that clothes in an assortment of sizes are better than all infant sizes. This way they do not have to go out and buy all new cloths each time the baby grows out of one size.
A great idea is to take a basket and fill it with all of the absolute essentials. Make sure they have everything that they will need, even if its more than they think. Diapers and Baby outfits in a bunch of sizes, in infant and the next size up and lots of towels for burping because they need enough to last until laundry day. Also, if your budget allows, add some various diaper creams, baby lotions and baby shampoos. Include other essentials like nail clippers for small fingers, soft hair brushes, combs, and a thermometer . These are all gifts that we usually do not think about when purchasing a baby shower gift. The parents-to-be will love your thoughtfulness!
Another cute idea is that instead of using an actual basket you use a bassinet. You can fit everything in there and you have more than one thing they need taken care of. It will be a cute surprise when they open it and find all of the extras inside. This is a really cute way to make a gift basket.
Another way to go is to use a diaper bag. Even if they already have one there is likely to be a time when something spills on or in it and they need another. Having options is always better than being stuck with just one of everything. You can put all of your gifts inside it and watch the gratitude on their faces as their eyes light up when they open it to find all of the clothes and items that you put in it.
These ideas are such a sweet and cute little surprise for them to discover. Not only will they be grateful for the bassinet or diaper bag but being able to open it and discover that you really went the extra mile will make them feel like you really care. Making them happy is your goal. This is a great way to get that.
Practical Baby Shower Gifts
Finding a baby shower gift is not so hard, but finding a practical gift for the mommy-to-be and her future baby requires imagination and inspiration. Try to think about what a mother needs and what makes baby comfortable, surely you'll find something!? The main idea is to attach a personal stamp to the gift. Here are some ideas to start crafting your original gift.
Towels
Towels are very useful tools when raising a little baby. We know their energy is endless and things can get a bit messy so towels are always welcomed. You can go for a set of the same colors or pick different colors for variety. Give a touch of originality and wrap the towels in a unique way as flower bouquets, cupcakes, a towel cake, or even candy bars for major creativity. Just roll the towels and play with them. A you'll be amazed what towels can do. A sprinkle of ribbons and wrapping paper will help styling your towel figurine!
How to make washcloth candy video by cooking and crafting via youtube
Survival kits
Survival kits are the ultimate gifts when speaking about baby showers. Lately it is fashionable to craft daddy survival gifts. Pick a jar and fill it with all sort of helpful tools like pacifiers, a diapers, bibs and so on. Anything you find to be useful, place it the jar and arrange it to look pretty and warm as visual aspect! You can even paint the jar and craft a name tag. Parents will be enchanted by your choice.
Baskets | Bassinets
Bassinets are stylish carriers for babies. Find a nice and cozy basket and place some cute stuffed animal pillows and a warm blanket. Decorate the basket and place an "it's a boy/girl tag".  Keep it simple and try to mold on parent's personalities.
Clothes
Clothes always welcomed! Although it may be too mainstream, picking clothes for a baby shower gift can always get out of the ordinary by sewing an outfit yourself. For girls you can craft cute tulle tutu skirts or delicate girly accessories. For baby boys you can always knit a hat or a shirt. Putting your own personality into the crafting process automatically involves you in future baby's lifestyle, so try to give your best if going for clothes as a baby shower gift.
Diaper cakes
Nothing is more charming and practical than a diaper cake. Diapers are indispensable instruments for every day comfort of any baby. The best part of giving diapers as presents is that you can build up objects around them. Cakes are the most popular but you can always test your limits and build up a train for a baby boy or a butterfly for a baby girl. There are many step-by-step instructions on youtube.
At the end of the day, any gift is lovely welcome for parents-to-be. Don't necessarily go for toys, you can always buy them when the little one grows up. It's important to sprinkle the entire project with pieces of you and your personality so parents can easily remember your contribution to baby's first steps in the world.