Featuring my favorite ETSY products on this page: Please note, I do not sell these products, please see below for a direct link of the Etsy seller name & link to the product!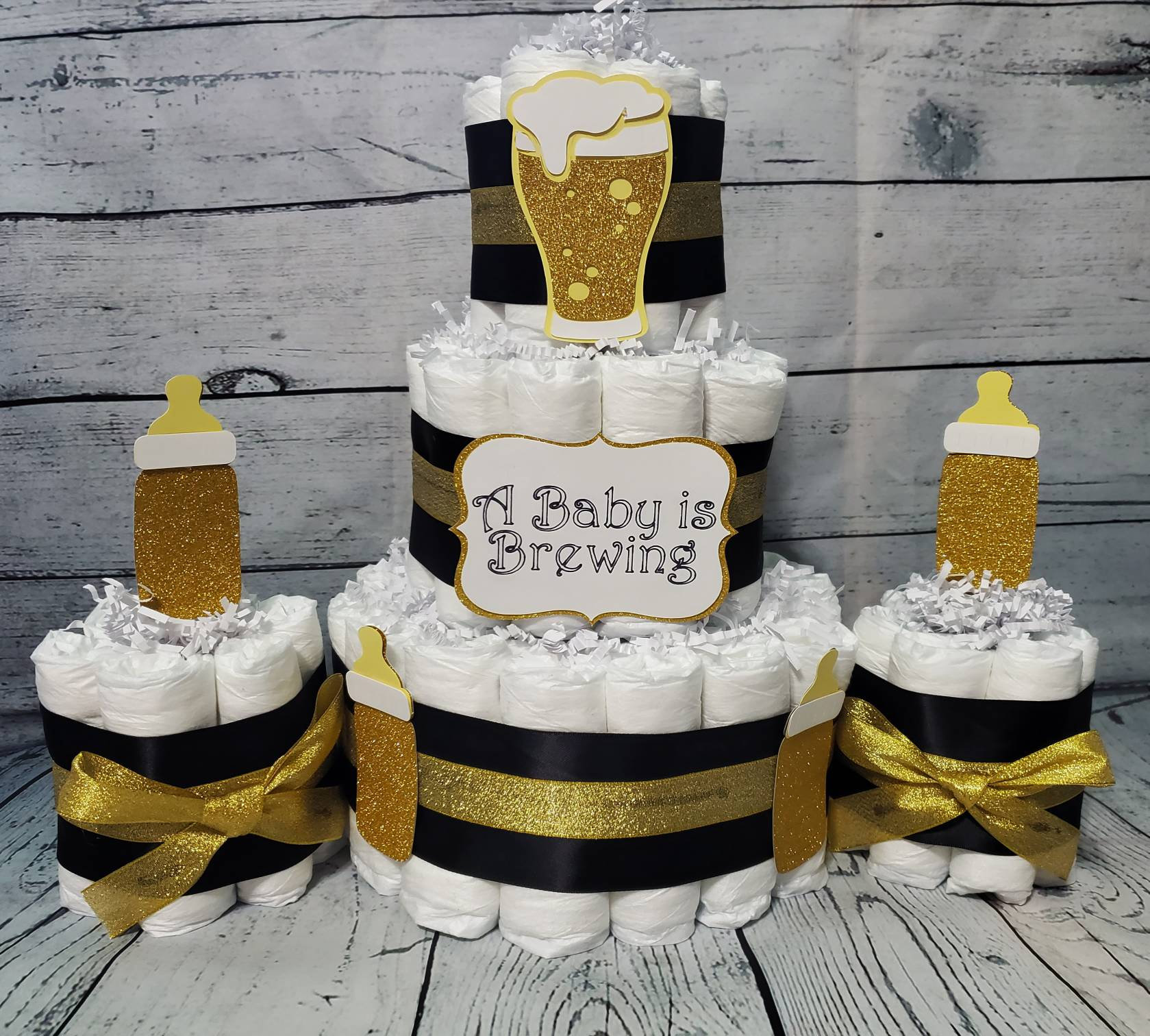 3 Tier Diaper Cake and mini 3 piece set - A Baby is Brewing Theme - Black and Gold Baby Bottle Baby Shower Centerpiece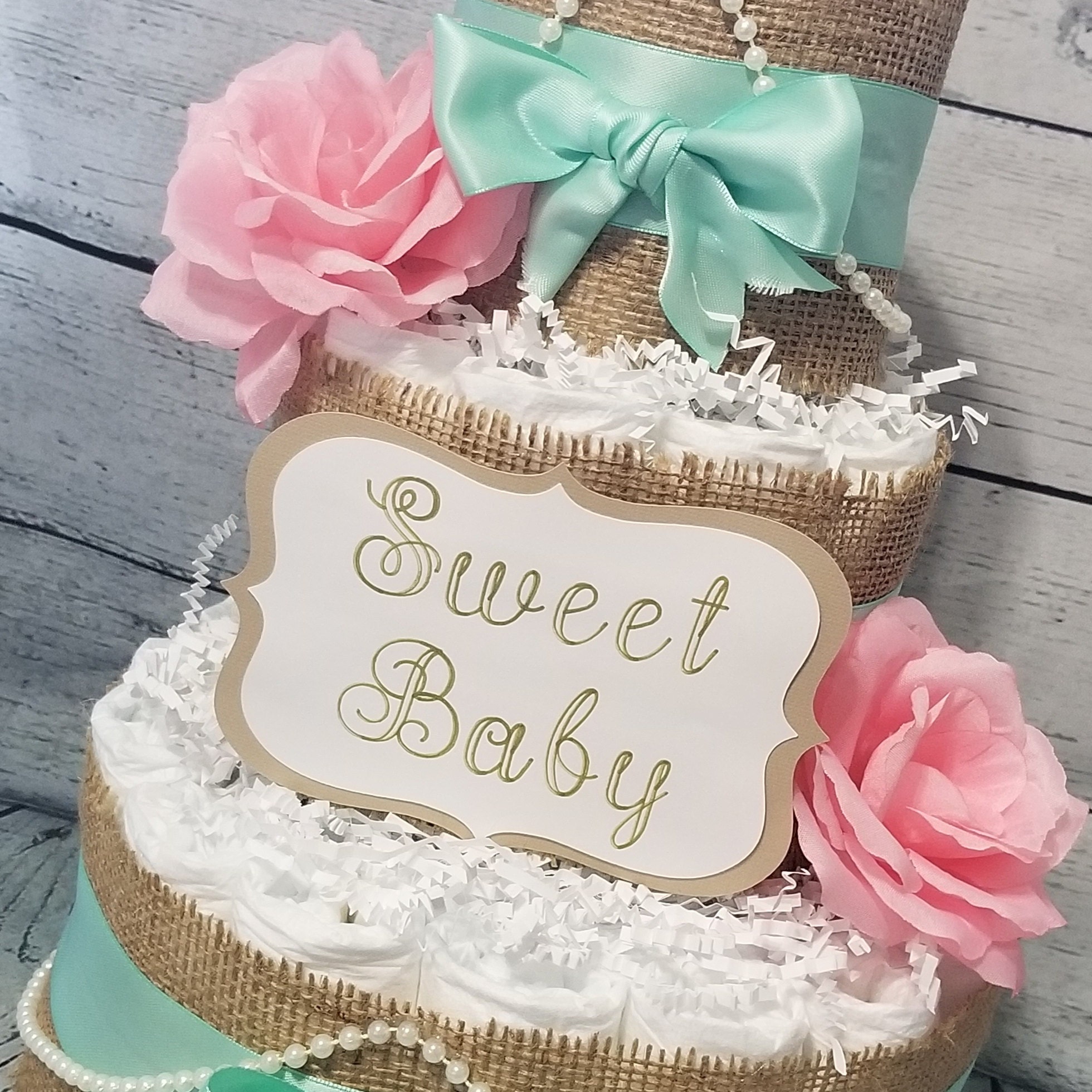 By: LittleHomeMades
💖Diaper Cake 3 Piece Set💖
Already assembled
Ready for gift giving!

The perfect gift for any Baby Shower

🦋3 Diaper Cakes included:
1 - 3 Tier Cake
2 - Mini 1 Tier Cakes

🦋Appr. Size for 3 Tier Cake
10" W x 14" H.

🦋62 Diapers Included
(You Choose the Brand and Size!)

🦋100% Usable Diapers
(No Glue or Tape Used)

🦋All Diaper Cakes come fully assembled and wrapped in Tulle

🦋We can personalize a note with baby name and/or message inside!
(Keep Scrolling for Details!)

🦋Check our shipping options and time frames!
(Details Below to help!)

Brands we have available!
--------------------------------------
Parent's Choice Diapers
(Wal-Mart Brand)
-or-
Up & Up
(Target Brand)
-or-
Mama Bear Gentle Touch
(Amazon Brand)
-or-
Pampers Swaddlers
-or-
Huggies Snugglers
-or-
Pampers Pure
-------------------------------------------

❤💎Personalization💎❤

- For the name on the front of the Diaper Cake

Please leave a note for the Baby's name that you'd like to be written on the front of the Diaper Cake and we will have it added for your new arrival!

If no note or message is left, we have a generate name card we will have added to the front that says "A Baby is Brewing"


❤💎Add. Attached Card💎❤

All of our Cakes/Bassinets come with a card attached to the outside of the Cake/Bassinet.

If you'd like your Diaper Cake to have the name of the arriving baby written on the front of the card, or you'd like a personalized message written on the inside of the card (or both), please make sure you leave the message/name of baby you'd like written on the card in the notes when making your payment.


If no note is left, a normal card will be attached to your gift which is color - co-coordinated to the Diaper Cake!




❤💎SHIPPING INFO💎❤
-- PLEASE READ!

We ship ALL our items within 24 Hours of your initial order! Most times we can get all items out the same day they're ordered (with the exception of the weekends as our post office closes at 1pm EST).

Please take care when selecting your shipping speed and order accordingly!! We offer Fast and Free Shipping and always use USPS Priority Shipping (1 to 3 Days Delivery) to make sure your item arrives in a timely manner. If you're looking to upgrade to something faster however, we do have those options available to you also!

❣Priority Shipping (RECOMMENDED)
--- 1 to 3 Days!
Only takes 1 to 3 Days to receive. We recommend this shipping to anyone shopping last minute and is the default shipping we use on all our Free Shipping Items

❣Priority Shipping EXPRESS Upgrade
--- 1 to 2 Days
This is the FASTEST option for those who are on a tight time frame but can run a bit higher in price so if you are ordering Monday and need the cake by that Saturday, I'd stick with the regular Priority Mail option personally!

❣❣Priority Shipping INTERNATIONAL Upgrade
--- 1 to 6 Days
This option is available for anyone out of the USA looking to make a purchase, take care to check your customs regulations, most countries do not have strict regulations for items like ours however there can be exceptions at times in certain countries and we cannot be held responsible if your government chooses to place a hold on your package (very rare).