This Cirque du bebe baby shower theme by Polka Dot Design is both exotic and fun. Thanks for letting me share these inspirational photos to my readers.
This baby shower is a french circus inspired party hosted by the Hostess with the Mostess. The theme uses oranges and aqua, as well as other neutral tones within the color scheme of the party. The centerpieces are so unique and lovely. One of the centerpieces on the table, is a decorative station with a miniature blue elephant, trunk high, in the air. Another features a blue vase, that opens at the top. The opening of the vase resembles that of a fishes mouth. Within the vase is a lovely creme bunch of flowers. This baby shower theme is very elegant and playful. The guest are sure to enjoy all the design elements as well as their host.
Though the party plays host to several elephant silhouette and statues the designer of this party also makes use of zebra print in various ways. One way the zebra print is used is as a paper cone, the cone is essentially home to some crunch caramel popcorn treats. Its fun to look at, and the treat inside looks like a delicious snack! The print is also used in the fabric that lays on top of the tent as shade, covering the table from the sun rays. It is also used as accent table cloths throughout the venue.
Another design element worth noting is the feather like accents all over the place. They are blue, yellow, and orange in color. On the center pieces of the tables, that are to seat the guest, are bigger feathered elements. They tower over the guest acting as canopy. The magnificent element of design is a lovely piece to look at. Another notable piece of the party designs were the different stationary pieces, there were little cards placed in frames that welcomed the guest to Cirque Du Bebe.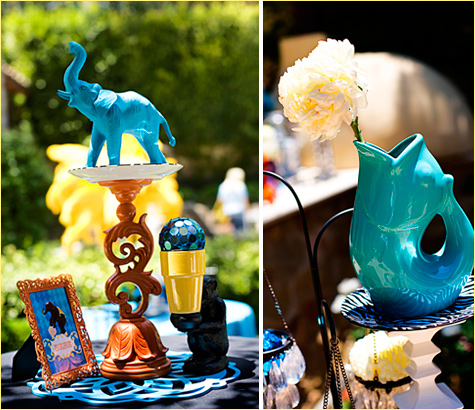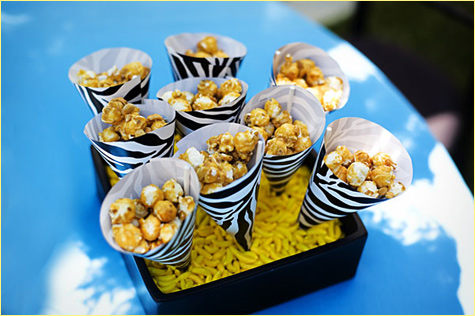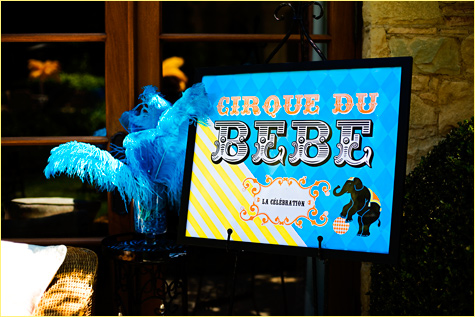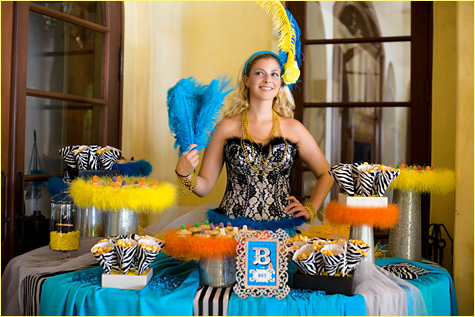 Look for items –
Look for ideas –