New Year's Eve Baby Shower Theme by Miranda of Whimsically Detailed.
In particular, it is incredible to see at the center, a beautiful ribbon cake covered with pretty pink ruffles decorated to look almost like a flower topped with an adorable baby wearing a distinctive glittery top hat. Sprinkled across the pink flower are delicate candy pearls. The overall effect looks delicious and shows incredible design talent.
The cupcakes carry the cake theme through the rest of the table. They really are a mini version of the cake! So lovely.
The color scheme of pink and silver surrounded with white and glitter elements really excites the eyes. The look communicates the baby theme as well the the new years theme and makes you feel like you are attending a special and intimate event.
The cake pops, covered in glitter – with pink, silver, and white striped sticks – and topped with silver glitter flags – are placed delectably on a glittery platform surrounded by small decorative clocks foretelling the pending change of the year.
The pink macaroons, presented in a bell jar and set off with a state fair ribbon looking pink flower backed by glitter add a tantalizing element to the table. The macaroons are also surrounded with the soft pink candy pearls.
One of the most stunning and beautiful parts of the table is the tray of pillow cookies. The expert decorators have made the cookie icing look like a very posh cushioned pillow with silver buttons and pink pearls surrounding its pink cushioning.
Another decorative highlight, tying the theme together, is the stack of silver top hats highlighting a cut out paper clock attached with pink ribbons.
Finally, pink rock crystal candy sticks are presented in champagne glasses – looking very much like the shower of foam from popping the cork on a bottle of champagne as you celebrate the onset of the New Year.
This beautiful table wordlessly communicates the theme in such a clever and unique way that anyone would be thrilled to attend this party!
Vendors and Credits:
Baby Fondant- Sugar High Inc.
Top Hat Favor Boxes- Crafts By Rosa
Cookies- Much Ado About Cookies
Cake, Styling & Printables- Whimsically Detailed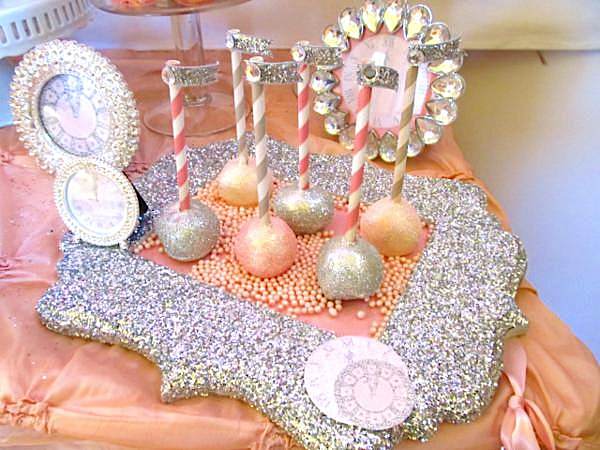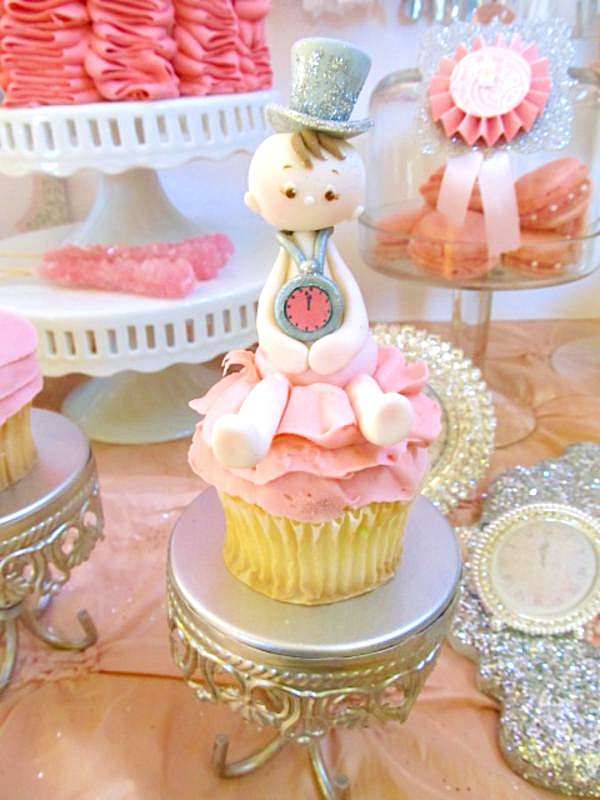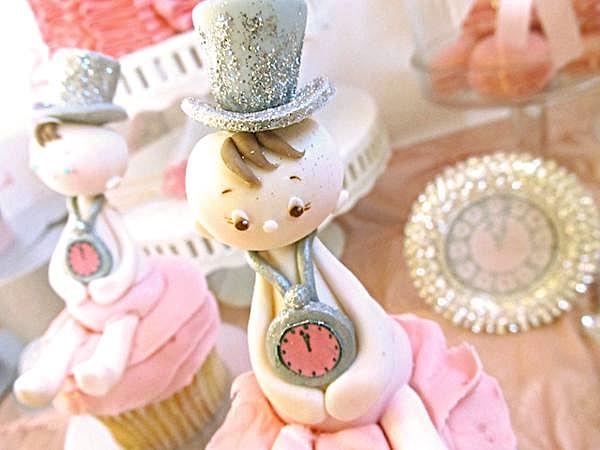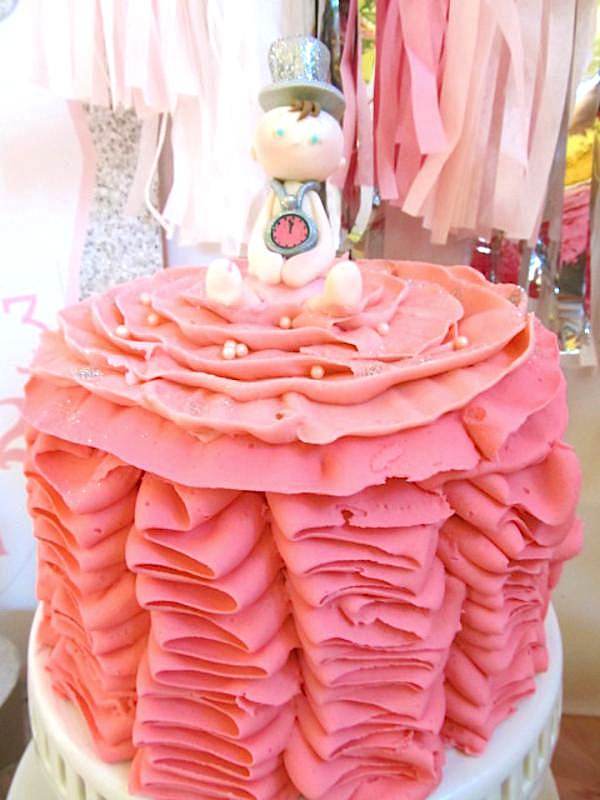 New Year Eve Baby Shower Theme Supplies