Aqua is a trending color used at parties and is sure to be a hit this year! An aqua themed baby shower can look over the top fancy or modern depending on your style. If you are a lover of all things aqua, why not throw and aqua themed baby shower? Below are a few ideas to get you started.
Aqua Pom-Poms
These bright aqua pom-poms will make a wonderful addition to your party. These decorations can be ordered in a wide variety of colors, so if you have a favorite accent color, you could order your pom poms in multiple colors to really wow your guests. Each pom pom is made with high quality tissue paper and will be shipped flat to your door. All you will need to do is fluff the pom poms and find the perfect place to hang them. The pom poms also come in many different sizes, so you will be able to easily find the perfect size to match your home and party decor.
Aqua Glitter Garland
Add some sparkle to your baby shower with this blush pink and aqua garland. Blush pink is a wonderful accent color if you are celebrating a baby girl. The garland is made from high quality glitter card stock. Each circle measures approximately two inches across. The circles are machine sewn to a strong white thread. You are able to purchase each strand of garland individually, which makes it easy to order the exact amount for your decorating needs. In addition, you can choose the length of your garland. You will be able to hand this garland almost anywhere!
Aqua Elephant Confetti
Elephants are common animals to be featured at a baby shower. This elephant themed confetti features a pop of aqua accented by gray. The elephants are cut from car stock and each package contains fifty elephants. This confetti is perfect to use as part of a display table or could be spread out on the guest tables. Custom colors are availible if desired.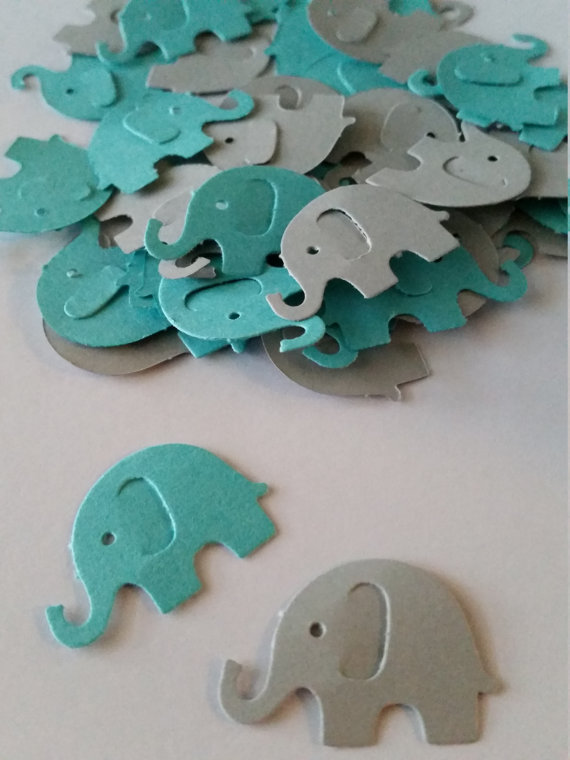 Hair Tie Party Favors
Hair ties are a unique way to say thank you for attending the celebration. These hair ties come in pale pink and aqua. Each hair tie is accented with small, gold polka dots. While the hair ties in the picture are aimed for a gender reveal party, they would work perfect to celebrate a baby girl. You can even customize the colors if would prefer to have only aqua or a diferent accent color. You will be able to choose from four different sayings to include on the card depending on the gender of your baby. The party favors are sold individually, which makes it easy to order the perfect number for your guests.