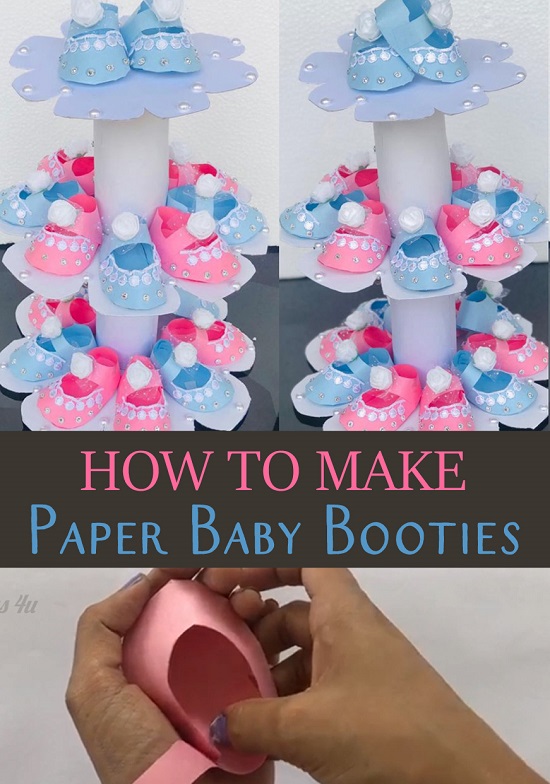 Decorating a baby shower can be a monumental task. You have to find the perfect theme or color scheme, make centerpieces for the tables, and don't forget to make memorable party favors for your guests to take home! It can add up quickly, especially if you're buying all of your décor at a party supplies store. So why not turn to some DIY solutions?
Video on making Baby Booties
Crafting your own unique décor saves you money and adds a special flair to your event, giving your baby shower adorable charm that fits perfectly with the theme of your special day! One of the most simple and easy ways to take your first steps into the DIY game is with paper crafts. And the perfect paper craft for a shower? Paper baby booties, of course!
Materials You need:
Baby Booties:
Papers
Pencil
Scissors
Glue
Laces and gems or faux roses or any other embellishment
For the Tiered Display:
Cardboard
Can or Tin
Paper
Glue
Beads or other decorations
These dainty decorations are the perfect detail for your baby shower. Paper booties can add an adorable touch to a table's centerpiece; just tuck them around the base of the centerpiece or nestle them among the flowers in a vase. With enough paper, you can even stack several paper booties together to make them the focal point of your tables!
Baby Booties as Place Cards
Do you have arranged seating at your shower? Use these booties as place cards to mark your guests' seats and tables! A paper bootie place card is the perfect blend of sophisticated seating and cute fun – ideal for an elegant shower that needs just a touch of whimsy!
Baby Booties as Garland
Paper booties are versatile, so they make a great garland as well. You can string them together to add some adorable garland to your tables, or you can easily hang them from the walls like streamers! Need some more fun wall décor? Arrange several booties in a circle, with the toes facing outward. Staple them together at the ankles, and you've got a wreath of paper booties that you can hang on the walls! These wreaths could also dress up your food tables if you make the wreaths big enough to surround the plates and platters.
Baby Booties as Favors
One of the best uses for these paper booties, though, is party favors. They are the perfect to-go size for candies and sweets, and make a lovely table arrangement if you opt to display them all on one table as the guests exit! You can also arrange them at each guest's seat, or scatter them throughout the dessert table. Just be sure to fill your paper booties with treats that match your color scheme to really tie the décor together – it's all about the little details!
Regardless of how you use them, paper baby booties are a fantastic addition to your baby shower's decorations. They can be simple, just pink or blue paper, or you can jazz them up with lace trim, ribbon, or even glitter if you're feeling extra adventurous! Your guests will coo over the sweet, little design and are sure to love the personal touch of your DIY décor. So what are you waiting for? Grab some paper, scissors, and glue, and let's bust out some baby booties!