Welcoming a new baby into the world is special time filled with excitement! If you are planning to welcome a baby girl into the world and you cannot quite decide on a particular theme, a pink and gold themed baby shower will make a lovely theme for your baby shower! Soft pinks and gold will give your baby shower a royal feel. It is time to welcome your little princess!
Below are a few ideas to get you started!
Pink and Gold Roses
These handcrafted roses are sure to be the talk of your party! The roses are made from 65 lb card stock and the petals are dusted with just the right amount of gold glitter to make them sparkle. Each rose will vary slightly in appearance because they are all hand cut and hand rolled. You can order the roses in any color combination that you prefer. Imagine how sweet these would look on your display table?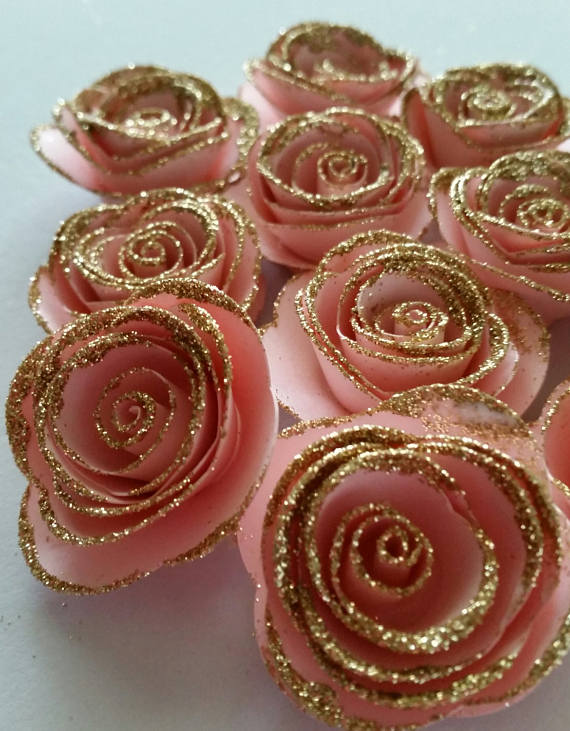 Pink and Gold Banner
Display the name of your baby with this stylish banner. The banner features the name of your baby in pink on embossed gold card stock. Each letter board measures approximately three inches wide by five inches tall. The banner is embellished with pink tool on the bottom of each letter card. You have the option to customize the word choice, colors, and embossing pattern. This banner would look lovely displayed above a fireplace as pictured or hung across a wooden fence for an outdoor party.
Pink and Gold Hair Ties
If you are looking for a unique party favor for your guests, these hair ties will do the job! These pink and gold hair ties will arrive at your door ready to gift. The hair ties are attached to a small card which includes a customizable message. In addition, you are able to order the exact number of favors that you will need for your guests.
Pink and Gold Balloons
Pinks and gold balloons will be sure to make your party pop! These balloons are sold in sets of six. You will recieve three gold polka dotted balloons and three pale pink balloons. The balloons will be deflated when they are shipped to you, however, you can fill the balloons with helium for a small fee at your local party store. String is included, which will make for easy hanging.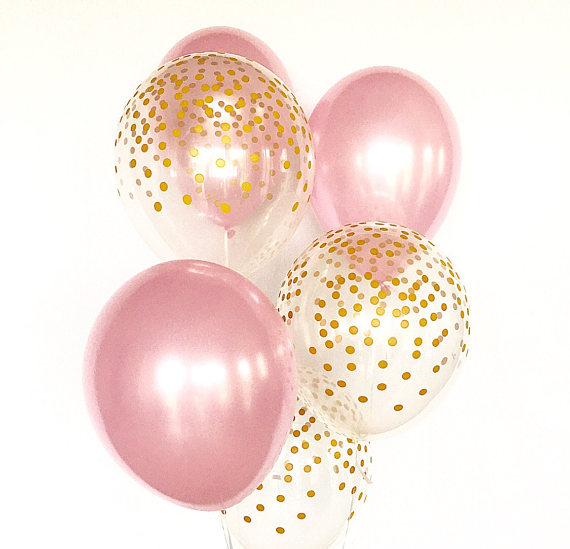 Heart Shaped Cupcake Toppers
Turn ordinary cupcakes into extraordinary creations with these lovely pink and gold cupcake toppers. The toppers are sold in sets of twelve and measure approximately four inches tall. The hearts are light pink and gold glittered. All of the hearts are one-sided. These toppers could also be used for other food such as sandwiches. In addition, the heart toppers can be ordered with matching banners, garlands, or confetti if desired.