Did you grow up begging your mom or dad to watch The Little Mermaid "just one more time?" If so, an under the sea themed baby shower will be the perfect theme to bring back the memories of your childhood and welcome a new baby into the world. There are a plethora of sea themed decorations availible. You could choose to base your decorations off of the classic Disney movie or you could take a different route and simply focus on the magical creatures of the sea. Get your swim suits ready, because there is a baby shower to plan! Below are a few ideas to help get you started!
Under The Sea Cake Topper
Add some glitter and a splash of color to cake with this  unique under the sea themed cake topper. The cake topper is made from premium glitter card stock and can fit names up to nine letters. You can order the topper in a wide variety of colors including: gold, purple, blue, pink, and more. The cake topper is one sided and can be ordered in two different size options. 
Fondant Seashells
These fondant seashells are edible and would make lovely party favors for an under the sea themed party. You have the option to order the shells in sets of twenty-four, thirty-six, or fifty. The shells have both purple and teal color tones and are dusted with an edible pearl shimmer. The colors of the shells can be cusomtized to fit the colors of your party. If desired, you can also customize the flavoring of the fondant. Flavor options include vanilla, strawberry, chocolate, and chewing gum. The fondant will typically last for up to six months and since the fondant is made fresh to order, you can conviently order well in advance of your party date.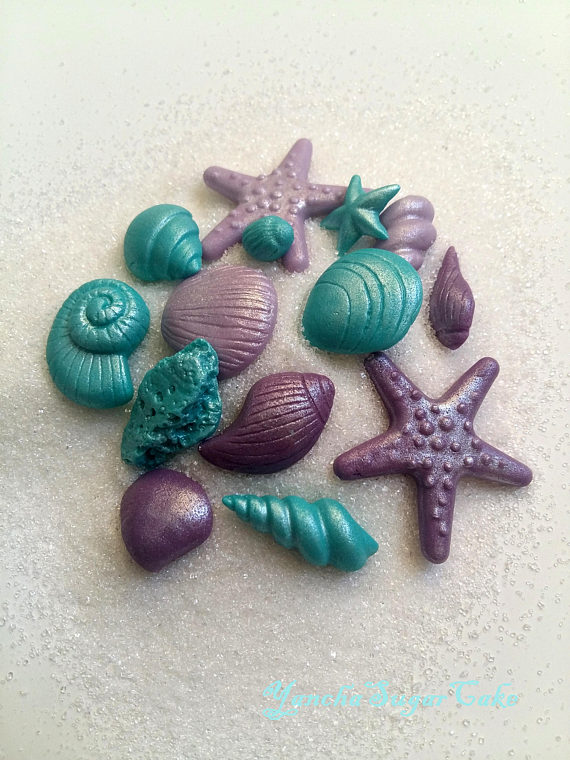 Under The Sea Balloons
Balloons make a wonderful addition to any party! This balloon set includes one thirty-seven inch"Lots of Hugs" foil octopus balloon and six coordinating color latex balloons. Each latex balloon measures approximately eleven inches tall. The balloons will be shipped to you deflated, however, you can take the balloons to your local party store and have them filled with helium for a small fee. You could also blow the balloons up with air, however, they will not float. If desired, you can order matching party decorations such as confetti, cards, and straws.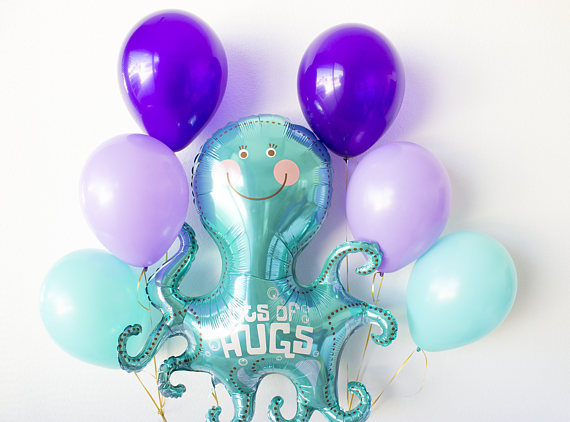 Lollipops
If you are not a fan of fondant and still want a unique party favor, these sea horse lollipops will make the perfect addition to your party. The lollipops are sold in sets of twelve and measure approximately two inches tall. Each lollipop has a purple or teal coordinating sea horse attached to it. The purple lollipops are grape flavored and the teal lollipops are blueberry flavored. If desired, the cardstock sea horses can be ordered in different colors to match the rest of your party decor. In addition, you may also order matching party favors bags.