Back to school theme bake sale by Nicolle Spitnlnik of Libby Lane Press.
Nicolle got the inspiration for her Vintage Bake Sale Styled Shoot from this adorable Seneca Schoolhouse circa 1880. This fabulous bake sale idea would be a great idea for a baby shower with all of the details that just make the vintage idea come together.
For the bake sale event Nicolle used as many local vendors as she could to take care of everything from the fabulous table to the vintage books that gave the event a genuine school feeling. The sign pointing the way to the event was personalized and had a touch of vintage with an ivory ribbon tied to it.
She used a chalkboard to advertise the different treats that were for sale, the board was aged and looked fantastic. Sitting beside the board was the bake sale table, introduced with a flag banner that was strung across the front. The table looked lovely with the treats spread across, giving it a nice full appearance.
There were a wonderful variety of baked goods like mini apple pies that were shaped like apples, and finished off with little wormholes. There were little donuts with confetti sprinkles and cookies that were tied off with cute striped red and white baker's twine. Wonderful cookies were decorated in the school house theme and there were adorable cupcakes finished off with cherries on a lovely tray.
As a finishing touch, there was a radio flyer wagon nearby that had a basket with bags of popcorn that looked quite tasty. There were also more of those lovely vintage books and a box of cookies in the wagon, adding to the bake sale theme very smoothly. Nicolle and her team of helpers did a fantastic job of making this bake sale come to life through all the little details that they put so much hard work into.
Credits & Vendors –
Event Styling: Libby Lane Press
Printable Design: Libby Lane Press
Photography: Helen John/Helen John Photography
Mini Apple Pies: Freshly Baked DC
Mini Donuts: Freshly Baked DC
Cupcakes: Lilly Magilly's Cupcakery
Custom Cookies: Bundles of Cookies
Antique Tea Table & Rubbed Bronze Chalkboard Container: The Old Lucketts Store
Cement Dessert Stand: Home Goods
Red Lunchbox: Paper Source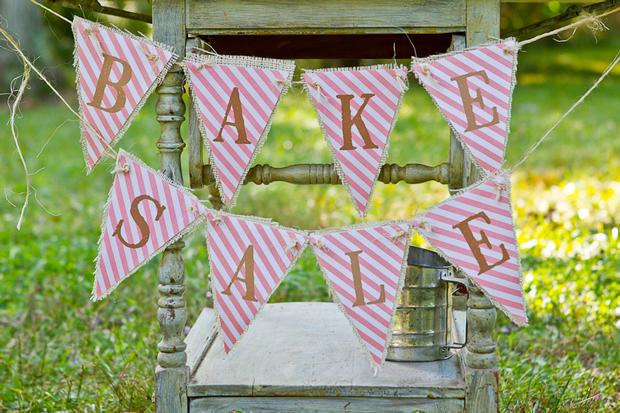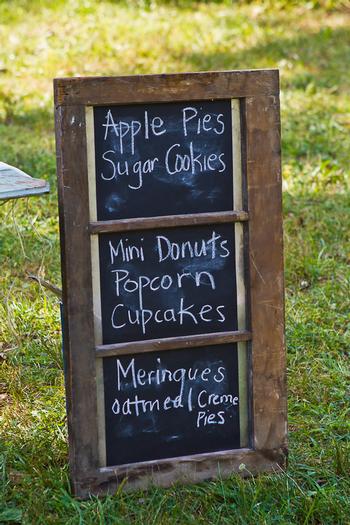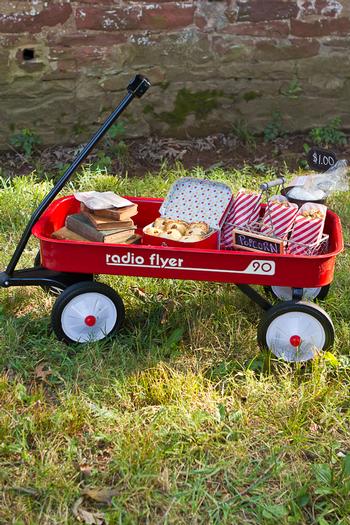 Look for more ideas –
Shop @ amazon