A Fun Vintage Toy Themed Baby Shower by Jessica at party loves.
New babies can mean a lot of new changes. It's a new life, a new generation, and new toys. But not everything can be replaced. Many people miss the simplicity of vintage toys. If you would like to take a trip down memory lane and are feeling a little nostalgic, a vintage toy baby shower may be the perfect combination of new meets old.
The vintage toys make their appearance throughout this creatively themed baby shower. From red, white and blue "it's a boy" balloons, that are decorated with printed red radio flyer wagon silhouettes, to a wire tree that is decorated with knit stuffed animals and magnetic letters and numbers.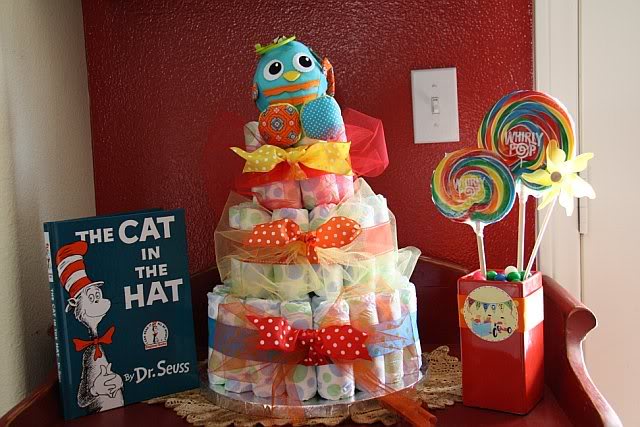 The food table is home to a vintage "Cat in The Hat" book by Dr. Seuss placed proudly next to a diaper cake and a red glass container filled with gumballs and large lollipops reminiscent of our childhoods. The beverage area is a metal iced bucket covered in letter and number magnets that we can remember playing with on a refrigerator. The bucket is filled with ice and bottled water. A miniature red radio flyer wagon is filled with more knit stuffed animals and a candy jar for guests to munch on during the shower. There are cupcakes that are beautifully iced with an edible sticker that boasts the radio flyer wagon.
No vintage toy baby shower would be complete without sock moneys or a jack in the box. This baby shower has combined them both by using a sock monkey in the box. A throw back to a vintage favorite. A staple in most childhoods is wooden building blocks. This baby shower has elegantly placed them in a large glass jar with a miniature yellow rubber ducky posted on the top.
A vintage toy party is a great way to celebrate new beginnings with old traditions.