A lovely vintage Tractor Baby Shower by Laura of Cooper Top.
Many people enjoy the feel of a picnic. However, if the weather is cold or questionable, a picnic may not be possible. You can always bring the picnic theme indoors for a down home feel combined with fun and sophistication.
Having a tractor themed baby shower does not mean that you are stuck with cartoon tractors accessories. Everything included in this baby shower from the invitations to the decorations show that this tractor motif is done right. This vintage tractor theme makes its appearance on the invitations, the napkins, the guest favors and the infant onesies.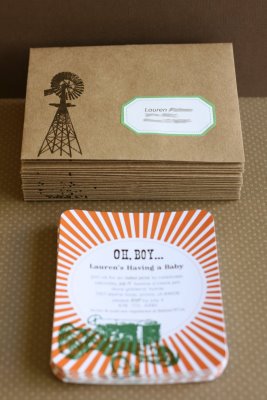 The decorations around the party are masculine colored pennants. They hang from the ceiling and on the sides of the table. The menu for this baby shower includes picnic favorites such as pulled pork sandwiches, mini key lime pies, homemade granola, and baked beans. Each dish is labeled with a tent card that contains the same color scheme as the rest of the shower.
Guests can enjoy their homemade food on tables draped with burlap table cloths, and Mason jar inspired glassware. The tables have wildflower bouquets that are beautifully placed in colored vases and mason jars.
Guests can get ice from the brightly colored yellow pail and get their homemade lemonade from the large glass beverage dispenser. The beverage table is also covered in a burlap table cloth and has a basket that holds the brown paper bags of homemade granola for guests to take home. Also on the beverage table are the prizes for those who win the baby shower games. The prizes are colorful candy in small jugs with fabric wrapped lids. Bringing the theme together is a mini milk jug that sits next to the lemonade.
Credits: