Baseball Baby Shower by Jasmine of The Couture Cakery.
This baby shower has all the elements of the ballpark from the invitations cleverly designed to look like tickets to a game, to the ballpark snacks, game day is fully represented. In rich primary colors, the banner and decorations stand out and shout, "Here comes the baby!"
The table is attractively decorated with pennants proclaiming the arrival of "lil slugger. Decorative theme carried over to the cake itself. The buttercream ruffle cake proudly bears the pennant supporting team BABY. It stands alone in the center of the table, but is flanked by platters of mini-cupcakes decorated to match the intricate ruffling of the cake. The overall effect is that of a winner's podium with the cake taking first prize.
Standing in front of the cupcakes are cake-pops cleverly decorated with red sprinkles to appear like baseballs on sticks. Sitting right next to chocolate dipped pretzels, they give the pretzels the appearance of baseball bats.
Not to be outdone by cake-pops, French macaroons and gourmet Oreos bearing baseball overlays adorn the table next to cookies cut into the shapes of bats and balls. Bags of peanuts, popcorn and caramel corn—just like what you'd buy from a vendor at the stadium.
All the food at this table are just amazing with its decorations! Strategically placed across the table are real baseballs and even a glove, leaving the cute impression that someday baby will wear this glove when out on the field.
Perhaps the best part of this decorative scheme are the infant baseball cap, boots, socks and jersey strung lovingly above the display, pinned to a string like laundry hanging out on a warm summer's day.
Credits & Vendors at bottom of this page after the photos –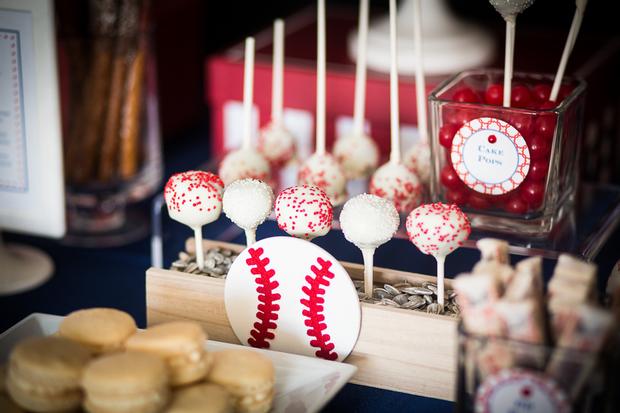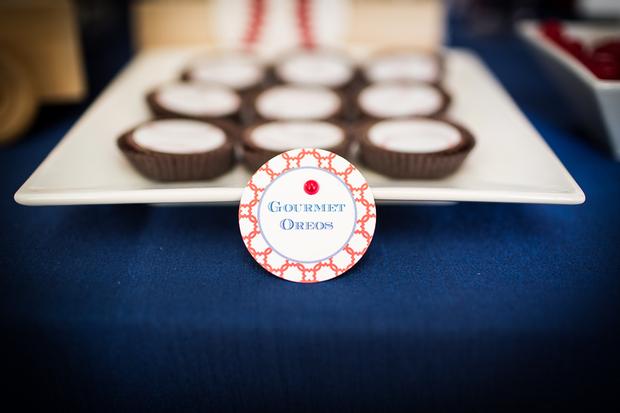 Credits & Vendors –
Photography: Thomas Beaman Photography (http://thomasbeaman.com/)
Sweets table styling: The Couture Cakery (http://couturecakery.net/)
Cake, cupcakes, macarons, pretzel sticks, cookies, cake pops: The Couture Cakery (http://couturecakery.net/)
Gourmet Oreo cookies: Sweeties (http://www.etsy.com/people/sweetiesbykim)
Caramel Corn: The Charitable Baker
Venue: Fraiche
Linens: Essential Party Rentals (http://www.essentialpartyrentals.com/)
Invitations: Polka Dot Prints (http://www.etsy.com/listing/103257338/baseball-baby-shower-invitation-set-of)