Bella's Design masterminded this fantastic, Pretty Pink And Gold Baby Shower. The attention to detail was pure perfection with decorations that filled the space from top to bottom. To make this party pop, shimmering gold was incorporated with soft pink tones that gave an elegant and lovely effect. 
The dessert table was exquisite with all sorts of fun decorations to reflect what the celebration was all about.  A backdrop was created with massive paper flowers that filled the space beautifully, advertising the treats in fabulous fashion.  To each side tall towers of balloons in varying shapes and tones that matched the theme added dimension to the decor. 
To really emphasize the party theme, a large teddybear was expertly placed at the front of the table, leaning up against massive blocks that were stacked to spell out, "Baby," in gold lettering.  Right beside them, on the corner of the dessert table an adorable framed bit of personalized art was set on a lovely tray for the guests to check out. 
The back of the table had round, pink, flower bouquets that stood tall with strands of jewels hanging down in elegance.  Candies in clear jars added bright color and a couple even had pink ribbons wrapped around them. 
The front of the table featured a tower of small alphabet blocks with a fantastic golden bottle at the top. Little candles were placed on each side to add soft lighting. 
Each dessert went with the theme very sweetly from the cake pops with shimmering gold to the delightful tray of gummy worms displayed at the front of the table.  The cake was a vision in layers with, "Welcome," written in white around the top layer.  It had frosting that went from the soft white to a deep pink at the bottom. The miniature crown at the top made a perfect finishing touch.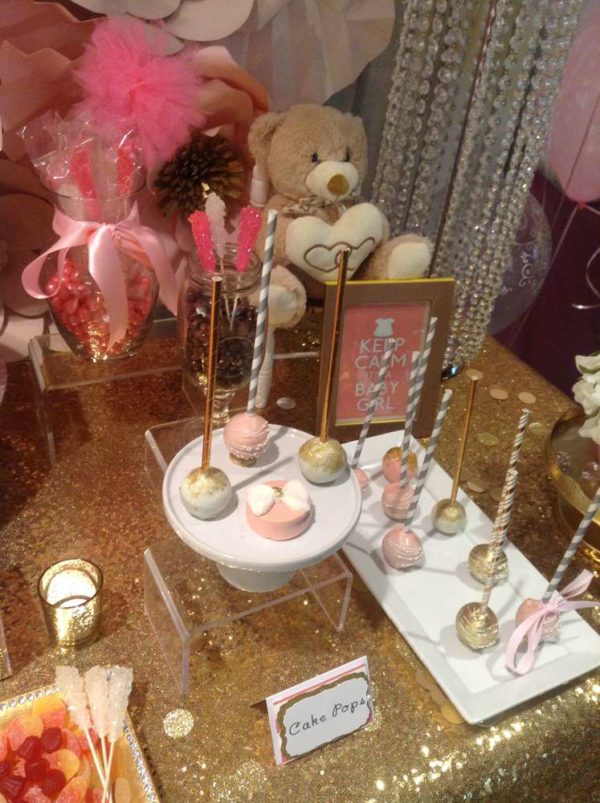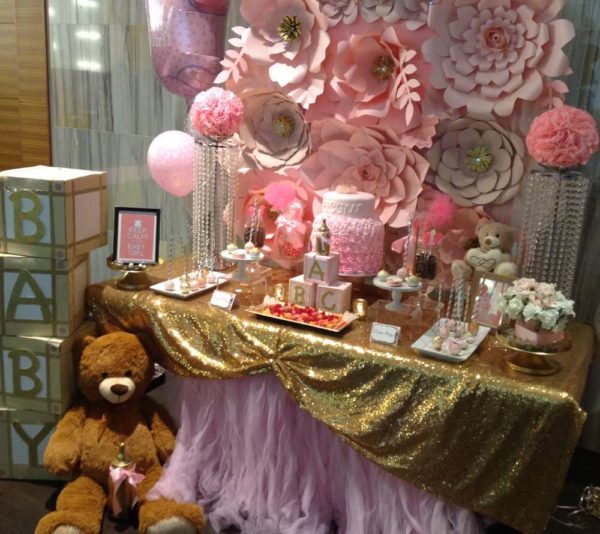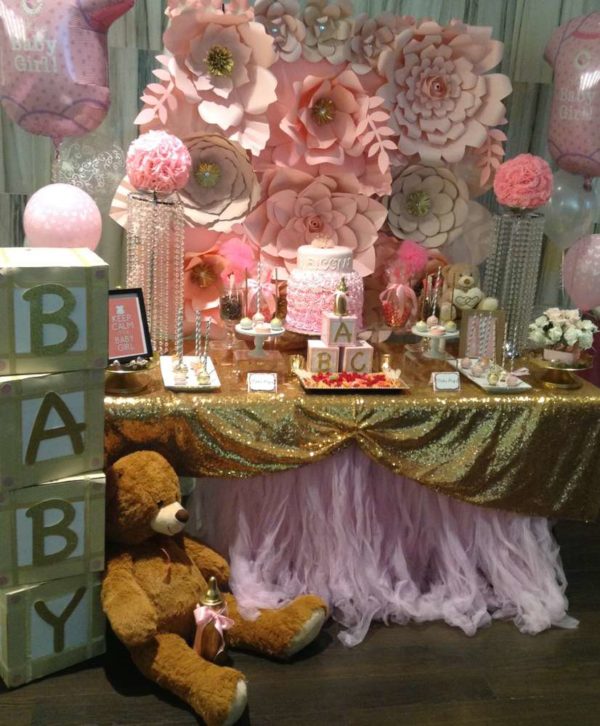 Credits: 
Planning/design – Bella's Design, instagram: bellas_design
MORE INSPIRATIONS: