With a vibrant array of colors, flowers and, buttons and bows, this Buttons and Bows Baby Shower was a smashing success. The event was put together fantastically by Colette and Kaitlin of La Fete Weddings.  With no detail left unattended to, this party theme was sure to leave a long lasting impression on everyone who was able to attend.
The guest table was a vision with a full and vivacious style. Utilizing the white base color of the picnic style, all of the decorations laid out on top had the accent effect that made them stand out brightly.  The plates and glasses were clear, giving a unique touch to the table that really made the other florals pop.  With perfectly arranged flowers spread down the center of this table intermingled with gorgeous gift boxes wrapped in brilliant ribbons, the decorations for this buttons and bows baby shower were fantastic. Each plate had a very neat napkin folded and wrapped with a ribbon that brought an elegance that was sure to be appreciated. In addition to the neatly folded napkin setup, there was also an adorable button cookie treat left at each setting that helped emphasize the theme spectacularly.
The treats at this party were well thought out and delicious looking.  There were chocolate covered strawberries set on a clear tray that blended beauty and sweetness into a lovely little munchie. There were also fruit tarts, donuts and all kinds of other little foods for the guests to enjoy.
With details filling in every part of this event like a vintage table plum full of grapes , cherries, pears and blueberries, this party had everything you could want in a shower.  There were even adorable pom flowers hanging up that matched the bold pink colors of the rest of the decorations.
Credits –
Event Design, Florals, Cookie Favors, Decorated Boxes - La Fete Weddings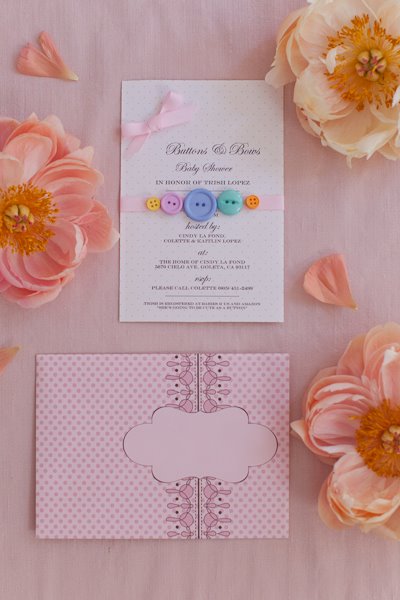 MORE INSPIRATIONS: