Susan and Donna from Fabulous Fetes designed this adorable Cozy Pink Baby Shower Soiree for her best friend's niece.  With a set idea of using lots of pink and whimsical decor, this fantastic theme came together brilliantly.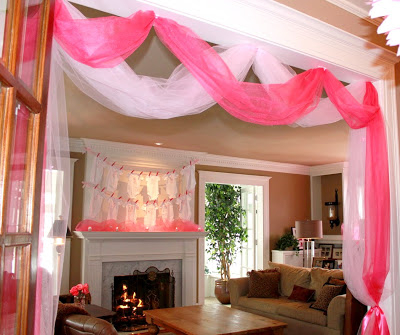 The party started right at the front door, making it easy for the guests to see right where to go.  A lovely arrangement of bold and soft pink tulle was draped around the doorway, offering an elegant look.  To make this section even more welcoming, a special table was set up with delicious sparkling pink champagne for the guests to enjoy.  Each glass was adorned with a cute little paper butterfly too, offering a touch of whimsy. The table used for the glasses had a light pink cover as well as a sweet little welcome note in a fantastic silver frame and a lovely jar of pink roses.
Upon entering the venue, giant pink and white poms as well as doorways draped with more lovely tulle fabric led the guests right to the desired party area. The treat table was massive and round, so wrapping it in tulle to create a ballet skirt look was a perfect idea.  At the center of the table, a tiered tray held yummy cupcakes for everyone to try out too.
A wonderful display used at this party also doubled as  usable gift for baby-to-be.  2 layers of pink clothesline held 12 onesies, each decorated beautifully, providing a whole year for the little one. In front of them, tulle was used to add to the decor beautifully.
As a twist on the traditional "Don't say baby" game, each guest was pinned with a lovely silk flower that was given away if they said the world baby throughout the party time. Whoever ended with the most flowers won the game.  The party favors were homemade brown sugar scrubs in adorable little jars.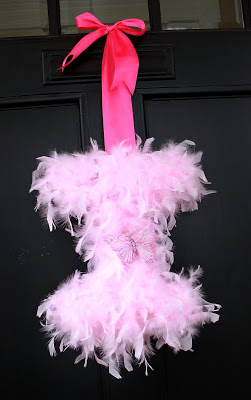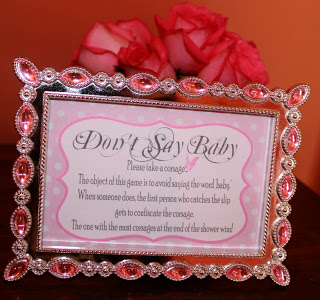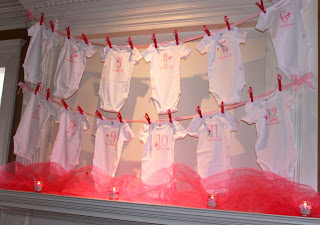 Credits –
Design/Planning – Susan and Donna from Fabulous Fetes
Photography – Melanie Knopke | Facebook: yourstylescout
MORE INSPIRATIONS: