This Cozy Winter Pinecone Baby Shower was skillfully handled by Keri Lostteter, who used her innovative talents to create a warm and inviting venue for a special group to celebrate new life together!
Using a rustic venue space, this party had a charming element that reflected throughout, ensuring that the guests would be comfortable. A row of gorgeous horse prints added a perfect look to the room, each hung on a nail with wooden labels hung below them.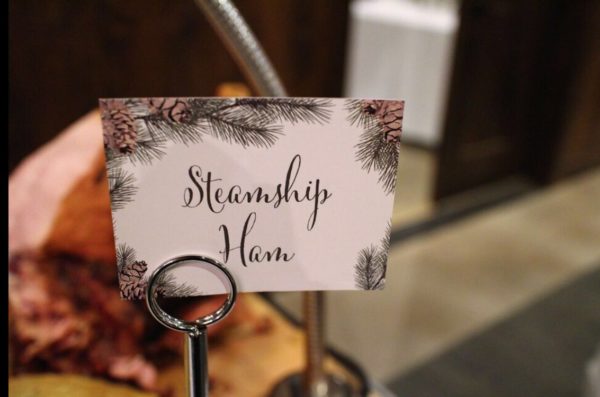 No fall celebration is complete without a special beverage for everyone to enjoy. This Winter Pinecone Party featured an entire table dedicated to serving out delicious Apple Cider. Small glasses were prepped with cinnamon sticks and placed on a round golden tray, offering a fantastic presentation. To make a perfect beverage though, some accessories are needed so of course this table was arranged beautifully with extras so everyone could make their own special twist on a classic. Lemons and whipped cream were just a couple of tasty additions laid out.
For those who did not want cider, iced water was offered, with fruit added to give it a fantastic, colorful look. The table with the beverages was set up to have a picnic style, with a white cover and a checked black and white runner. For ambiance, lovely lighted branches stood at the back of the table, offering a soft lighting.
Tasty ham was one of the edibles offered and to bring the flavor to life, a variety of fantastic sauces were made. Each item was clearly labeled with a fun, tree branches with pinecones art tags. The food was placed on a table that was decorated similarly to the beverage table. Branches were laid on top, giving a natural look.
For a tasty dessert, a sweet chocolate cake was offered with a cute topper saying, "Welcome to the World."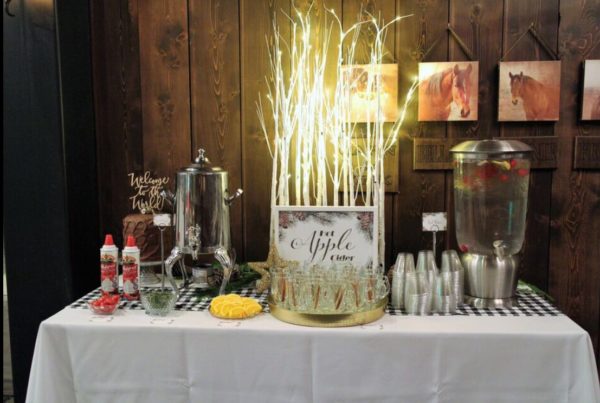 Credits –
Stylist: Keri Lostteter
Pinecone Printables : Bride and Bows
MORE INSPIRATIONS: