This Owl Themed Baby Shower put together by Creative Mommas was a fantastic combination of elegance and luscious colors that brought an inviting warmth to the whole event.
The table at the party was a vision of perfection, each detail attended to and all items organized nicely. With a twist on the normal tablecloth layout, they decided to layer a short brown cloth over white, creating a simple and sleek look for the base of the entire decorative palette.
Across the front of the table was draped a wonderful printable Baby Boy banner that welcomed everyone to the party with sweet blue and white colors that were bound to please. With the Owl theme it was only fitting that the table was placed in front of two very lovely windows, letting the light cascade over the party with ease.
The decorations were placed on the back of the table and each one created a unique and lovely addition to this beautiful party. There were glamorous, large feathers in brown and blue that stood out on the ends of the table in clear jars and set on top of wonderfully vintage looking pedestals.  There was also a very fun vase of twigs and adorable little owls in the center, blending nature in with the fun.
With fun mason jars to drink out of with personalized straws, the guests were sure to enjoy the juice that looks very inviting. The silverware was all wrapped up nicely with a personalized tag as well, bringing a sophisticated feeling to this wonderful event.
The cake at this Owl party was epic to say in the least. Every single individual feather was detailed out with perfection.  Set in a dome shape this owl was a one-of-a-kind dessert that brought the term adorable to a whole new level.  This owl was seated on a beautiful clear cake tray that took no attention from this outstanding centerpiece.
You can find more photos at Creative Mommas right HERE!
Credits –
Dacia with Creative Mommas
Printables – Kelly Medina Studios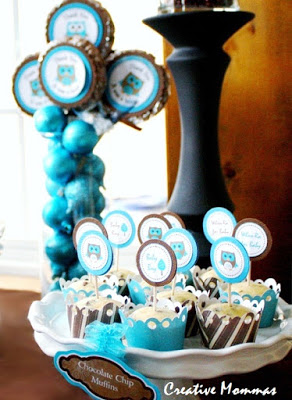 Look for more ideas –