A sinfully satisfying blend of Chocolate, Peanut Butter and toasted Coconut that will put a spell on your taste buds with every sensational bite. They say once you go to the dark side, there's no turning back and that's exactly what happens when you bite into a Dark Magic Triangle. Eat at your own risk!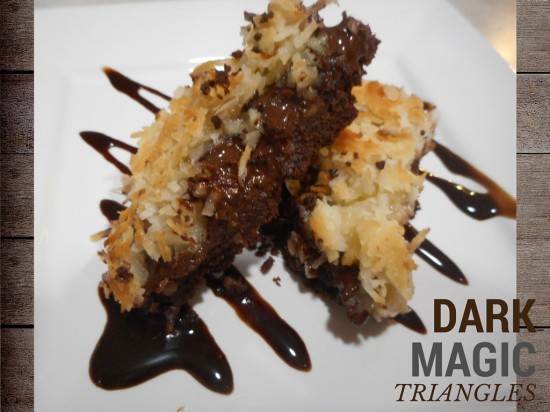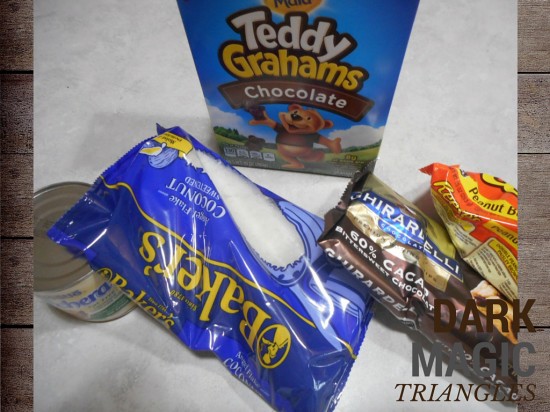 Ingredients:
10 0z Chocolate Graham Crackers (1 package)
10 Oz. shredded Coconut
10 oz. 60% cocoa chips (1 package)
5 oz. Peanut Butter Chips(1/2 Package)
10 oz condensed milk
6 Tbl. Sp. Unsalted butter(melted)
1 Tbl. Sp.. Instant or fine ground Coffee
Procedure:
Serving size:18
Chocolate Graham Cracker Crust
Pre-heat the oven to 350 degrees.
Break up crackers into a food processor and blend until they're crushed into a fine dust.(Alternate method is to put Crackers into a Plastic zip lock bag and crush with a rolling pin.)
Add Coffee and melted butter; mix with a fork.
Press into a well greased 9 X 9 Casserole Dish and bake for 8 minutes
Let Cool for 10-15 minutes.
To make Dark Magic Triangles
Mix Dark Chocolate chips and Peanut Butter chips together in a medium sized bowl.
Evenly Spread Condensed Milk over Chocolate Graham Cracker Crust.
Spread chip mixture evenly over Condensed Milk
Add Shredded Coconut over the chip mixture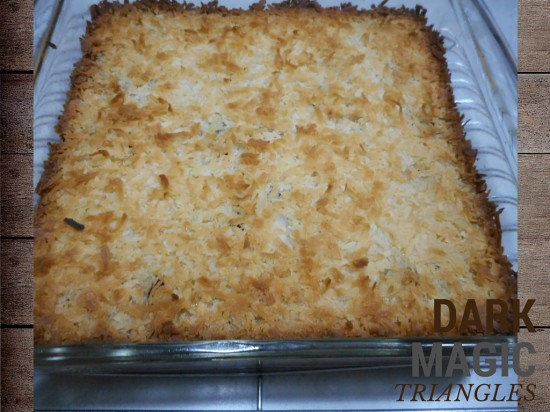 Place in Oven and bake for 25-40 minutes, or until the Coconut is completely toasted, it will be Golden Brown.
Let completely cool for 30 -45 mins
Cut into 9 squares first and then into Triangles