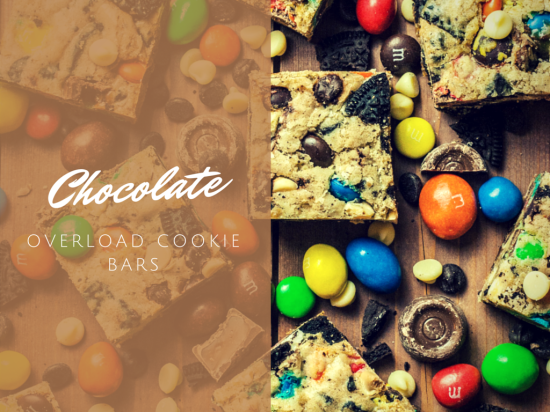 This is a 'clean your cupboard out' recipe. But not your usual kind. This is indulgent. This is special.
This is not that end of the week recipe where you're scraping around in the bottom of the vegetable drawer, throwing bits and bobs into a stock to make a soup. This is the best 'clean you cupboard out' recipe you'll try.
So sweet many recipes call for half a bag of this and a quarter of a bag of that, meaning often pantries and cupboards are full of chocolate chips, sweets and chocolates that sit gathering dust (providing you just don't eat them all). This is also often the case after Easter, birthdays or Christmas.
This recipe makes use of all of that. It doesn't matter what you have in, it's really accommodating. Chose what's hiding in the back of the cupboard, or use your favorite treats. If you are serving it at a baby shower, then ensure you have all the mommy to-be's favorites covered! Spoil her with this simple yet delicious recipe!
These bars used oreos, white and dark chocolate chips, m&m's and caramel rolos. Oreos give a crunch, the m&m's give some chocolaty colour, the rolos ooze caramel and the chocolate chips provide a next level chocolate hit.
They're super easy to put together as a last minute treat and perfect for a party such as birthday and baby shower, they'll go down well with kids and adults alike, and can be tailored to occasion (different colours) or peoples taste (no dark chocolate for little ones) and cut up into whatever size you like.
Ingredients:
115 g unsalted butter
200g light soft brown sugar
1 medium egg
1 tbsp vanilla extract
150g plain flour
8 oreos (chopped up)
100g m&ms (or other chocolate)
100g chocolate chips
50g rolos (or caramel chocolates)
Method:
You can make this recipe by hand or using a stand mixer.
Line an 8×8 inch tin with foil and grease with butter.
Pre heat the oven to 180C.
Melt the butter and pour into a large bowl
Wait for it to cool down (so you don't scramble the egg) and add the vanilla extract, brown sugar and egg
Beat together until combined and smooth.
Next sieve in the flour
Stir together until just incorporated
Pour in the chocolates, sweets and cookies and mix in
Spread into the tin
Cook for 20-24 minutes until browned around the edges and pulling away from the sides and the middle is slightly firm to touch
Leave to cool in the tin for at least half an hour before removing and cutting into squares