Easter is such a fun time of year! It's filled with the joys of spring, Easter baskets, and of course, Easter egg hunts! If you are taking on the challenge of hosting an Easter egg hunt, invitations are a must. Get the kids involved with these super cute Easter hunt pull-down cards!
Materials Needed:
1) Regular Paper
2) Marker
[youtube https://www.youtube.com/watch?v=JPlP3NGs1LA&w=806&h=450]
These cards are not only adorable but are also simple to make. You likely have the supplies laying around your home already. At a minimum, this craft just requires colored paper and markers. If you want to go above and beyond, you might consider picking up stickers, lace, customized Easter paper, etc. The possibilities for decorating these cards are endless!
This paper craft can easily be customized by kids of any age level. Younger kids can break out their favorite Easter-themed stickers to decorate the front of the envelope. Older kids can participate in the writing and decorating of the invitations. If handwriting is not a strength, consider typing the invitation and gluing inside.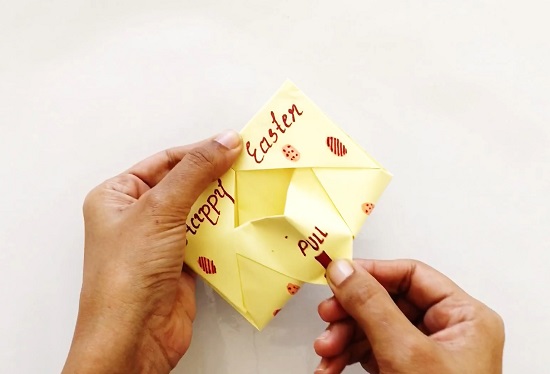 Kids can hand out these invitations to friends and family members or consider adding them right to Easter baskets for something exciting to open on Easter morning. Both kids and adults will enjoy receiving this unique invitation. The pull tab is easy to construct and makes it exciting to open.
Your kids will have so much fun making these that you might even consider using them for other holidays as the cards can easily be adapted for any event!
Easy Steps to Making a Fun Easter Hunt Card