A silver and gold baby shower offers a modern touch and is also classy! While silver and gold typically come with a chrome finish, many glitter options are available if you want to add a little sparkle to the event. Guests will love your stylish theme! Below are a few ideas to get you started!
Gold Confetti Balloons
Balloons are a must have at every party! These stylish balloons are filled with gold confetti to add just the right amount of sparkle to you party. The Words "Oh Baby" are stenciled on the outside of each balloon in silver. All you have to do is blow the balloons up with air or helium and then give them a shake. The balloons would make an excellent back drop or centerpiece.
Gold Baby Shower Banner
This beautiful banner is sure to be the highlight of your party! While the banner is pictured as a sparkly gold, it can be ordered in any color. The banner is made from high quality glittery card stock. Each letter is hand strung to a white twine. There is plenty of twine on each end of the banner to make for easy hanging. Each letter measures between four and seven inches tall. You can choose between a pre-strung banner, or you  have the option to hand string the letters yourself.
Paper Snack Cups
These gold and silver polka dot cups are sure to add some style to your snacks. While the cups work perfect to fit small tasty treats, they can also be used to bake mini cupcakes or muffins. The possibilities for these cups are endless! Each cup measures approximately one inch tall and two inches in diameter. You will receive twenty-four silver polka-dot cups and twenty-four gold-polka dot cups. 
Silver and Gold Pinwheel Background
Make your party look stunning with this easy to assemble pinwheel backdrop. You can order your pinwheels in a set of eight, twelve, or sixteen. Each set will include a variety of sizes. Each rosette will arrive assembled, so you will just need to find the perfect place for your decorations. You may choose to clump them together as shown in the picture or spread them throughout your home. The pinwheels can be hung easily by using Blu-Tack, which is available at most general stores. These pinwheels are so beautiful that you might choose to display them on your wall after the party is over.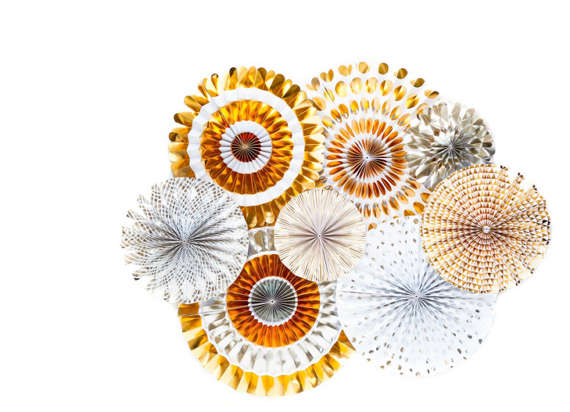 Chapstick Party Favors
These personalized metallic foil lip balms are sure to be a party favor that your guests will use. The lip balm is all natural and is infused with organic oils and shea butter. Each lip balm is packaged in a clear glossy tube for a high end spa look. You also get to choose between the following flavors: Vanilla Ivory, Cherry Pink, and Mint Green. Each label is personalized to represent your style. You get to choose the foil type and pattern.