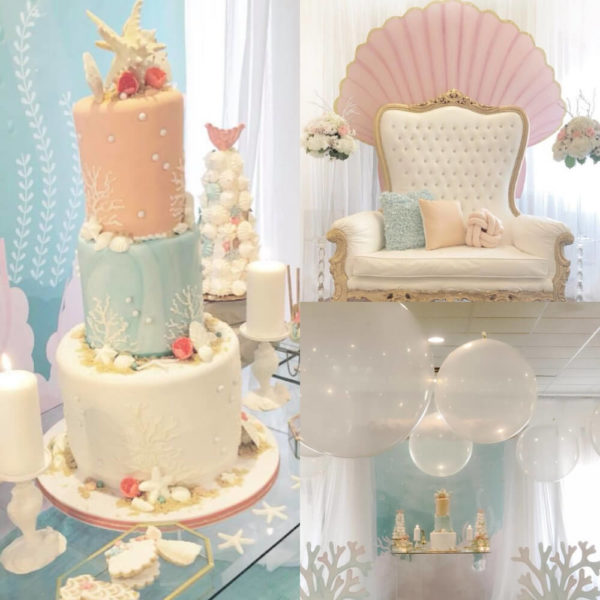 This princess of the ocean baby shower was planned by My Little Angel Decorations. From the desserts to the decor, everything looked like it belonged under the sea.
The dessert table was as cute as can be! A large three-tier cake sat in the center of the table. The cake was decorated with many frosted shells and featured daintily placed pearls throughout the exterior. A large starfish served to top the cake. Two smaller cakes were also decorated to fit the theme.  In addition, guests could choose from delicious cake-pops and cookies decorated to look like shells and mermaids.
The background of the dessert table was gorgeous and unique! A large backdrop that looked like the ocean hung down from the ceiling. In front of the backdrop was a beautiful garland filled with peachy colored roses and white flowers. Sheer white curtains hung on either side of the garland. In front of the curtains were large, white pieces of coral. Clear glass ornaments were placed strategically to hang down from the garland. The ornaments were filled with sea life, such as starfish. Large balloons were hung from the ceiling to look like bubbles.
The guests tables were fit for the royal attendants. Each table was covered with a beautiful sea-foam green colored tablecloth. The plates were covered with coral napkins and tiny candles were placed throughout the tables to add a touch of ambience. Each table also featured beautiful floral arrangements that matched the garland over the dsesert table. 
Planner: My Little Angel Decorations