Ahoy Teddy Bear Baby Shower by Crystal Lannozzi:
This adorable Ahoy Teddy Bear themed baby shower was thoughtfully planned by Crystal Lannozzi. The party was filled with teddy bears and nautical decor. This party theme was perfect to welcome a baby boy or girl.
The dessert table was filled with delicious looking goodies! Rather than the traditional cake, this party featured a 5 tier platform filled with tasty chocolate and vanilla cupcakes. Amongst the other sweet treats were brownies, cookies, and cake pops. All of the desserts were decorated to fit with the red, white, and blue color scheme. Guests could also indulge in a candy bar. Three glass jars held a variety of candy flavors.
The background of the dessert table fits perfectly with the theme. A large backdrop read "welcome baby" and featured a sailboat, lighthouse, and anchor. Red, white, and blue balloons perfectly framed the backdrop. The table was covered in a crisp white tablecloth and topped with decorative fish netting. A couple of starfish were even placed on top of the netting. An extra large teddy bear with an adorable nautical tie was placed in a chair beside the dessert table.
A white curtain made for the perfect photo backdrop. A banner near the top of the curtain read "Ahoy It's a Boy!" On one side of the curtain transparent boxes were filled with red, white, and blue balloons. The creative boxes were made to look like baby blocks and spelled out "baby." The other side of the photo booth featured an array of nautical themed balloons.
For guests who preferred less formal photo opportunities, a selfie station was home to a variety of props. A cute sign even included a hashtag for guests to use on social media when posting their selfies.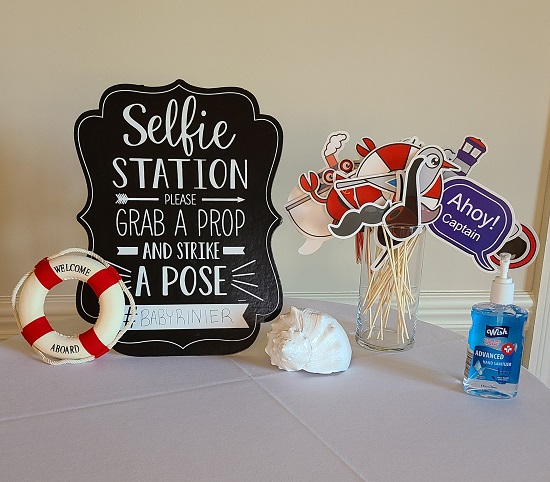 The guest tables were decorated perfectly to fit with the theme! Each table was covered with a crisp white tablecloth and topped with a red table runner. Every guest spot featured a navy blue napkin, wine glass, and white coffee mug. Some of the tables featured an adorable teddy bear sailor cutout in the center while other tables were topped with exquisite nautical themed diaper cakes. Glass jars filled with seashells held floating candles.
This party did not come up short on entertainment. Guests had the opportunity to participate in a fun diaper raffle to win prizes. Another game was called "Late Night Diapers." Guests could have fun using the provided markers to create fun-filled messages on the diapers for the parents-to-be. Paper games called "who knows the parents best" were also provided at the guest tables.
Of course, there were some safety measures in place. All guests were provided with masks and hand sanitizer was placed throughout the room. An adorable photo of a teddy bear wearing masks showed guests how to and how not to wear a mask to keep everyone safe.