Baby Shower Diaper cake is an arrangement of rolled diapers stacked in such a way as to look like a multi-layered cake. You can make a simple diaper cake using colored ribbon to match the theme along with some artificial flowers or just a themed soft toy topper. If you want to go a bit futher, you can decorate the cake with pacifiers, lotions, bibs, rattles, toys, towels, socks, pants, baby nail clippers etc. Diaper cake makes a perfect baby shower centerpiece and a thoughtful gift for the mommy-to-be.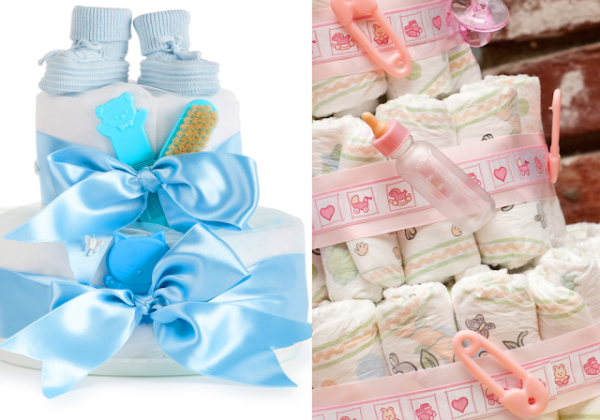 How to Make a Diaper Cake!
This easy to follow video by
Inga berk
which I have tried myself and found to be one of the easiest instruction to make a spectacular
diaper cake
! I added a little paper banner across the top tier which made it look adorable!
What you need:
Top Layer: 13 diapers
Bottom layer: 27 diapers
1.5″ Ribbon
Rubber bands (large)
Paper tube
8″ and 12″ baking pan or pot
Baby Washcloth for roses (optional)
Baby jumpsuit for larger roses (optional)
Creative Diaper Cakes!