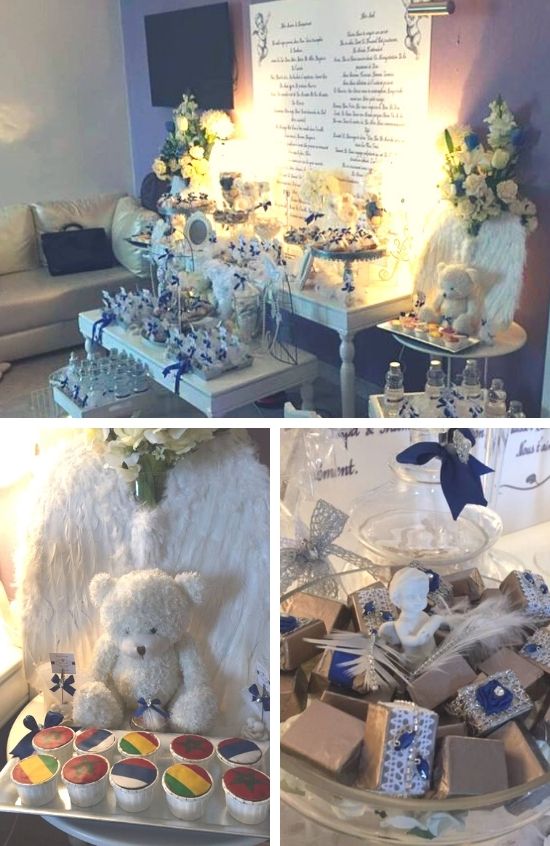 This lovely Angelic Royal Blue Newborn Baby Shower was beautifully designed by CreaMay . With a natural ivory theme tone along with navy blue, the decor was exquisite. A backdrop with an inspirational write-up in cursive was made just for the event, it featured an adorable angel on each side of it too.  
The treat table was surrounded with a variety of vintage-style tables to create a full and unique look. They all had an ivory tone that enhanced the theme perfectly. On each end of the dessert table, little round tables held teddy bears with angel wings.  Tall flower arrangements stood at the back too, offering a natural addition. The bottoms of the tables were also decorated with flowers.
The main dessert table held a lamp on each side to create a soft lighting in the room.  Treats were laid out on trays of varying heights, giving depth to the table and making it simple to reach for what you want.  The desserts were elegantly decorated with ribbons, feathers and other shimmering decor.  Boxes with tasty goodies were jeweled up gorgeously.  Glass jars held different snacks like macarons in a variety of colors for the guests to enjoy. One fun treat were marshmallow flowers on sticks. The center marshmallows were covered in rainbow sprinkles and they were each individually wrapped. Water was offered in bottles with personalized labels, adding to the sophisticated vibe of this party.
Around the front of the tables, an adorable train of angel cut outs with lights made a fantastic addition to the decor. It arced smoothly around the front of the tiny table that held the beverages. Empty white birdcages gave a cute vintage touch on each side of the train too. Another adorable decoration was a light-up window with a white wreath on the front of it.