Check out this super cute Traveling Baby Shower theme! Bee-unike Events masterminded the event with their awesome skills and created a party like no other to celebrate this mom-to-be! Using a lovely mix of soft sea green, silver and gold, this venue had an elegant and tasteful style that could easily impress.
The arrangement of decor at this event was exceptional. An entire stage was set up with a massive white chair for the vip to relax at, and beside it the treat table invited guests to enjoy lots of goodies.  On the other end of the stage a sign pole held the names of all sorts of delightful touristy places to visit.  On the stage floor by the pole a vintage style globe added a neat touch to the look.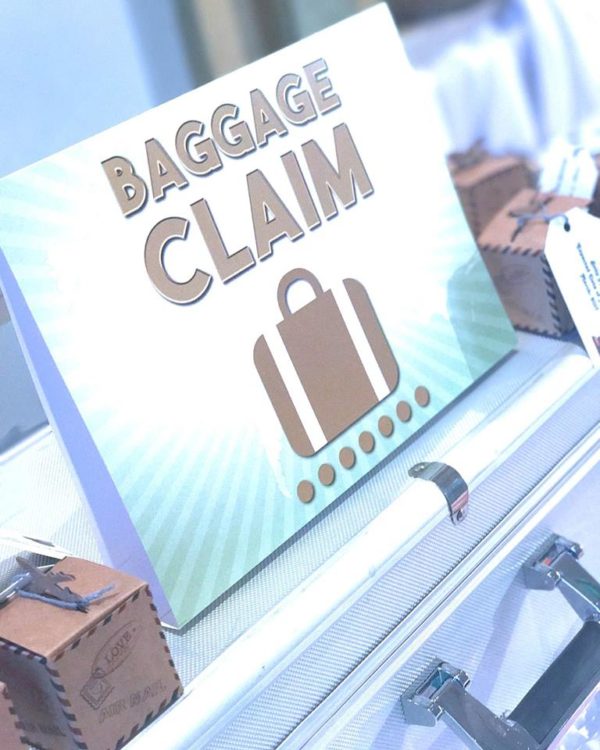 The stage was wrapped in a soft green cloth and had a row of stairs leading right up the center that was artfully covered in textured green fabric as well. The stage had been set in front of a large window area that had lots of sheer fabric hung to create a soft and sweet light. The backdrop was very creative with an airplane circling the earth in an animated style.
The dessert table was adorably decorated with fun travel items like a tower of suitcases in the center, part of which was actually a divine cake for everyone to enjoy. It even had a globe at the top. Two miniature cakes were detailed to look like the planet on each side of the suitcase tower and they even had little golden cameras on top. Sugar cookies stood on flat trays at the front of the table shaped into fun travel items like airplanes. There were even perfectly frosted cake pops to try out. A donut tree made a spectacular addition to this delightful table too.