Baby Boy Elephant Naming Party by Sarah of style me gorgeous and photography by michelle leigh photography.
Even an elephant could never forget a party as adorable as this "Elephant Naming Party."
The subtle white centerpiece white cake with its light-blue M (signifying in this case the name Max) set off with a single ribbon of gray between the layers and surrounded by dollops of round white icing looks incredible – but what really sets it apart is the precious stuffed and hand sewn elephant placed on the top next to the M.
Behind the centerpiece cake – to its right and left – are glass containers filled with all kinds of cool delectable goodies like apricot balls and caramel buds. In front of the cake are plates of unique blue-green coconut covered lollipops that bring a jungle feel to the theme. The lollipop sticks are topped with cleverly layered paper elephant flags in pastel blue and green – with touches of brown and white.
To the left of the lollipops are the most incredible elephant shaped, blue-iced, cookies in plastic bags with "elephant cookie" labels. The simple but cute design is carried through on the label and it almost makes you want to save the cookies instead of eating them just because they are so incredibly designed.
Finishing off the treats are little cups filled with candies that create a different visual texture on the table. Of course, they are contained in blue cups that tie the theme across all the different elements.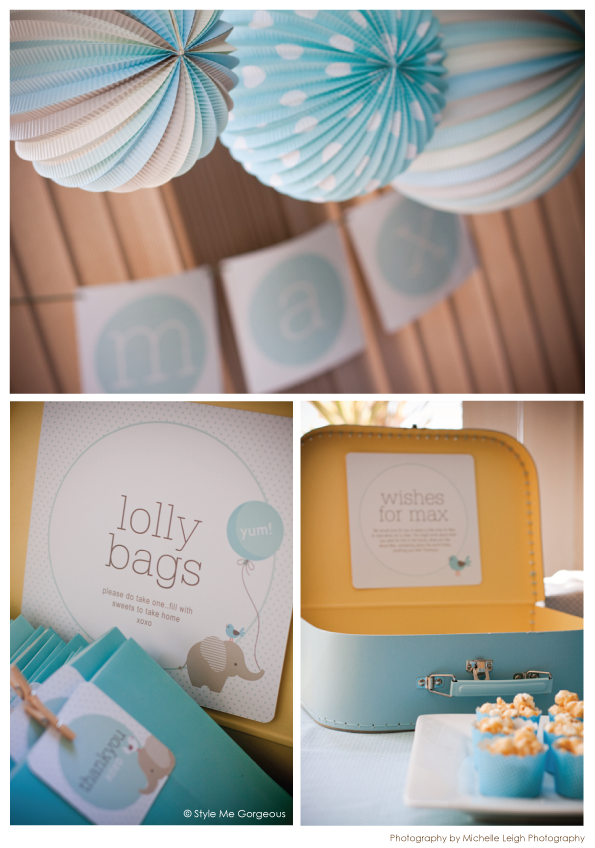 Surrounding the delectable treats are signs and bags guests can take and boxes where guests can add their gift envelopes. Everything is labeled and colored beautifully to communicate the theme across every element of the table.
Sometimes the sheer but adorable simplicity and the addition of small thoughtful meaningful touches make all the difference in communicating the perfect theme. This Baby Elephant Naming Party is anything but forgettable. Perfect for elephant baby shower theme!
Credit: www.stylemegorgeous.com.au