Happiness Rocketing to the Skies!
There is nothing more blissful than receiving your new-born with a spectacular event.  If your happiness is rocketing to the skies, an Aviator Baby Shower theme might be the best choice of all.
Invitations
Send the guests postcard-like letters of invitation. On the left side of the letter put an image of a plane, cutout or stamp (blue for boy and pink for girl) and on the right side put your address with Zip code, city and country with the date of the baby shower. This will look like an international destiny for an international Aviator baby shower, adding more importance to the already transcendent event of your beautiful baby being born in the days to come.

When friends arrive at the party, you can give them some simple and affordable accessories such as plastic aviator type of helmets and glasses. If children are also invited to this special occasion, this idea will make the baby shower one of a kind and everyone will remember when they were made to wear these extremely funny elements. Besides, the pictures taken will remind you and everyone and most importantly mommy-to-be the great time you had.
Decorations

You as a hosts can benefit from Aviator costumes. For the daddy-to-be, rent a pilot costume and for the mommy-to-be rent a  stewardess hat, a badge and gloves.  Have the room decorated with wooden or paper airplanes of different colors hanging from the roof with a nylon string and with tape at the ceiling. For each table you have, place a sign on top. The sign could say "Hangar # 1" on the first table. For the next tables, place the consecutive numbers instead. Have a large printout of the world map or sky or clouds on the wall or just behind the buffet table.
Food Ideas
Since pilots need food they can get anywhere around the world, hamburgers is the meal of choice. Have some high quality buns and meat for a high quality smile on the guests´ faces. Along with the hamburger, place various types of sauces in the table, ranging from ketchup and BBQ to ranch and mustard. This will bring an eclectic sense to the meal and to the party itself. For drinks, have also various types of sodas and fruit drinks. 
If hamburgers are not what you are after, stick to simple finger food style food that you never really go wrong with!
Favors
At the end of the baby shower, give your friends as a souvenir a little bag with a pretty colorful ribbon with 5 stars imprinted on it (suggesting they are the best pilots) and some favorite chocolates or candies along with it.
This will be a once in a lifetime memory evoking celebration, perfect for anyone wishing to convey their happiness of having a new born baby to their friends.
Games & Activities
It is time for a game! There's so many baby shower game that you can play depending on what your guests may like or not. Dirty Diaper, or name that poo game is great for coed baby shower. For something less messy you go for printable games such as Baby word scramble, or if you want to stick to the theme, you can make a list of airplane related words such as luggage. 
If you want to play something more of a childhood game, give each guests a piece of paper and tell them to make an airplane out of it and then to put their name on one of the wings. Once they have that done, place a small basket 15 or 20 feet away from the participants (all of the participants must be around the same place for this game.) Finally, tell each one of them to shoot their airplanes from the stand point to the basket. The people who win are the ones that managed to throw their airplanes directly into the basket. Sometimes you might need more than one round until somebody wins. As a prize for this game, have chocolate coins wrapped in gold colored paper with an optional nylon strap that fits the neck of the winner. This is a good time to feel like a child again!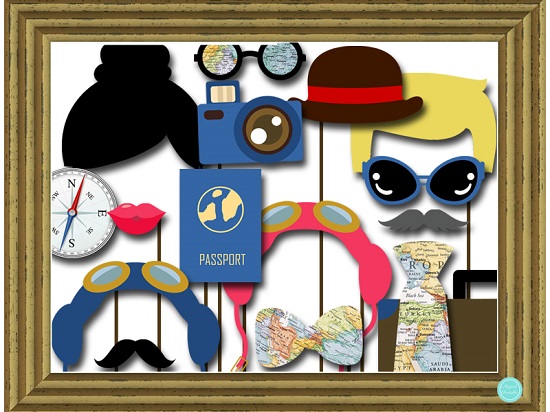 FREE Plane Baby Shower Games
Follow My Mess Baby Shower Aviator Theme Inspirations on Pinterest