This "never grow up" Peter Pan Themed Party by Anna of ADN Designs is perfect for a little boy who loves his childhood.
Every five year old loves a splash of magic on their birthday so Anna indulged in a party her friend's five-year old son will never forget. The wondrous and extravagant Peter Pan themed birthday party was a huge triumph covered with wonderful decorations and personalized posters that boldly stated the birthday boy's name.
Drinks and snacks were neatly placed on outside tables for the children to enjoy, drinking from a black and white Teepee labeled bottles with stripy straws for the finishing touch. The scrumptiously appealing Peter Pan cupcakes sat patiently in golden foil wrappers. Cupcake toppers included captain cook hook and hat, alligator, Peter Pan's Shadow, and his iconic green hat.
Anna's Peter Pan theme was never-ending. Not only were the refreshments and decorations enough for Jacob's birthday, she included an Indian tee-pee for entertainment, which was perfect for the warm and sunny day and to intensify the fun a treasure hunt feel was incorporated using a map as a backdrop and chocolate gold coins.
Anna speaks about her best friend, who is the most creative mom especially when it comes to her little ones parties, and decided to team up to achieve an outstanding and unforgettable masterpiece. The renowned Peter Pan color scheme, fonts and elements incorporated from the famous film and novels made the party more realistic for Jacob and his guests.
Anna and her team ensured the graphics were identical to the Peter Pan scheme; she explains that mother and birthday extraordinaire, Chelsie, handmade the Peter Pan peg dolls, party favors, Indian tee-pee and table runners whilst Anna produced the labels, photography, banners and signs herself..
Credits & Vendors –
Graphic design and Photography: ADN Designs | ADN Designs on FB
Party host and decor: My Sweet Littles
Cake: Stellar Cakes & Cupcakes
Cupcakes: Mel's Studio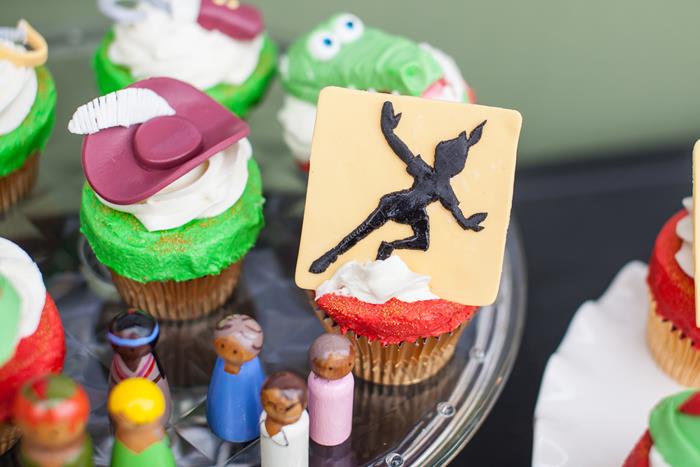 Look for items –