Event stylist Pequenos Luxos put on a fabulous baby shower for an upcoming little boy. "Little Prince" was the fun theme for the baby shower and the entire set-up was truly a work of art. Bright yellow was paired with greens in hues of olive, mint, and jade, while crowns of gold marked the motif just perfectly. With plenty of delicious food and bright décor, this baby shower was a memorable and special one.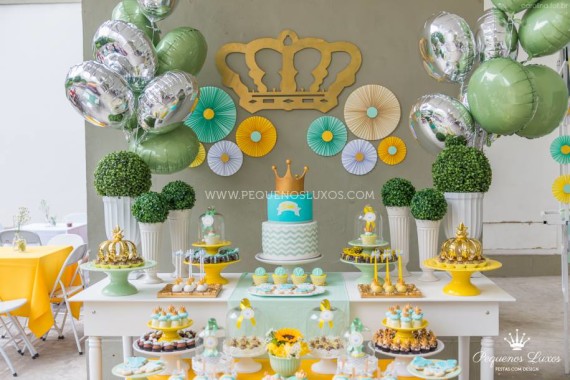 The main event table was set up in twos, with a bigger, glossy white table harboring the cake, and a smaller, yellow table housing all the yummy desserts. The cake table was gorgeous, with three tall topiaries with greenery placed on either side and olive and silver balloons tied to them. On the wall behind the table was an enormous golden grown decal, along with circle paper fans in bright colors of yellow, mint, and white. The cake itself was a sight to see, with two tiers and a giant golden fondant crown as a topper. The bottom tier was white and mint with a chevron pattern and the second tier was solid mint colored with the baby-to-be's name, "Dave" frosted on a fondant ribbon. In front of the cake were cleverly placed cupcakes; four to be exact, with "Dave" being spelled out on them in cupcake toppers.
Other treats on the cake table were yellow chevron cupcakes, crowned cakepops, and chocolate treats with tiny topper crowns. On the smaller, yellow table was an array of mouthwatering confectionary delights, such as cupcakes with detailed toppers of babies and, of course, golden crowns. Cake stands in coordinating bright colors held chocolate coated candies and frosted sugar cookies in the images of baby onesies and carriages. But perhaps the most creative and heartwarming little treat was the chocolate bon bons, which were served in tiny replicas of bright yellow baseball shoes with mint colored shoelaces. So many details—and deliciousness—to take in!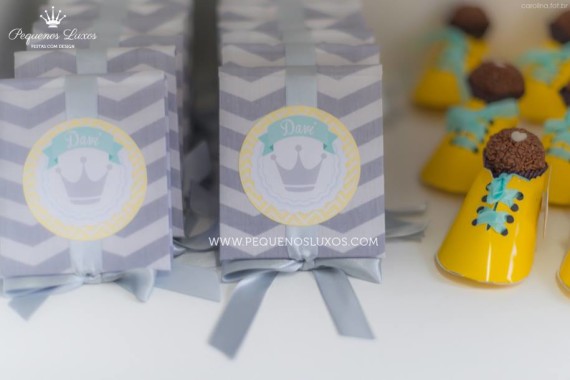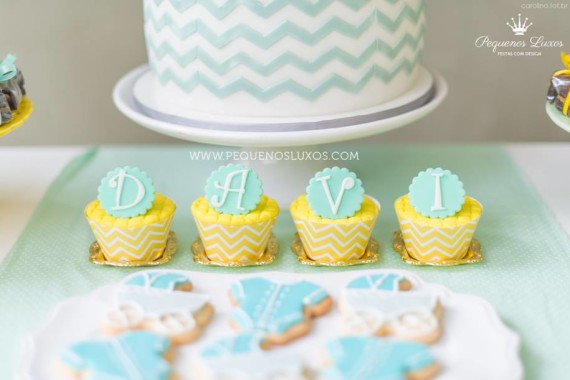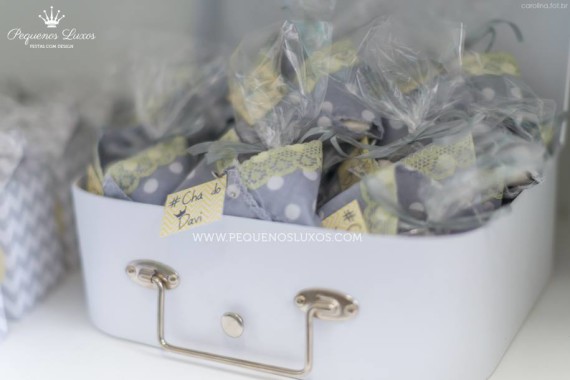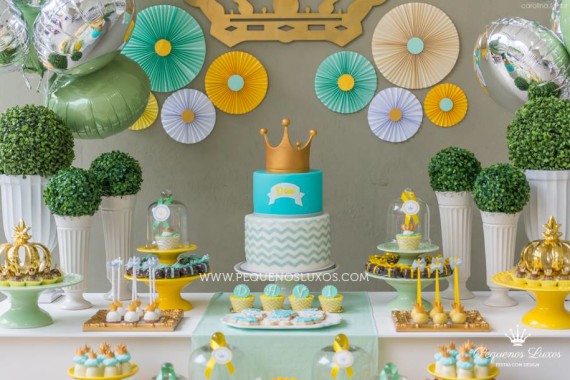 MORE INSPIRATIONS: