With an eye for detail, Craft My Occasion designed this Sheek Royal Prince Baby Shower.  Every visitor at this special celebration of a little baby was sure to feel a little royal themselves sitting at guest tables fit for kings and queens.
Gold chairs featured adorable light blue satin sashes  with sweet bows and carousel art.  White padded cushions offered a touch of comfort and luxury too.  The guest tables were covered in a soft blue cloth, making it simple for the golden array of decor to shine.  Lovely vintage style carriages were placed perfectly between crowns displaying gorgeous white flowers, creating an elegance that shone beautifully.
The invitations to the special prince baby shower event were stunning with blue and gold art in a carriage shape and an elegant arrangement of fonts to draw the eye. The theme was brilliantly introduced as a "Royal Affair."
A simple round table was used to display a delightful diaper cake wrapped in fantastic layers of blue and gold fabric and topped with a glamorous crown. This table was accented with a massive carriage display for a royal effect. To add an extra touch of sweetness to this table, cute little cake pops stood on a tray.
For an additional bit of fun, sweet golden pacifiers shimmered from the guest tables in sweet fashion.  At the back of the table, a massive cut out of a castle ensured that this royal theme would be clear to all. Each place setting featured a personalized golden, treat crown individually packaged to enjoy later. The glasses used for the party were quite elegant with a golden bottom half. Each one had an adorable blue and gold polka dot straw too.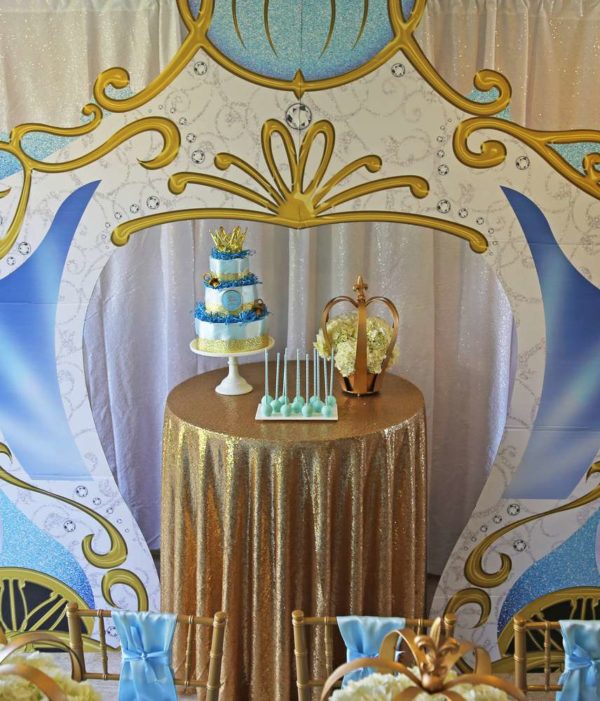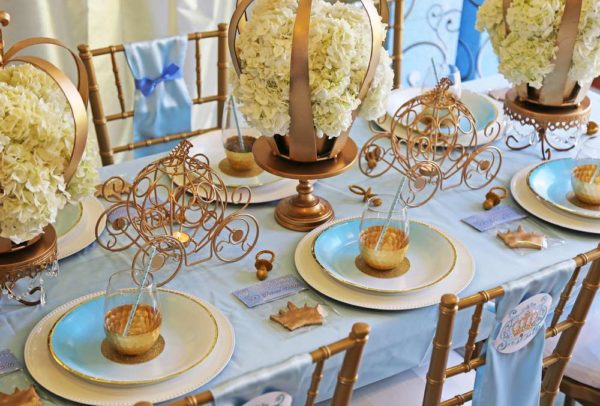 Credits:
Party Stylist and Sugar Artist – Lynnette of Craft My Occasion | Craft My Occasion Facebook | Craft My Occasion Instagram
MORE INSPIRATIONS: