Boss Baby is a fantastic movie, but furthermore, it sparks the idea for a super adorable theme for a baby shower!
Is there anything cuter than a little baby ready to get down to some seriously cute business? Break out the blue color scheme for a boy or pink for a girl, and get ready to wow guests with a memorable baby shower!
Boss Baby Invitations
Edit your invitations with these Free Boss Baby invitations. Customize the text, upload photos and download it immediately right after purchasing.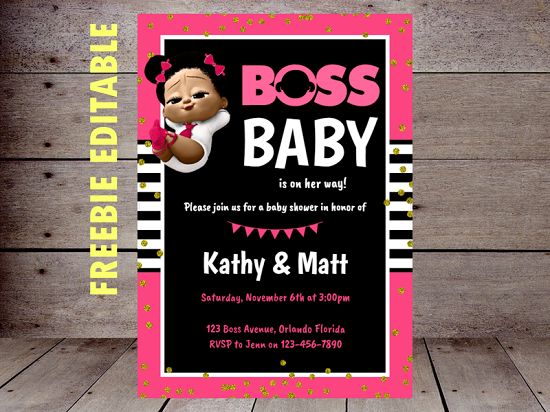 Boss Baby Party Decoration
Big, block letters that spell out "BOSS BABY" are perfect for the center point of the shower, along with a huge poster of a cute animated boss baby in a suit.
Garland of onesies with ties, and stand-ups of the babies from the Boss Baby movie, and bowtie shaped string lights are perfect decorations, while baby bottles full of candy and strapped with miniature ties are extra cute.
Gold balloons, giant money bags, and sugar cookies that look like cash keep in with the motif of the party great. Sunglasses for all the guests to wear for the party, along with mini sunglasses and bowties as décor in general, are a fun addition, too.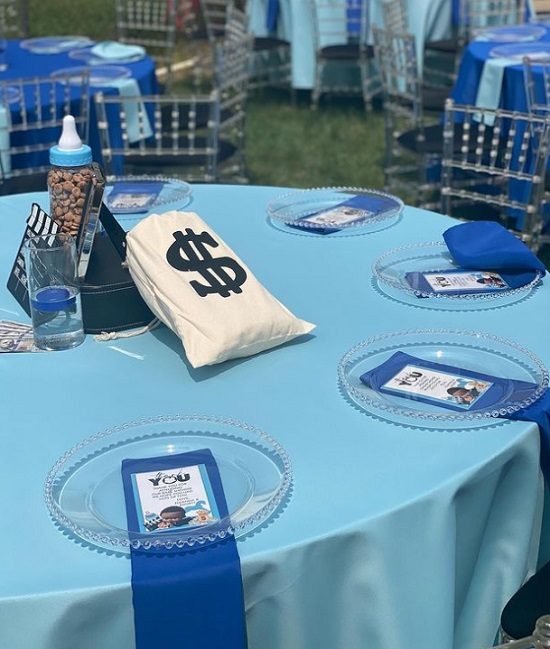 For chair accents, use oversized suspenders, and to get guests involved even further, ask them in advance to 'dress up' in theme, in their silliest, overdone business attire!
Want an extra does of fun for the boss baby shower? Have the actual movie Boss Baby playing on the big screen for the best background for the celebration.
Boss Baby Cake
A multi-tiered main event cake is a terrific idea, with a cute fondant boss baby topper. Alternatively, a simple cake idea would be to purchase a plain cake and make your own topper. The topper can be an image of Baby Boss that you can find on google image by typing "Boss Baby Cliparts" or use this free printable cake topper below:
Print it on thick cardstock paper. Also, placing some cupcakes around the main cake will surely make the cake stand out. These cupcakes can have mini toppers of the same image, free printable available from same link.
Free Boss Baby Party Printable
DIY by using these free coordinated party printables, easy to assemble! Available in blue and pink.
Boss Baby Photo Booth
Set up a photo booth with jumbo business pagers and flip phones, big gangster hats, flashing light watches, and any other hilarious props you can find. If you can swing it, take photo booth pictures with a polaroid, and hang the pictures up on a board as they develop for everyone to enjoy during the shower.
Boss Baby Favors
You can use these favor boxes by AdrianaOrtizDesigns and fill them with delicious flavored popcorns. Other ideas would be to use Baby Boss printed sacks to fill with the favors such as a boss coffee mug, bowtie keychains, or suit jacket wine charms. Then, once you've got your bags full, fold them down and garnish them with the right craft accents so that they look like suits!
Boss Baby Party Collection
Check out these amazing Boss Baby themed baby shower parties by talented event planners and bakers! Find their detail below the image! Enjoy and get inspired!