A Tiffany themed baby shower is always an exquisite and lovely one, but when you take this motif a step further and make it more specifically a pink Tiffany party, guests will really remember the event for years to come.
Pink Tiffany Baby shower Decors
What's especially great about a pink Tiffany baby shower is that while it's incredibly unique and beautiful, it's also super easy to put together. Think of it this way—you're basically setting up a Tiffany themed party, but everything is in pink! Get your blush pink "Baby & Co." signage ready to go, because this is a fabulous way to celebrate such a joyous occasion. Be elaborate with your decorations, such as setting up a backdrop to the main event table made entirely of big pink balloons with tiny Tiffany blue balloons as accents. Drape tables in pearlescent white tablecloths and have Tiffany jeweled black boxes filled with pink roses or blue hydrangeas for elegant centerpieces. Bright pink Tiffany & Co. glittery garland and white streaming ribbons are sophisticated touches to décor, while pink tutu accents on chairs are unique and pretty.
Pink baby onesies are great additions for guests to sign as a creative sort of guestbook, while paper post ups of pink diamonds can give your walls and doorways an extra pop. Pictures of Audrey Hepburn in "Breakfast at Tiffany's" is a beautiful way of adding extra color and personality to the overall party theme, too.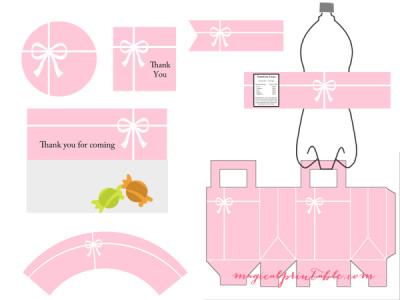 Pink Tiffany Baby shower Food
Food for a pink Tiffany baby shower can be equally as easy as it is fun to put together. Pink and white frosted sugar cookies that spell out "Baby & Co.", glittery pink cake pops, and little brownies in the shape of Tiffany boxes are all great ideas to make a big impression with your main food table. Cupcakes in Tiffany style wrappers, creamy frosting, and bejeweled candy accents go well nearby the main event cake. Serve a simple pink cake (single or multi layered) on a tall silver stand with hanging crystals and a "Baby & Co." vibrant topper. Don't forget little treats, as they pack a big punch, such as pink candies, macaroons, and dipped strawberries. Champagne punch and pink lemonade are also perfect for beverage options. And of course, don't forget the finger foods such as tea sandwiches and croissants.
Pink Tiffany Baby shower Games & Favors
Party favors can really put a smile on your guests' faces, so go for things like sparkling keychains, wrist wallets, or luggage tags, and present them in pink version of Tiffany & Co. boxes with a white satin ribbons. Individually wrap up gourmet almonds or miniature cookies in the shape of baby onesies and present them in velvet pink bags. Party gifts can also be given as prizes for party games. Baby Mad Libs, Mother to Be Wishes, and Baby Bingo are all classic games that everyone will know how to play and offer great engagement for guests.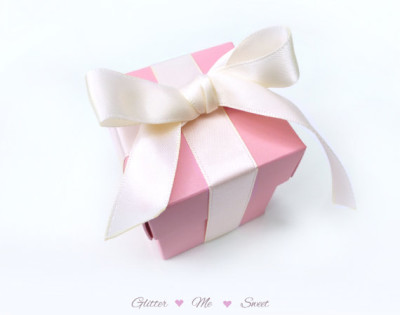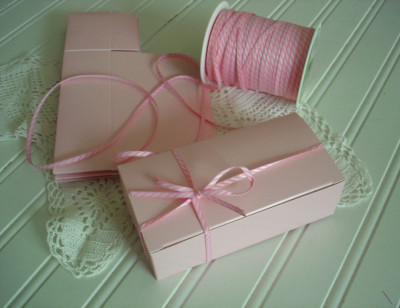 MORE INSPIRATIONS: