This wonderful Primera Communion was put together by Amazing Parties and they did a wonderful job of creating an elegant memory that could work very well as a baby shower!
The desserts at this event were bits of perfection starting right off with fantastic mini-cupcakes that were frosted perfectly and placed neatly on a lovely white cake tray. Each separate treat had its own adorable, personal label that informed each guest what they were trying.  On this cupcake tray, the sign was uniquely placed on with pink ribbon that was actually laced through the border of the tray, creating a wonderful look.
The treat table was a vision of perfection with a lovely striped, pink tablecloth that really brought the elegant style to the event. With some fashionably placed roses in a vase, the table was brought to life.  There was even a small watering can of tulips that looked quite adorable.
There were lemon bars laid out on a smooth tray that had a curve to it, that really drew attention and enhance the table's appearance.
There were divine looking truffles that were covered lightly in coconut and each had a little white wrapper that blended quite nicely with the theme.
Behind the truffles were some delicious little rock candies on sticks that were placed very carefully in a jar of pink M&Ms, bringing a taste of fun to the treats.
There were even perfectly adorable French Macarons that were done in pink and placed on a tray, with a pink ribbon and lovely little flower.
The true eye-catcher of this party were the cakes. Each was on a clear cake tray that invited guests to really focus their attention on the cakes themselves. On was frosted in white, and one in pink and they looked absolutely decadent. This event was a real treat to see!
Credits – Amazing Parties – https://www.facebook.com/amazingpartiesevents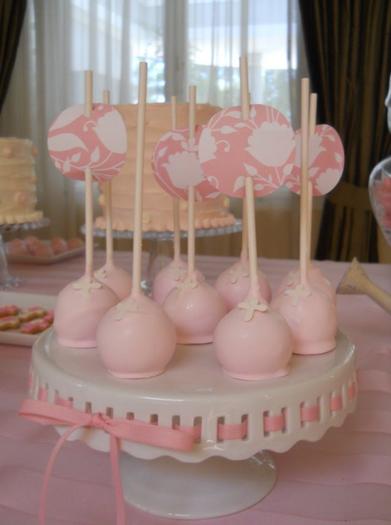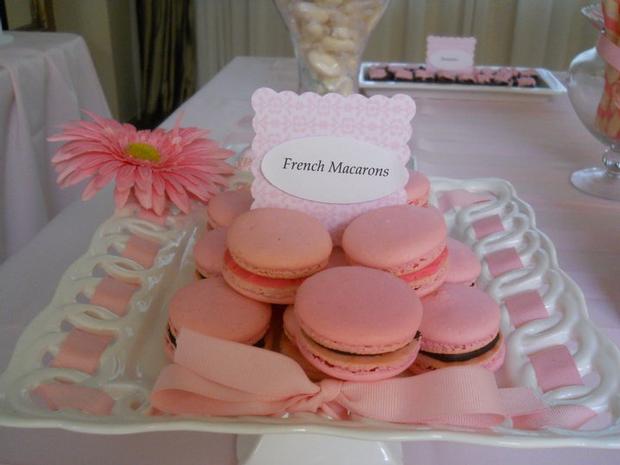 Look for more ideas –