Lyndsey from Lulus had a unique opportunity to create her own special gender reveal with her husband. Together they came up with a one-of-a-kind Clock Themed Gender Reveal, that not only encompassed wonderful clock-like details, but also gave a warm and inviting atmosphere that guests would be sure to remember forever.
There was a wide variety of colors utilized to create this gender reveal, from bright blues to vintage browns as well as gold! The different decorations blended very well together and after everything was laid-out, it was as if every little bit was meant to be part of this event.
On the fantastic dessert table, the lay-out had a wonderful distribution of decorative times and treats that gave this whole area a full and inviting look. The tablecloth used was a neutral tone that really set the stage for all of the extras that stood out. A huge Boy or Girl banner was strung across the front, advertising what this party was in celebration of.
The backdrop was a large board with thick blue and white stripes that really attracted attention, and directly in front of it were lovely vintage clocks and an adorable framed personalized note.
The treats all matched right up with the theme, with unsurpassed detailing that was sure to taste as fantastic as they looked. There were sugar cookies all decorated with individual clock detailing. The cupcakes were a delicious mix with signs in each displaying the party theme. But the real attraction was the cake. Standing out as a beautiful centerpiece, the cake was frosted perfectly in blue and gold, with a neat banner on the top that said, "It's time."
With a finishing touch of a clock that chimed when it was time to reveal baby's gender, this party was planned out exquisitely!
Credits – Event Paperie and Party Styling- LuLu's
Photography- Kendy Schimmel
Cookies- Hayley Cakes and Cookies
Cheesecake Pops, Cupcakes, and Cakes by Teri Lee Creations (local caterer)
DIY Cuckoo Clock Tutorial- Every Kelly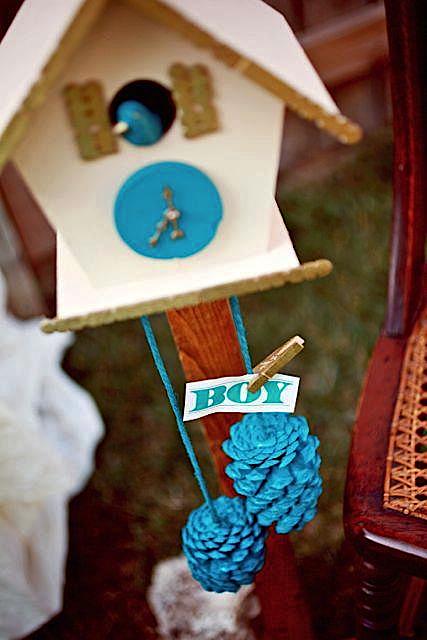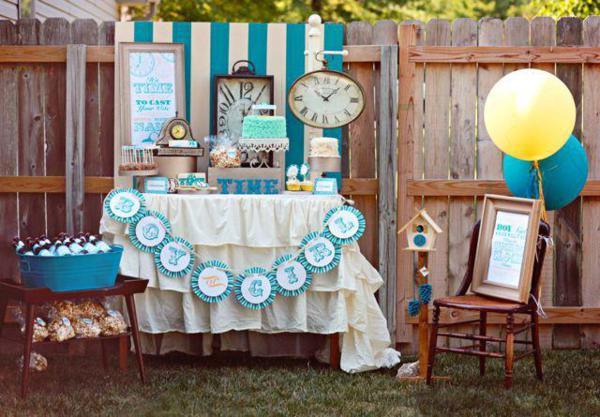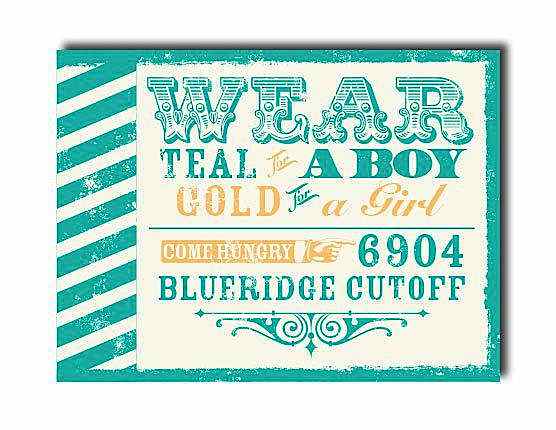 MORE INSPIRATIONS: