Bears and Balloons Gender Reveal by Elissa of Elissa Pyon.
Elissa surprised her husband with her babies gender at the airport when he was coming home from deployment, she became inspired to do a gender reveal shower with Bears and Balloons.
Utilizing the fireplace mantel she created two floral arrangements in gorgeous white vases that surrounded a beautiful board showcasing baby magically.
The guest tables were sheer elegance, draped in white cloths that allowed the flowers in the center of each to really shine.  Against the wall she hung fantastic images of bears and children with balloons that helped envelope the Bear and Balloon theme, bringing a bit of wonderment to the atmosphere.  On unique touch was the little personalized cards at each guests plate that had wishes for baby on it.
The guests were all offered a bit of bubbly, and the table that the glassed were on for it was brilliant. Using white again, balloons were drifting in mass right about the table, creating a filling and beautiful effect.
The food looked extra-delicious, with all kinds of options to choose from ranging from fresh fruit cups to pork sandwiches, ensuring that everyone would be full and happy at this party.
The cake was lovely, centered alone it drew attention with its detailed simplicity. Set on a wide cake tray the cake was a single layer covered in soft, white frosting.  Flowers were scattered around the front and placed carefully on top, bringing a natural beauty to this delicious dessert.
The gift bags were exceptional, chocolate covered animal crackers with sprinkles all placed in individual pink polka-dot bags that gave a fun touch that embraced the theme nicely. This party was a great combination of innovation and creativity that was sure to leave a long-lasting impression on the friends and family that were lucky enough to attend.
More photos and details right HERE!
Credits
Photos / Styling Elissa of Elissa Pyon
Bear & Children Silhouettes June at Noon
Invitations – Tiny Prints
Paper Bags, Straws and Large Balloons: Shop Sweet Lulu
Chairs, Tables & Linens: CE Rental
White Cake (decorated by Elissa) – Once in a Blue Moon Bakery & Cafe
Cookies – The Fresh Market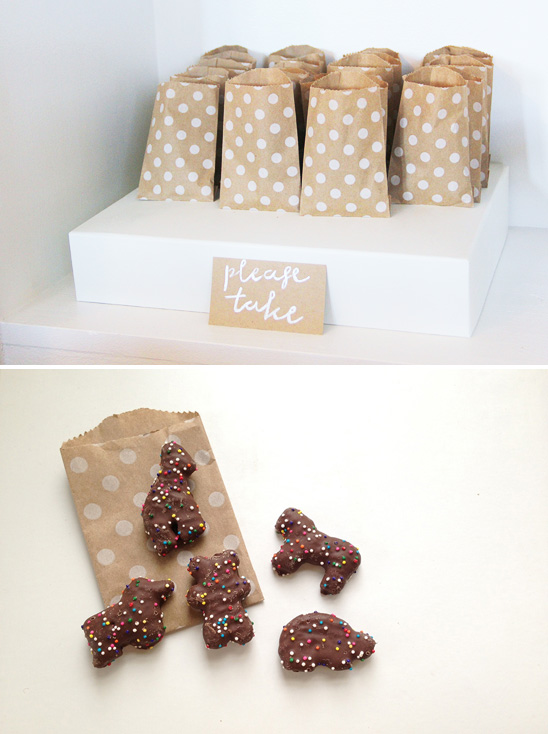 MORE INSPIRATIONS: