Dr Seuss Baby Shower Ideas – Perfect theme for twin and gender neutral baby shower!
You just must try this theme! How fun would a Dr. Seuss inspired baby shower be?  This quirky theme would be a super fun dress up event complete with the guests dressing up like the caricatures in the story-line. Some ideas would be a large top hat and an umbrella or a polka dotted dress. Invite the guests with a fun invitation that looks like the cover of the book and when you open it the inside reads "What would you do if your mother asked you?"(Cat in the Hat).  The specifics of the invite can be discarded and later used as a paper picture frame, a cute keepsake.
FREE Thing 1 Thing 2 Baby Shower Printable
$1 Special price use coupon code – "dollardeal" – Dr seuss banner by Magical printable
Dr Seuss Decoration Ideas
Decorate the party room with shiny light blue ribbons hanging from the ceiling about two feet long in uneven lengths to simulate a rainy day. Place a variety of the iconic Cat in the hats around the room to decorate. If you don't want to purchase them, you can make a 2D paper cutout decorations. Find some images of Cat in the Hat, one fish, two fish, red fish or new fish or any other characters on google search, print out in color on bright white cardstock paper. Trim them to size and blu tac them throughout the wall. If you are building centerpieces, they can be pasted on card board boxes for make them more sturdy.
Other ideas are displaying Dr Seuss Truffula trees at the entrance, balloon bouquets featuring a huge Cat in the Hat and hanging framed pictures of greatly different sizes with burlap inside featuring hand stenciled resemblances of the hat, the cat, and the fish. Keeping with a black picture frame will allow for continuity throughout. Place a picture of the mom to be in a polka dotted dress on the gift table. On each side of the table you can put clear balloons with dangling fish within. Dim the lights in the room to make it seem like a cold rainy day.  You could place round rugs spread out on the floor in red, white, and black.
Dr Seuss Guest Table
Why not Set-up round tables with a white cloth spread over them and a red table runner. You could place a small round fish bowl with a live koi fish on each table and a plastic figurine from the story inside. The fish bowels should sit on a compatible size red box. At the end of the party, this will make a great hostess gift. The tableware would be a trendy mix of red, white, and black. The guest's gift or favors can be a medium sized red paper box with two handmade cookies inside.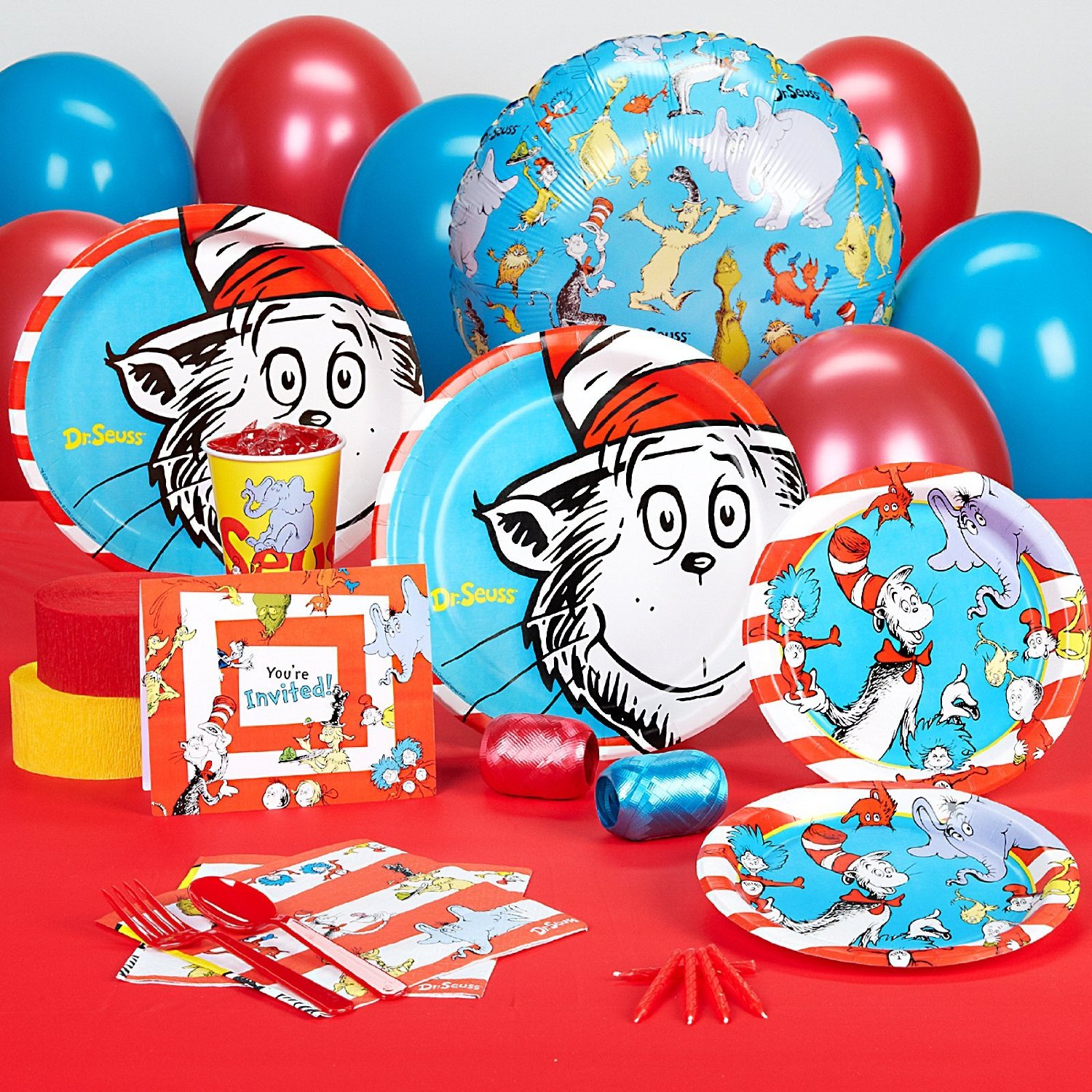 Dr Seuss Food
Spread a red fabric tablecloth over the buffet table with a white runner. Place a red top hat shaped place mat under each glass bowl. Serve the food in all clear round glass bowls. Sprinkle or place small plastic red balls or cut out fish confetti along the table runner to continue the theme.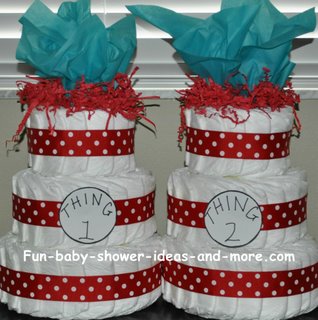 Continue the theme through the buffet table by serving mahi-mahi (fish), green peas (polka dots), and a wacky and colorful salad with tiny red tomatoes. Serve beverages with wild names like tropical punch, berry blitz, and popping purple. How about tuna sandwiches using coloring of red and blue in the mayonnaise. You could use drinks with bright colors. Finally, complete the buffet table with small labels / cards by each item with the name and place cards with lines from the book on the tables.
Dr Seuss Cake
The cake should be the focal point when made in the wonky shape of the original top hat and covered with red and white striped fondant complete with a red bow-tie. Glittery morsels sprinkled around the cake can add a sense of whimsy. Another option would be an ice cream cake in the shape of the cat in the hat.  If you want to give mom-to-be something unique, how about a gift of Dr Seuss themed diaper cake. Throwing a party as exciting as this will keep everyone talking and having so much fun!ll labels / cards by each item with the name and place cards with lines from the book on the tables.
Dr Seuss Baby Shower Games
Follow My Mess's board Baby Shower Dr Seuss Theme Inspirations on Pinterest.