This simple chic floral baby shower setup was planned by Kay of Magical Printable. The theme is perfect for the celebration of a baby girl. Gorgeous flowers in shades of pink filled the room along with bright pops of white.
The cake for this set up was simple, but stunning! A one tier cake frosted in white was topped with large pink flowers. The cake was set on a gray platter which was also decorated with flowers around the bottom. An array of pink flowers and vines served as the perfect backdrop for the cake.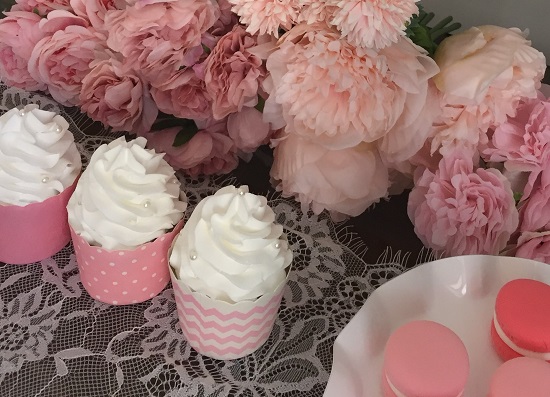 Cupcakes were also designed to fit with the theme. The simple white frosting of the cupcakes contrasted perfectly with the decorative pink wrappers. The wrappers included designs of chevron, polka-dot, and solid pink. Each cupcake was sprinkled with decorative pearls for an extra special touch.
Other desserts for this setup included macaroons and cake pops. The macaroons were shades of pink with a white frosted middle. Cake pops were dipped in pink and decorated with ornate white flowers.
The backdrop of this set up featured gorgeous flowers in shades of pink. Everything was set on top of an elegant lace table runner.