Planned and styled by Estelle Agius of Nessie Lolly Bar Hire, the mom-to-be, this Floral Shabby Chic Baby Shower was months in the making, and all that hard work paid off with a beautiful elegance that radiated throughout the venue area.
Using soft colors, a gentle and inviting atmosphere laid the way for hours of fun celebrating a sweet little life coming and a mom who deserved a lot of pampering.
The backdrop for the dessert buffet was stunning. Using sheer cloth over a white one, a curtain effect was created that looked gorgeous.  In the center a gigantic vintage, ornate frame was hung with a lovely note letting everyone know that it was Estelle's special day. This display accommodated the sweet treats to perfection.
The table was covered in a lovely white cloth that allowed the soft pinks to stand out remarkably, giving it a full and vivacious look. As an added touch of unique beauty, a bit of lace was hung around the edges of the table, adding to the Shabby Chic Floral theme nicely.
The treats were blended perfectly with decorations to give the table a little bit of everything, ensuring that the guests would enjoy perusing.  With floral arrangements precisely laid-out, the table was full of life.
Personalized, wrapped treats were set on a pretty white tray that gave the date of Estelle's day so that everyone would have a way to commemorate the event.
There were a sweet variety of treats to munch on from lovely pink and white covered oreos to cute cupcakes in fun wrappers. But the real beauty on the table was the cake of course!  Set on a clear cake tray, the blue frosting of the single circle of deliciousness stood out beautifully. For an added touch of elegance it was topped with flowers and wrapped in ribbon.
Credits-
Event Styling, Chocolate bars, cake pops, cupcakes, coconut ice & props – Nessie Lolly Bar Hire
Photography – Forever Young photography
Back drop & art work – KFerreira Designs
Cake – Cake Haven
Canopy – Spotlight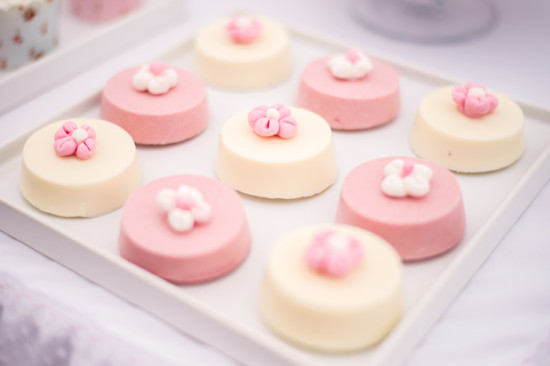 MORE INSPIRATIONS: