A shabby chic baby shower is a lovely theme, full of beautiful ambience and a true ode to a mother-to-be. With an array of soft colors, fabrics, and design pieces, a shabby chic party to ring in the arrival of a new baby is a perfect way to celebrate. So get your doily patterned, classy invitations ready to send out because we have some fabulous ideas to make your baby shower unforgettable.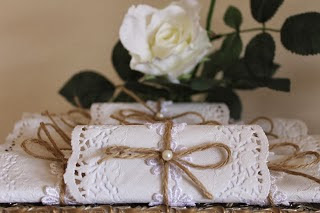 Shabby Baby Shower Invites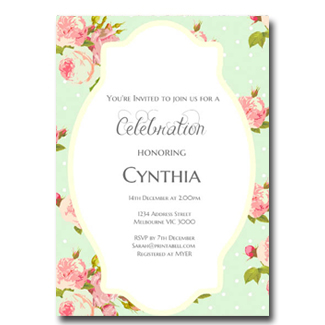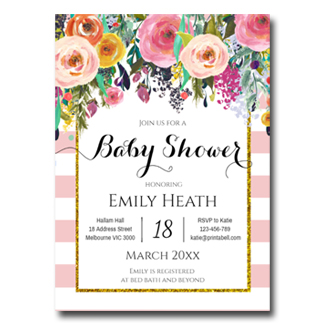 Shabby Baby Shower Decorations
Whether you hold the event in the backyard or in a sunroom porch, decorations should be sweet and light with plenty of vintage rose designs. Tables that house gifts, activities, food, and beverages can be done creatively with pieces of distressed furniture. This gives the ultimate shabby chic look. Throw lace or burlap runner across a white fabric table cover for guest tables and fill a brass mason jar full of babies breath and pale-hued hydrangeas. Glass plates, goblets, and vintage floral teacups are a nice touch to the guest tables as well.
Create a big backdrop behind the main cake table that has a white, fairytale-esque frame with signage inside that has a welcome message for the new baby. Hang flag banners made of beautiful burlap and make garland out of tiny baby onesies in bright colors of butter yellow, mint, and blush pink. Have serving platters in sky blue and peach, with vibrant lilacs placed in jars all along the venue. Hang up ribbon tassels in those same kinds of calming shades and have mellow-scented candles lit around the space to set the lovely mood.
Shabby Chic Baby Shower Food
For the food, keep it brunch style with lots of healthy and decadent fares alike. Shabby chic is all about being timeless and chick without being overcomplicated, so keep the cake and other desserts simple. Instead of a single cake, maybe opt for a multi-tiered platter lined with cupcakes that have different colors of frosting and glittery accents. Other staple treats can be parfait cups with strawberries, white chocolate dipped Oreos, pastel hued macaroons, and baby carriage sugar cookies. Fill big glass jars with jelly beans and Jordan almonds, and have a beverage station that includes a theme of lemonade, tea, or even chocolate milk. For saltier foods, remember to keep it light and flavorful. Veggie and cheese trays are great ideas for this, along with croissants and English muffins complete with lots of options for spreads and dips.
Shabby Baby Shower Activities
Activities should be easy and lighthearted, so stick with common shower games such as signing a guestbook for the little one and the mom, baby Mad Lib games, or Baby Bingo. All of these you can hand out prizes to the winners as well. A fun activity could be by creating a DIY headband station where the guests can get creative and create a shabby chic headband for the baby girl.
Printable Shabby Chic Games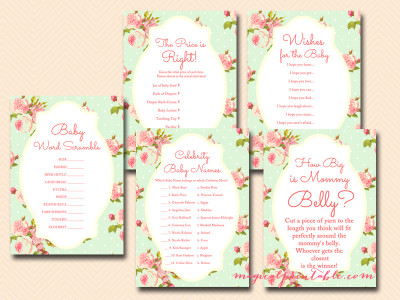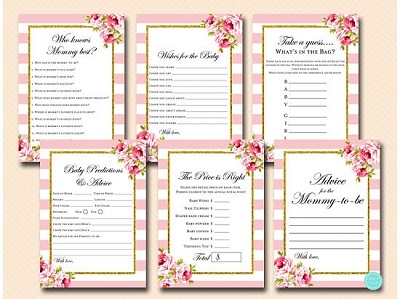 Shabby Baby Shower Favors
Favors for a shabby chic baby shower are so much fun to put together, as you have so many options when it comes to what you can do. Favors should be just as pretty as the party itself, so go for things that can be used in the kitchen, such as wine bottle stoppers, coasters, wine glass charms, tea cups, or even miniature bohemian inspired dish sets. Pampering items are a good idea too, with choices of mani pedi sets, compact kits, or travel sized lotions. Whatever you choose for favors, be sure to wrap them up in burlap bags or little wooden boxes with ribbons, laces, or doilies.
MORE INSPIRATIONS: