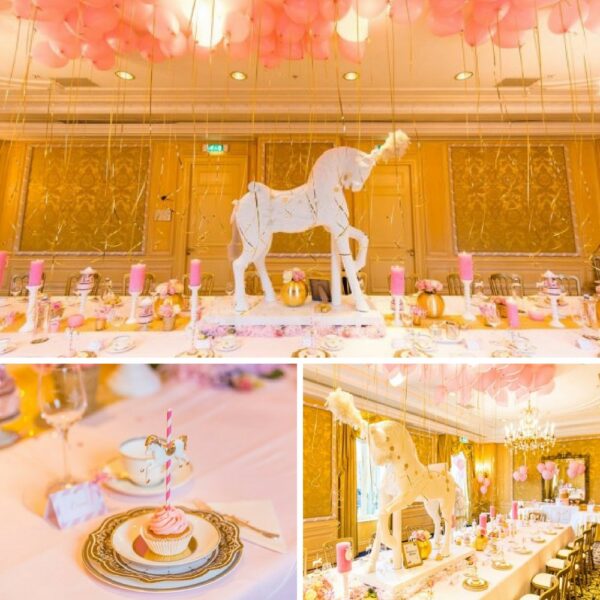 This Pink and Golden Carousel Baby Shower was a vision of elegance with gorgeous, ornate detailing. My Greatest Party turned this fantastic venue into a world of fun with decorations from top to bottom. The room used for this party was perfect for a Golden Carousel theme, golden wall paper and royal carpeting standing out beautifully. Molded ceilings were accented with tons of soft pink balloons ribboned in gold.
Long tables were set together to create family style seating, keeping everyone together nicely.  The chairs were gold and white, blending with the room smoothly.  The tables were covered in a light cloth that made a good setting for the lovely gold and pink decorations and place settings. Pink candles were placed down the tables, adding a touch of color to the table in adorable fashion. Instead of a standard centerpiece, My Greatest Party went all out, bringing the Carousel to life with a giant horse in prancing mode.  It even had a large feather along with perfect detailing, making it a wonderful and unique decoration for this party.
Cupcakes were one of the sweet desserts offered at the shower and they were absolutely adorable. Each had a little pink and white swirly straw with a miniature horse on it, like a little Carousel.
A layered cake was made as well and it was absolutely marvelous.  Set on top of a lovely pink and white hat box, it made a sweet center for the cute treat table.  One layer of pink and one of gold ensured that this cake blended with the theme gorgeously.  It was topped with another miniature Carousel horse on a pink and white straw.
This fun party also had a mix of games to keep everyone entertained from "Guess the Baby Food," to a "Guess the Baby Picture."
Credits-
Planning/Design – My Greatest Party
More Inspirations